Currently housing starts are increasing and sales of existing homes are increasing. Also, the Fed continues to provide the economy with monetary stimulus as the budget deficit shrinks.
Further, the ISM non-manufacturing index continues to signal economic expansion. With that said, general business conditions remain positive and shares of Citigroup (NYSE:C) could continue to increase in price.
The Company reported 2012 full-year interest revenue of $68.14B. That is a 6.3 percent decline compared to 2011. I forecast interest revenue for 2013 to be between $65B and $72B. That is between a 5.7 percent increase and a decline of 4.6 percent.
For 2013's first quarter I am forecasting interest revenue to be between $16.9B and $16.5B.
The interest income-interest revenue margin expanded to 70 percent during 2012 compared to 2011.
In the first quarter of 2013 I expect the interest income-interest revenue margin to be between 68 and 72 percent. Interest income should be between $11.2B and $12.2B.
In the first quarter of 2013 total revenues, net of interest expense should be between $17.9B and $18.7B.
Net income declined to $7.5B in 2012 from $11.1B in 2011. Excluding certain one-time charges net income would have increased to $13.4B. Applying a 10 to 15 percent net income-total revenue, net of interest expense margin to my forecast, 2013 first quarter net income should be between $1.79B and $2.8B.
I'm forecasting 2013 full-year net income in the $10B-$14B range.
The 2012 unadjusted net profit margin declined to 11 percent in 2012 from 15 percent in 2011. In this instance, unadjusted net profit margin is net income divided by interest revenue. Unadjusted return on equity declined to 4.1 percent from 6.5 percent. Adjusted return on equity was 7.3 percent.
Total assets continued to trend lower and the cash balance continued to trend higher. Also, the financial leverage ratio continued to decline.
Using a share price of $42.81, average basic shares outstanding of 2.93B, and twelve trailing months interest revenue of $68.14B, I calculate a price-interest revenue valuation of 1.84. Using the current share price, my forecast for 2013 interest revenue, and assuming average basic shares outstanding increases to 2.95B, the forward price-interest revenue ratio would be between 1.94 and 1.75.
Citigroup's share price could increase 43 percent to a forward price-interest revenue ratio of 2.5 before I would consider it overvalued. Using 1.94 as the forward price-interest revenue ratio Citigroup's share price could increase 29 percent before I consider it overvalued.
In other words, somewhere between $61.22 and $55.23 would be the upper end of my valuation range using price-interest revenue.
My current price-earnings valuation is 16.64. I expect 2013 earnings, after preferred stock dividends, to be between $10B and $14B. Using the current share price of $42.81, my forward price-earnings range is between 9.02 and 12.63. That means that Citigroup's share price could have an upside of 85 percent in 2013 if it remains priced at 16.64 times trailing earnings. If earnings are closer to $10B in 2013 Citigroup's share price could appreciate about 32 percent.
I would say that Citigroup's share price should appreciate at most 25 percent to 50 percent from $42.81. That means the rally should be capped at around $53.51 to $64.22-common equity share.
Between January 2000 and January 2013, Citigroup's common equity shares posted an arithmetic average nominal monthly return of -0.3 percent. The nominal median monthly return was 0.5 percent.
The nominal geometric mean monthly return was -1.3 percent. The nominal monthly return distribution was positively skewed and leptokurtic. The standard deviation was 13.8 percent.
During the same period shares of Citigroup returned between -60 percent and -50 percent once. Also, the share price of the firm declined between -50 percent and -40 percent once and between -40 percent and -30 percent twice.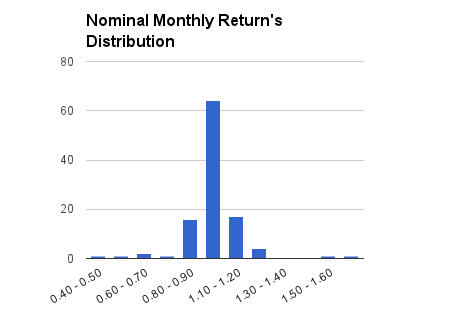 The modal interval was 0 percent to 10 percent. Forty-four percent of the returns were negative.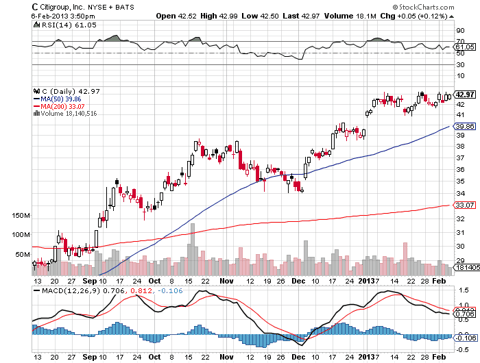 Shares of Citigroup are trading above the rising 50-day simple moving average. The momentum indicators are forming negative divergences with the share price.
The market remains in a Dow theory bull market.
Shares of financial firms are outperforming shares of technology firms and energy firms.
Disclaimer: This article is not meant to establish or continue an investment advisory relationship. Before investing, readers should consult their financial advisor. Christopher Grosvenor does not know your financial situation and ability to bear risk and thus his opinions may not be suitable for all investors.
Disclosure: I have no positions in any stocks mentioned, and no plans to initiate any positions within the next 72 hours. I wrote this article myself, and it expresses my own opinions. I am not receiving compensation for it (other than from Seeking Alpha). I have no business relationship with any company whose stock is mentioned in this article.