By G C Mays
Earlier this week, India's largest importer of potash, Indian Potash Limited, announced that it made a deal to import 1 million tons of potassium salt from Belarusian Potash Co., which is a joint venture between Russian miner Uralkali and a private Belarusian firm. This left agreements to buy another 2.5 million tons on the table. However, it was unclear who would get to sell the extra tonnage.
On Feb. 7, Canpotex -- the marketing arm for North American fertilizer companies Mosaic (NYSE:MOS), Potash Corp. (NYSE:POT), and Agrium (NYSE:AGU) -- agreed to sell 1.1 million tons to the Indian government as well as private sector companies. The agreed upon price was $427 per ton, $27 higher than the December agreement with Chinese importer Sinofert Holdings, which Potash Corp. owns a significant interest in.
In a recent earnings conference call, Potash Corp. estimated that India would buy 3.5 million tons in 2013. Sixty percent of that estimate is now complete, with the North American companies receiving 52% of that business.
Click to enlarge image.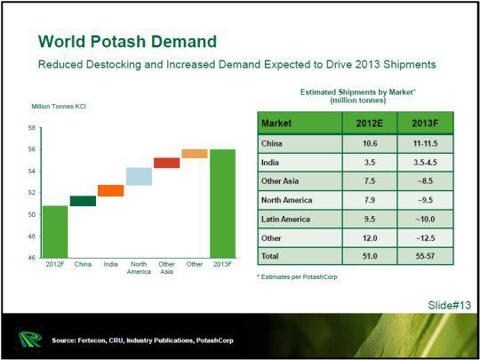 Those 1.1 million tons have a market value of $469.7 million. Based on 2012 revenue sharing between Canpotex members, these tons will add revenues of roughly $253.6 million for Potash Corp., $173.8 million for Mosaic, and $42.3 million for Agrium. Based on the agreed upon price of the most recent contracts, the remaining 1.4 million tons are worth more another $597 million in revenues.
Canpotex extracting a higher price for this contract than it did with China is a positive sign. It could help to place a bottom in international potash prices for the foreseeable future. However, the group's inflexibility about price throughout 2012 has created awareness for both India and China that they need to diversify their supply sources. In my opinion, price will play a larger role in each countries purchasing decision from here on out.
These events do not change my view that Potash Corp. is overvalued compared to its peers. Mosaic is the better investment of the two. However, the recent run in the S&P 500 has sent these stocks to values that are too high to buy in at, in my opinion.
Disclosure: I have no positions in any stocks mentioned, and no plans to initiate any positions within the next 72 hours. I wrote this article myself, and it expresses my own opinions. I am not receiving compensation for it (other than from Seeking Alpha). I have no business relationship with any company whose stock is mentioned in this article.