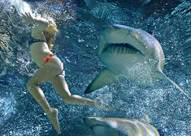 - New age of prosperity, or a feeding frenzy for shark week?
Well it had to happen sometime. The average investor, the little guy ... you, me, and everyone we know, is finally feeling brave enough to tip their toe into the shark filled waters. It certainly took long enough. Over the last four years, money poured out of stock funds practically every single month with over $250 billion leaving stock funds, and over $500 billion being added to bond funds. But that started to change a few months ago. In the first week of January alone, we had an inflow of over $15 billion going into stocks, the most in 5 years. The question begs: Is this the beginning of a new age of prosperity, or just a feeding frenzy for shark week?
Of course some of the money is new (typically seen in January), and some is coming from year-end tax loss selling, but there is no question that a larger chunk is now coming out of bonds. The message is loud and clear, it's time to get out of bonds. With rates practically zero and negative after inflation, who can blame them? Stocks are the only game in town, which is exactly what Bernanke and the Federal Reserve have been hoping for, the wealth effect.
There is one other little caveat causing stocks to rise that you haven't seen in the papers - the new global currency war. Essentially, the race to the bottom for currencies is a race to the top for equities. Japan is the latest to kill its currency, as earlier this month their government announced a $226.5 billion dollar stimulus package. Relative to the size of their economy, this is the equivalent of over 5 times the size of all the stimulus and quantitative easings in the U.S. combined. Many feel that this is the final nail in the coffin for Japan, which has worse demographics than we do( there is a whole chapter devoted to it in Facing Goliath - How to Triumph in the Dangerous Market Ahead). Japan is truly a bug in search of a windshield. However, the reality is that in such a competition, global trade booms and everyone wins. Just look at the Japan market where the yen has plunged 17%, while the currency hedged ETF has soared by 31%.
Of course all this is doing little to actually help the economy. Look no further that last week's announcement that the Q4 GDP was a negative .01%. Imagine that. Over a trillion dollars in Fed stimulus a year, which will top $4 trillion by December, and all we get was this. In fact the only good news is that with no economic growth, we're definitely going to get more stimulus, which is all the market really cares about anyway. What's going to happen when the Fed can't print any more money to throw on the market? I'll tell, but I think you already know.
The end will come with an increase in complacency, and overall bullishness is definitely becoming more prevalent. Both the Investors' Intelligence and American Association of Individual Investors (AAII) polls showed over 50% bulls last week (53.2% and 52.3%, respectively), and relatively low levels of bears (22.3% and 24.3%, respectively). The Bullish Consensus and Market Vane polls exhibit similar levels at 64% and 68% bulls, respectively. These are all the highest percentages of bulls in many months. Short-term traders also appear to be growing more enthusiastic about the rally, as indicated by the recent International Securities Exchange call/put ratio, which has climbed from 91 on Jan. 22nd to 130 yesterday, suggesting a steady increase in bullishness. This is just developing and could take a few months to move into the danger zone.
Investor Strategy
Stocks are likely to continue to rise as this trend continues, Nimble investors can do well. However the main thrust of the story is a double edged sword. The average investor typically gets in near the top in the market as the savvy institutional traders sell to the unsuspecting little guys. As I have said repeatedly, the market never crashes when the majority of investors are not in and everyone expects it to. Complacency is the last straw that breaks the camel's back, and as mom and pop get back in, the risks rise exponentially.
Quantitative easing and stimulus spending are still moving this market, and with all the free money stocks look like they want to go higher. Beware as we get close to the sequester debate, which will get ugly. Growth investors should buy the best quality tech companies in their space with growing market share. These would include: Apple (NASDAQ:AAPL), which is getting some bad press right now due to competition, but that is something they always seem to come back from, Google (NASDAQ:GOOG), Intel Corporation (NASDAQ:INTC), Qualcomm (NASDAQ:QCOM), Microsoft (NASDAQ:MSFT), Cisco Systems (NASDAQ:CSCO), Yahoo (NASDAQ:YHOO) and VMware Inc. (NYSE:VMW). The funds with more diversification and less individual company risk are also the ones to buy, like the SPDR S&P 500 (NYSEARCA:SPY), PowerShares QQQ Trust Series 1 (NASDAQ:QQQ), and iShares Russell 2000 (NYSEARCA:IWM). Commodities are still screaming buys with continued QE and federal stimulus, which is not going away anytime soon, such as Goldcorp Inc. (NYSE:GG), Barrick Gold Corp. (NYSE:ABX), SPDR Gold Shares (NYSEARCA:GLD), Power Shares Double Gold (NYSEARCA:DGP), Market Vectors Gold Miners ETF (NYSEARCA:GDX), Newmont Mining Corp. (NYSE:NEM), Freeport-McMoRan Copper & Gold Inc. (NYSE:FCX), plus Silver Wheaton Corp. (NYSE:SLW), ProShares Ultra Silver (NYSEARCA:AGQ) and Fortuna Silver Mines (NYSE:FSM).
Disclosure: I have no positions in any stocks mentioned, and no plans to initiate any positions within the next 72 hours. I wrote this article myself, and it expresses my own opinions. I am not receiving compensation for it. I have no business relationship with any company whose stock is mentioned in this article.