Disney (NYSE:DIS) reported strong results in its first quarter 2013 earnings presentation. The company's first quarter earnings per share beat analysts' consensus estimate by $0.03 at $0.79 for the quarter. Top line revenue was 5.2% higher than the first quarter of last year but operating income was lower at $2.4 billion, a decrease of 2.6% from the first quarter of 2012.
Parks and Resorts continued to drive core revenue for the company. At $3.4 billion the segment showed the greatest improvement from first quarter 2012, increasing revenue 7.5%. Revenue from Consumer Products was also notably higher at $1.0 billion, increasing 6.9% from the first quarter of last year.
Media Networks was the greatest contributor to the company's bottom line, representing 45% of revenue and 51% of segment operating income. Revenue from the Disney Channels, ABC Family and A&E Television Networks helped first quarter revenue grow 7%.
Studio Entertainment, however, struggled in the first quarter. Revenue for the business segment fell 4.5% from the first quarter of 2012 and segment operating income was down 43.3%. Decreases in the segment were attributed to lower demand for first quarter feature releases in comparison to the prior-year quarter as well as higher distribution and film costs.
Robert Iger, Chief Executive Officer, reported on the acquisition of Lucasfilm and reiterated his confidence in the future growth of the Studio Entertainment business segment in the first quarter 2013 earnings presentation. Disney's acquisition of Lucasfilm adds the Star Wars franchise to Disney's portfolio. Star Wars Episode 7 is projected for a 2015 release and additional film development is also in progress.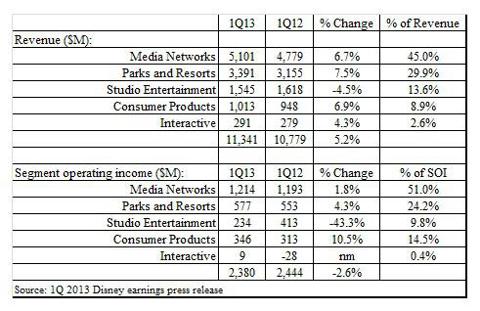 Two profitability factors affecting Disney's stock value in 2013 will be Parks and Resorts revenue, with a focus on MagicPlus, and product sales from the Lucasfilm acquisition.
In 2013, Parks and Resorts revenue should continue increasing at higher quarterly growth rates due to park expansions as well as substantial investment in MagicPlus. Expenses from these investments are decreasing and earnings realization is increasing, which should greatly help 2013 profit margins in the business segment.
According to James Rasulo, Chief Financial Officer, attendance at domestic parks was up 4% in the first quarter and per capita spending increased 6%. Rasula expects similar trends to continue through the remainder of the year.
Second quarter guidance from Rasulo also noted the inclusion of the Easter holiday which adds additional revenue growth potential for the quarter.
Income generation from the Lucasfilm acquisition is also a positive earnings factor for Disney. Studio Entertainment revenue should see increases from the Star Wars franchise as well as other Lucasfilm products. Additionally, Consumer Product sales should improve from the demand for Star Wars affiliated products.
In 2012, the company's positive earnings results led to a stock return of 32.77%. Continued earnings momentum in 2013, specifically from increased Parks and Resorts revenue, should help the company's stock continue its upward trend.
Given the current outlook and earnings growth potential, Disney appears to have a one-year price target1 of $51.35, closing slightly above the price target on February 5 at $54.29.
Given the overvalued price comparison, investors considering Disney stock in 2013 should closely watch Lucasfilm related product developments. If Lucasfilm related products are highly successful the stock could have greater upside potential in 2013 reaching a high-end price target of $56.31. If Lucasfilm product sales are delayed and operating margins in the Studio Network segment decrease further, then the stock could retreat to a low-end price target of $48.87.
1 Price targets are based on Bodie, Kane and Marcus' intrinsic value formula. The intrinsic value formula discounts the projected one-year future cash flow value by the risk-free rate on the one-year Treasury note plus a beta of 1.19 times the market's expected one-year risk premium. The market risk premium assumes stock market appreciation in 2013 to be similar to 2012 and is based on Dow Jones Industrial Average index return. Price target ranges use corporate valuation estimates from Morningstar.
Disclosure: I have no positions in any stocks mentioned, and no plans to initiate any positions within the next 72 hours. I wrote this article myself, and it expresses my own opinions. I am not receiving compensation for it (other than from Seeking Alpha). I have no business relationship with any company whose stock is mentioned in this article.