"If you don't mind haunting the margins, I think there is more freedom there." - Colin Firth
Markets continue to look very wobbly here as intermarket trends continue their deterioration. Europe has re-entered the news, as spreads widen in credit markets and the Dow fights for 14,000. I continue to lean towards the idea that we are either at the start of a correction in risk assets, or about to enter one. This is not based on some gut feeling, but rather process. Our ATAC models used for managing our mutual fund and separate accounts positioned fully out of equities, sensing a deflation pulse as early as two weeks ago. Emerging markets are getting no love, and it appears that few are ready for a volatile period ahead.
What's the catalyst for a decline? Perhaps its Spain and the return of negative contagion which Mario Draghi is paranoid about. Take a look below at the price ratio of the iShares Spain ETF (NYSEARCA:EWP) relative to the iShares Germany ETF (NYSEARCA:EWG). As a reminder, a rising price ratio means the numerator/EWP is outperforming (up more/down less) the denominator/EWG.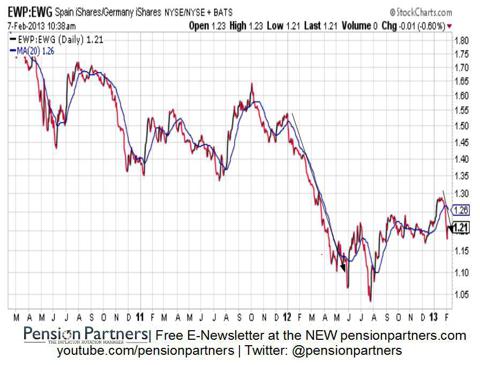 Click to enlargeConsider Spain to be the most leveraged and risky segment of Europe in this example, relative to the "stronger" Germany. When the trend has been down, it signaled a period of deflationary pressure overseas which ultimately flowed through to risk sentiment in the U.S. Note the incredibly sharp breakdown in recent days as Spain has fallen. A widening corruption scandal over Prime Minter Rajoy, combined with continued poor economic activity might be re-awakening fears of another Europe driven scare independent of the ECB's pledge to do "whatever it takes" to save the Euro.
Could a butterfly be flapping its wings? Anything is possible. When intermarket deterioration begins, it is never quite clear the reason why underperformance is taking place. But in many ways, the why matters a lot less for trader than the when. Caution remains warranted. Few are prepared for a surprise decline.
Disclosure: I have no positions in any stocks mentioned, and no plans to initiate any positions within the next 72 hours. I wrote this article myself, and it expresses my own opinions. I am not receiving compensation for it (other than from Seeking Alpha). I have no business relationship with any company whose stock is mentioned in this article.
Additional disclosure: This writing is for informational purposes only and does not constitute an offer to sell, a solicitation to buy, or a recommendation regarding any securities transaction, or as an offer to provide advisory or other services by Pension Partners, LLC in any jurisdiction in which such offer, solicitation, purchase or sale would be unlawful under the securities laws of such jurisdiction. The information contained in this writing should not be construed as financial or investment advice on any subject matter. Pension Partners, LLC expressly disclaims all liability in respect to actions taken based on any or all of the information on this writing.