Starbucks (NASDAQ:SBUX) aggressively expanded operations during FY12 at a rate not seen since before the financial crisis. The focus of this expansion has been in the U.S., where the majority of its revenues are derived, and in international markets (China in particular). Starbucks stated its objective to accelerate its expansion in these two markets over the next several years, which will provide it with excellent growth prospects.
The Channel Development Segment was another exciting area for Starbucks during the year. Still young and in a high growth stage, it is rapidly becoming an significant part of the overall business. This segment will continue to be important as it aids in increasing sales leverage and expanding margins, which will be major factors moving forward.
12 month price target

Based on recent performance and modeled future performance, I arrive at a $64 P/E 12 month price target. Expected FY13 and FY14 EPS are $2.31 and $2.78, respectively.
The factors listed and discussed below suggest strong performance for Starbucks in FY13:
Coffee deflation.
Growth in highly profitable Channel Development segment.
Fresh domestic opportunities.
Aggressive expansion in China.
1. Coffee deflation.
Coffee C-price increased 132%, from a low of $1.29 in 2010 to a high of $2.99 in 2011 (end of month closes). However, coffee has recently decreased about $1 from a high of $2.40 per/lb to a recent price of $1.41 per/lb. According to Starbucks this decrease should benefit operating income by about $100m in FY13 and FY14, adding ~$0.09 to EPS in each year. Starbucks has fixed the majority of its coffee cost for the next 1.5 years. This will help drive sales leverage and operating margins across all segments, especially the Channel Development segment.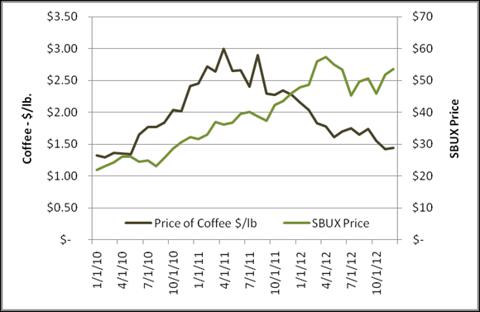 2. Channel Development growth and the single-serve market.
The Channel Development segment grew 50% yoy, accounting for 10% of total net revenues. This segment includes product such as ready to drink beverages, prepackaged whole bean and ground coffee as well as premium single serve coffee and tea products. Starbucks and Tazo branded K-cup portion packs contributed ~$232m, or 50% of the segment growth. The segment's modest cost structure provides Starbucks the opportunity to earn more per dollar of sales at unit levels and on a companywide basis. Despite significant increases in the price of coffee and costs associated with the introduction of Starbucks and Tazo branded K-cup portion packs, segment operating margin was 27%, a slight yoy decrease.
Expectations:
A. Segment operating margins to be +30% primarily due to:
Lower commodity costs and continued smooth integration of single serve product mix.
Increased POD's for, and sales of, high margin items (single serve products) at SBUX stores.
B. Single serve will:
Continue its rapid growth contributions to profitability. Starbuck's premium single cup (NASDAQ:PSC) products were responsible for ~$.06 EPS during FY12. In FY13 I expect profits in the PSC market to contribute ~$0.17 to EPS, a 6% contribution to EPS growth. These estimates are based on expected revenues from PSC to be approximately $550m, EBIT margins growing to 27.5%.
According to the National Coffee Association, 10% of U.S. households owned a single serve brewing system as of the end of 2012 with the majority purchased in the last 6 months, representing 1.3% annual growth over the last five years. As this market expands, and SBUX picks up market share with the sale of its Verismo System, its high margin coffee pod product sales will expand at a much faster rate.
3. Aggressive unit expansion in U.S market.
U.S. retail stores have always been the primary revenue generator for SBUX, and they accounted for 66% of total net revenues in FY12. Starbucks recently announced an accelerated growth plan to open at least 1,500 net new stores in the U.S. by 2017, an increase of 13.5%. I believe this plan will succeed due to the following factors:
A resilient U.S. market:
U.S. revenue at SBUX retail stores has increased 8% annually since FY10, while operating margins have expanded from 19.6% to 22% over the same time period.

Over the last two FY's I estimate U.S. unit operation had a cumulative effect of $0.39 EPS, and should add another $0.31 to EPS in FY13 alone.
In an attempt to increase sales at existing stores going forward, Starbucks recently announced plans to introduce products from Evolution Fresh in 5,000 stores and products from La Boulange in 2,500 stores by the end of 2013.
Improving unit level operations:
Average Unit Volumes increased 17.7%, to $1.2 million, over the last two years.
Store level profit margins increased 380 basis points, to 20.6%, over the last two years.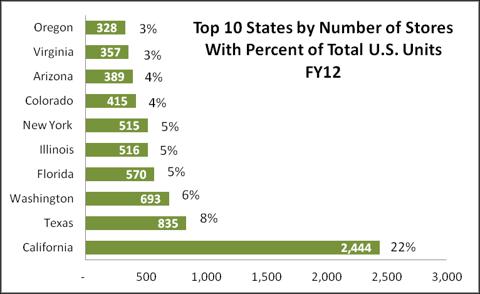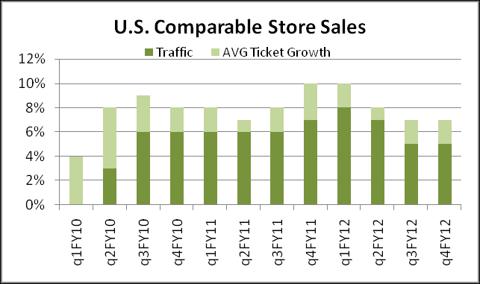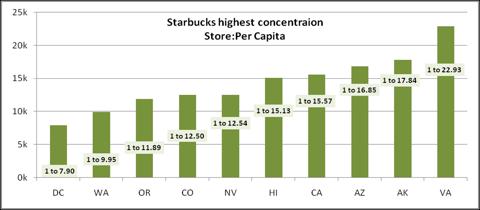 4. Aggressive China Expansion.
SBUX currently operates 700 stores in mainland China, with plans to grow to 1000 by the end of 2013, and 1500 by the end of 2015. I believe their goal of 1500 stores in China will be achieved sooner than projected based on current unit level operations:
According to SBUX, AUVs in China at company operated stores are now $886k, up 75% from FY08 (CAGR 15%).
Those same stores are generating $266k cash profits.
New store sales to investment ratio is 3 to 1 and are expected to generate $168k in cash profits in their first year.
Primary risk factors for Starbucks
U.S. consumer spending habits.
U.S. comparable store sales.
Future competition.
1. Consumer spending habits.
A potential for SBUX is the lack of a fiscal deal and the impact this could have on the consumer if no deal is struck. If disposable income if negatively impacted consumers will be less willing to pay for premium coffee, which would meaningfully impact SBUX growth.
2. Comparable store sales.
U.S. consumer spending has a significant impact on the performance on SBUX operations. Over the last twelve quarters U.S. comparable store sales have consistently been in the 6%-8% range. I expect this trend to continue over the next 1 to 2 years given the quick integration of proprietary and acquired products in a growing number of domestic stores. These measures will have limited impact a couple years down the road as SBUX will face increased competition with competitors such as Dunkin Donuts (NASDAQ:DNKN).
3. Future competition.
Increased competition from large QSR chains in major Starbucks U.S. markets will begin to have a major impact on Starbuck revenue growth. For example, Dunkin Donuts has no physical presence in California, location of SBUX largest unit count (2,444). There are only 30 Dunkin locations in Texas, home to 835 Starbucks stores, with plans to expand in the near future. This physical presence will lead to customer conversion and have a trickle-down effect on SBUX packaged goods sales.
Disclosure: I have no positions in any stocks mentioned, and no plans to initiate any positions within the next 72 hours. I wrote this article myself, and it expresses my own opinions. I am not receiving compensation for it. I have no business relationship with any company whose stock is mentioned in this article.