"In the short run, the market is a voting machine, but in the long run it is a weighing machine." — Benjamin Graham, The Intelligent Investor
That is the best analysis we can find about the current market. We believe there is an intrinsic value for shares and our analysis attempts to calculate this. But in the short-term market sentiment is a key factor and at the moment the votes are primarily negative.
But there are some positives appearing. This week it was IBM (NYSE:IBM). IBM announced better than expected fourth quarter results (Call Transcript). At Valuecruncher we have previously looked at IBM. Our 2008 projections in our previous analysis were not far out - we projected 2008 revenues of US$105.0 billion against actuals of US$103.6. We decided to update our valuation of IBM.
Valuecruncher valuation model of IBM with interactive assumptions
Valuecruncher produces a valuation of US$128.62 for IBM. This is a current valuation (an estimate of intrinsic value using a discounted cash flow model) not a target price. This valuation is 42.8% above the current share price of US$90.07.
Assumptions
Revenue: Reuters aggregates 15 analysts covering IBM and these analysts have a mean estimate of 2009 revenues of US$103.2 billion. For our analysis we have used US$105.0 billion in 2009, US$107.0 billion in 2010 and US$110.0 billion in 2011.
Profitability: We have used an EBITDA margin of 20% flat to 2010. Reuters had IBM's EBITDA margin at 20.26% in 2007 but is waiting for detailed profitability results for 2008 (including at the EBITDA line) which have not yet been released by the company.
Capital Expenditure: We have assumed capital expenditures of US$4.5 billion in 2009 and 2010 rising to US$5.0 billion in 2011 and beyond.
Discount Rate: 10.5%.
Terminal Growth Rate: 3.0%.
Our analysis incorporates the cash and debt the IBM balance sheet – Valuecruncher calculates a net debt number.
Our analysis has considerable range for downside:
Increasing the discount rate to 11.5% drops our valuation to US$116.20.
Lowering the terminal growth rate to 2% drops our valuation to US$117.41.
Lowering our 2009-11 revenues to US$100.0 billion drops our valuation to US$116.43.
Lowering our EBITDA margin to 17.5% from 2009 drops our valuation US$111.00.
Combining all of these sensitivities results in a valuation of US$84.74 - 5.9% below the current share price.
Comparator Analysis
Comparator analysis (sometimes called comparison company analysis) is a relative valuation approach. For IBM we looked at four peer companies - Accenture (NYSE:ACN), HP (NYSE:HPQ), Microsoft (NASDAQ:MSFT) and Oracle (NASDAQ:ORCL). We calculated enterprise values - market capitalisation plus net debt (long-term borrowings less cash). Then we measured a range of metrics against the enterprise value for IBM and the peer set.
Click to enlarge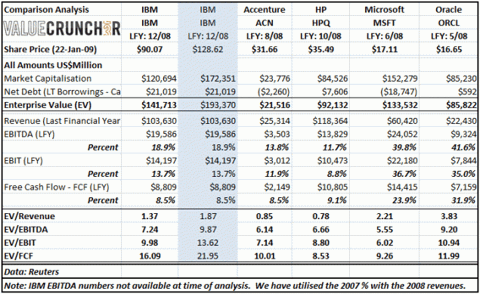 We have used the last financial year [LFY] as the base set of metrics. IBM has not yet released the 2008 LFY profitability (EBIT and EBITDA) and free cash flow results. For this analysis we have used the 2008 revenue numbers with the 2007 profitability and free cash flow margins. The highlighted column links our DCF valuation to the current market valuation.
IBM is currently trading in the middle to the upper-end of the valuation metrics of the peer group. Our DCF valuation places a value on IBM well above where the market is currently valuing the company and the peer group. Reviewing our assumptions we remain comfortable with our valuation. Using the DCF valuation approach we believe that IBM is trading at a discount to intrinsic value. The market is definitely voting negative - but in the long-run we believe IBM represents value at current prices.
Disclosure: None