Coca-Cola (NYSE:KO) the carbonated-beverage behemoth, reports their calendar 4th quarter, 2012 earnings before the bell on Tuesday, February 12th, 2013.
Per ThomsonReuters, analyst consensus is looking for $0.43 in earnings per share (EPS) on $11.55 billion in revenue for expected year-over-year (y/y) growth of 10% and 5% respectively.
If full-year estimates are met, and KO generates $2.00 in EPS on $48.1 billion in revenues, 2012 growth will be 4% EPS growth for the full year on 2% revenue growth, hardly anything to get excited about.
Although there has been some slippage in 2013's EPS estimate over the last 12 months, it has been relatively minor.
KO rose 3.6% in 2012, versus the SP 500's +15% return, not including KO's dividend.
In 2013, year-to-date, KO is up about 6%.
In 2011, the very tough year where we saw the Greek debt crisis and the US credit downgrade, KO returned 6% (excluding the dividend) versus the SP 500's 2%.
For some history, the 1980's and 1990's mid to high-single-digit case volume growth evolved into the low single-digit to negative case volume growth of the 2000's. I don't think there has been greater than 2% case volume growth in the US for 12 years now, as water and energy drinks, and a plethora of competition has taken share from the carbonated soft drink market. (North America is 46% of KO's total revenues as of the September quarter, but just 29% of KO's total operating income.)
KO is still gaining market share globally, with some of that due to acquisitions, etc.
The EU and Latin America are 10% each of KO's total revenues, but are 25% each of KO's total operating income.
Ko's valuation is similar to that of many consumer staples: the stock always seems perennially slightly expensive, and never gets "truly" cheap on a valuation basis.
At 19(x) and 18(x) 2012 and 2013 expected EPS of $2.00 and $2.17, KO's p.e-to-growth ratio is about 2(x). In addition, KO's cash-flow valuation of 22(x) 4-quarter trailing cash-flow and 28(x) free-cash-flow also seems salty, but again, these valuations aren't much different than historical valuations.
Forward earnings estimates for KO are expecting growth from 2013 through 2016 of 9% - 10%, on revenue growth of 4% - 5%, which is much better than 2012 growth.
One of the keys to KO is the dividend and share repurchase: according to the KO 10-K and our internal spreadsheet, in 2011 KO spent more on the dividend and share repurchase than they generated in free-cash-flow, and it looks like 2012 is on track for similar progression, so I'm wondering if management is sick of watching the stock stagnate, relative to other consumer staples with similar dividends and share repo allocations.
Given KO's credit rating and access to the capital markets not to mention credit spreads it doesn't really matter, since KO has ready access to capital, but we'd prefer companies cover their capital allocation from free-cash-flow.
The last missing piece for KO is growth, both earnings growth and revenue growth. Considering KO is an iconic brand along the same lines as AAPL and Nike (NYSE:NKE), we think they can do better.
The attached weekly chart shows the stock remains above the '08 - '09 upward sloping trend line, and as of the last week, is starting to attract some attention again.
KO's all-time high was $44.47 in July, 1998 shortly before the Long-Term Capital crisis. I thought KO would have made an all-time high before the end of 2012, but that was not the case.
We are long KO and recently bought a little more near the trend line as a defensive stock for pullbacks such as we are seeing presently.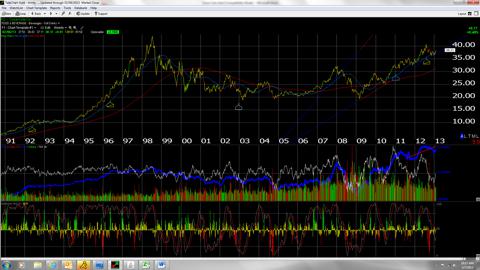 Disclosure: I am long KO, AAPL, NKE. I wrote this article myself, and it expresses my own opinions. I am not receiving compensation for it (other than from Seeking Alpha). I have no business relationship with any company whose stock is mentioned in this article.