On February 6, 2013, Jim Cramer hosted his typical 'Mad Money' show. Whether one likes him or hates him, the market and media uses his opinion at times. On the show, Cramer highlighted my favorite stock: McCormick Incorporated (NYSE:MKC). MKC produces, markets, and distributes spices. Cramer hit all of the right reasons to own the stock including:
Dominant Market Share (~50% globally)
Referenced it as the old "Dutch East India Company"
Produces private label, so chances are it is still a MKC product
Increases its dividend Y/Y
Outperformed the S&P 500 over the last decade without even reinvesting the dividend (Source: Capital IQ)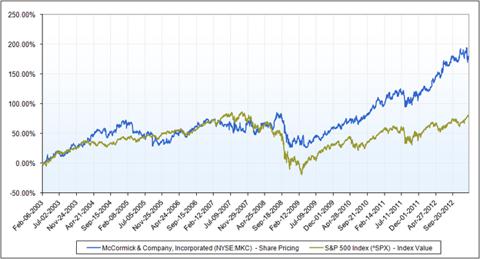 His thesis was that pullbacks are the only time one can buy MKC shares and that now is one of those times. Shares are down over 5% since it released earnings. Earnings came in where management expected, just not where the Street expected. The Street was overly bullish on the stock and pushed up estimates beyond management's targeted 9% to 11% EPS growth and 4% to 6% long-term sales growth. Management also had lower guidance than analysts expected, with sales growth of only 3% to 5% (excluding the Wuhan-Pacific acquisition) and EPS to be between $3.15 to $3.23 with a pension expense (due to low-interest rates) and a higher tax rate hurting growth. On top of this, customer YUM! Brands (NYSE:YUM) experienced poor results with significant headwinds at its Chinese KFCs. Due to companies competing on a supply chain basis, MKC's numbers out of Industrial China were weaker than hoped. Main customer PepsiCo (NYSE:PEP) also must have been weak as it accounts for approximately 11% of MKC's total sales. The fact that MKC has acquisitions potentially in the pipeline, it isn't including Wuhan into guidance yet despite it potentially closing on-time at the end of mid-2013, and provided low guidance, sets this stock up for a potential rally. With improving fundamentals, this stock may just be getting started.
MKC's stock is the story of the tortoise and the hare. Many don't realize how much it has advanced over the last decade. In the last three years, it's been on almost a straight line in terms of stock price movement. A function of the stock has a correlation of 92%! This stock is clearly on a long-term momentum train (Source: Capital IQ):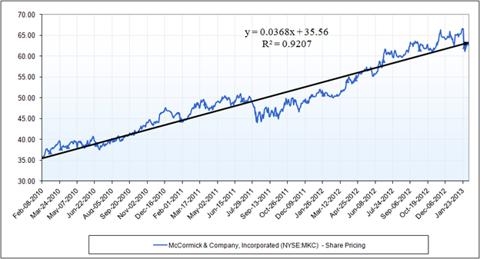 Is now the right time to buy though? As of February 7th's morning share price, MKC is trading at $63.42 or 20.9x ttm earnings. It is up over 35% since its July 2011 drop. Every time it has dropped more than 5%, the stock rallies long-term from there. The stock price dropped over that 5% mark since its earnings release. However, the stock looks to be fairly valued at these prices, as opposed to Cramer's thought that the stock "has never been cheaper". Over the last five years, MKC trades on average at 18.1x ttm earnings (Source: Capital IQ):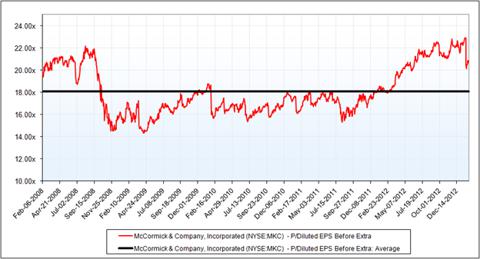 At close to 21x ttm earnings, the stock is not cheap on a medium-term basis. Counter to this, MKC is trading close to its 10-year ttm price-to-earnings average of 20.25x. Looking back even longer-term, since 1994, MKC's P/E averaged 22.5x earnings (Source: Capital IQ):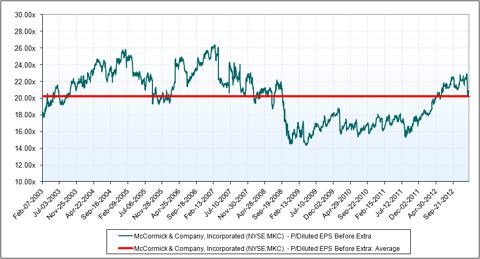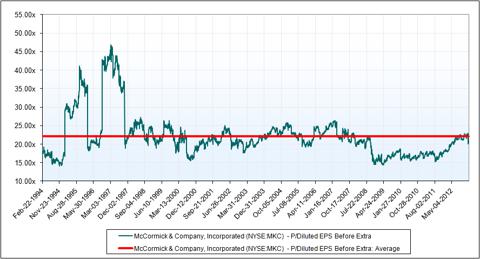 On an EV/EBITDA basis, MKC also looks expensive. At an average of 11.15x, MKC appears overvalued with its current EV/EBITDA around 13.5x. Most of this attrition is due to market capitalization increase and not a large increase in debt or large reduction in cash (Source: Capital IQ):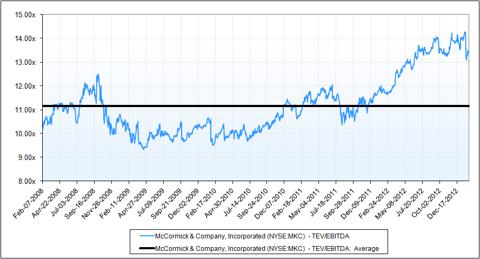 Based on its growth prospects, market share dominance, new product launches, increasing dividend, potential new acquisitions, buyback plan, niche, private-label exposure, and high-growth emerging markets exposure, MKC deserves higher multiples than where it's been trading. This does not even take into account the value creation and stronger ROIC it is generating. Over the last 5 years, MKC increased its Economic Value Added (NYSE:EVA) from $130.8M to $218.2M. This is a 10.78% CAGR! Correlated to that, management increased its ROIC 130 bps to 15.6%. Management is clearly driving shareholder returns.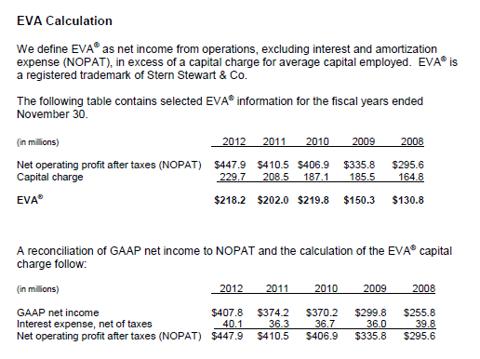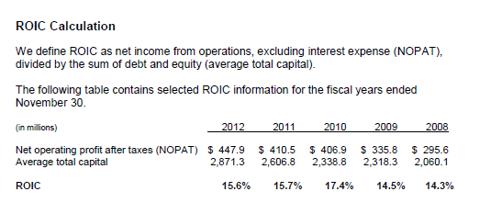 Cash flow cycle is also a positive as it has improved over the last 5 years. Customers include PEP, Wal-Mart (NYSE:WMT), Kroger (NYSE:KR), Sysco (NYSE:SYY), Kraft Foods (KRFT), Target (NYSE:TGT), General Mills (NYSE:GIS), HJ Heinz (HNZ), McDonald's (NYSE:MCD), and YUM. Investors who own the customers of MKC should look to it as a signal. Companies compete supply chain against supply chain in today's market. With its new vendor managed inventory system, MKC will improve its cash flow cycle by lowering inventory, improve customer service and retention, reduce demand uncertainty and reliance on forecasting, and reduce overall costs. Its cash flow cycle is starting to benefit from the new VMI system that was initiated in 2011 (Source: Capital IQ):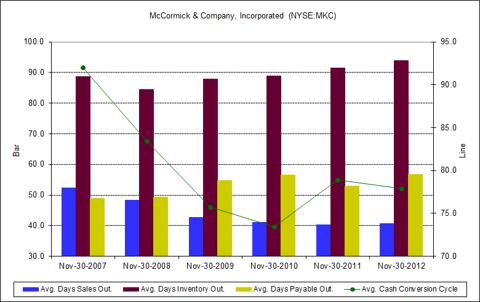 There are four main concerns investors have had about MKC: the dual-share class, the higher amount of debt and low cash levels, growing inventory, and the high goodwill and intangible assets amounts. The dual-share class shouldn't be a high concern for two reasons: 1) the pension plan owns the majority of MKC voting shares and this motivates employees 2) management is creating value for shareholders. The debt amounts are also of low concern. Management uses cash rather than holds onto it. With a low-interest rate environment, this is smart management as returns are meaningless in a company's account or holding relatively risk-free securities. Its total debt to capital is down from its 2008 high as management has been paying down the debt that was issued due to more expensive acquisitions, such as Lawry's. Its net debt to capital is actually at a 5 year low (Source: Capital IQ)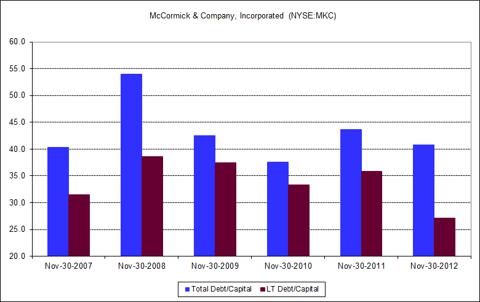 The company also generated $455M in cash flow from operations in FY12 and has $95.7M of cash on hand. Debt and pension liabilities total to $1.148B on its balance sheet. Management is slowly reducing debt over time and is instead reinvesting in the business through acquisitions and capital expenditures like the new plant in China (Source: Capital IQ):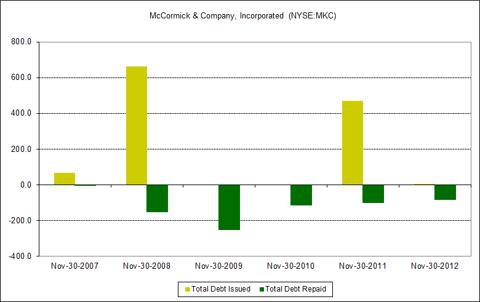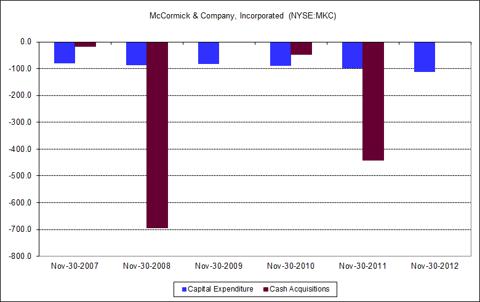 Inventory is a big item for many companies. Inventory accounts for about 14% to 15% of MKC's assets. In 2011, MKC strategically bought more raw materials inventory due to a rising price environment to help maintain margins. Raw materials inventory is on the downswing since, dropping almost a full 1% since last year. Finished goods inventory is also on the decline as it dropped from ~8% in 2007 to under 7% in 2012. This can be attributable to the new VMI systems and its CCI programs. The values should improve in the future due to these items (Source: Capital IQ):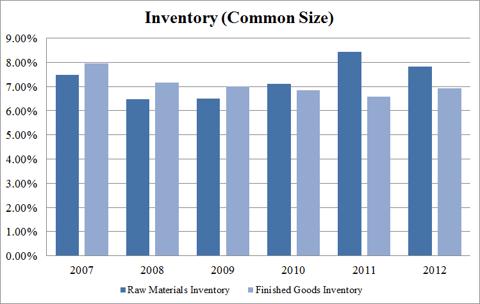 The final item is a personal concern of mine. Due to its acquisition strategy, MKC has vastly increased its Goodwill & Intangible Assets as a percentage of assets. It is now sitting at a combined 48.5% of assets! These values need to come down before the potential write-down and loss of shareholder value that it could then face (Source: Capital IQ):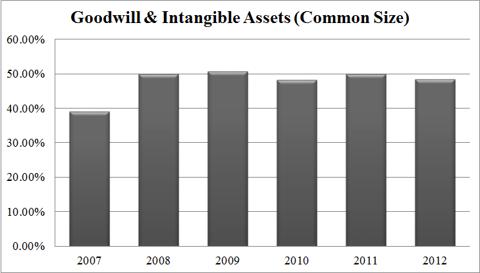 MKC is a great story and supports a great business model. It is growing and a consistent company. Buying and holding forever has potential with this stock. With the average EPS estimate on Capital IQ of $3.22 (high-end of guidance) and a multiple of 20.25x yielding a $65 value, MKC appears to have little upside from here. Long-term and very patient investors could consider this stock though below $62 to at least provide 5% upside. Sorry Mr. Cramer but MKC is not as cheap as it has been in the past.
Disclosure: I am long MKC, HNZ. I wrote this article myself, and it expresses my own opinions. I am not receiving compensation for it (other than from Seeking Alpha). I have no business relationship with any company whose stock is mentioned in this article.