Cellceutix (OTCQB:CTIX) traded as low as $0.10 at the end of 2010 with 91,914,500 shares outstanding as of December 31, 2010. Cellceutix has posted a 2,370% gain in just two years.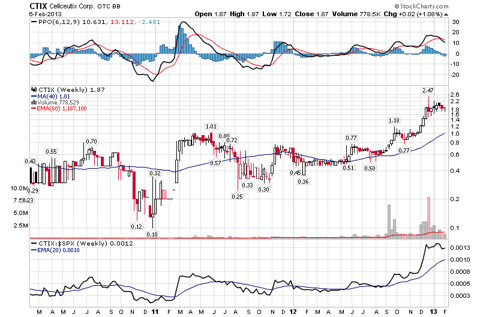 Senesco (SNTI.OB) traded as low as $0.11 at the end of 2012 with 116,975,283 shares outstanding as of October 31, 2012. Is it possible for Senesco to have a similar gain than Cellceutix did during the past two years?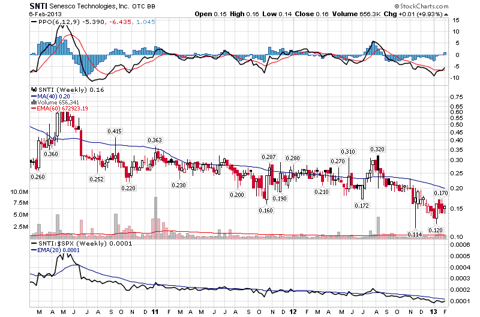 Science
Cellceutix's lead compound is Kevetrin. Cellceutix describes Kevetrin with the following statement:
"Kevetrin has demonstrated the potential for a major breakthrough in cancer research by inducing activation of p53. p53, often referred to as the "Guardian Angel Gene" or the "Guardian Angel of the Human Genome" due to its crucial role in controlling cell mutations, is a tumor suppressor protein that is encoded by the TP53 gene in humans and has been widely regarded as possibly holding a key to the future of cancer therapies. p53 has been shown to play critical roles in the homeostatic health of the human body by activating proteins required to repair DNA and plays a major role in the life cycle of cells by inducing cell cycle arrest and apoptosis to maintain cellular and genetic stability."
Senesco's therapeutic candidate, SNS01-T comprises three components: a DNA plasmid, a small inhibitory RNA [siRNA] and polyethylenimine [PEI]. The DNA plasmid expresses eIF5AK50R (human eIF5A containing a lysine to arginine substitution at amino acid position 50) that up-regulates the apoptotic pathways within cancer cells. By RNA inhibition [RNAi], the siRNA down-regulates the production of hypusine eIF5A and by this mechanism suppresses anti-apoptotic proteins, NF-kB, ICAM and pro-inflammatory cytokines, which are proliferation factors for multiple myeloma. PEI is a cationic polymer that promotes self-assembly of nanoparticles with demonstrated enhanced delivery to tissues and protection from degradation in the blood stream.
Preclinical studies have shown that SNS01-T is able to promote the elimination of cancer cells through multiple validated mechanisms including:
i. Down-regulating NFkB and anti-apoptotic proteins
ii. Up-regulating p53 and pro-apoptotic proteins
iii. Blocking the IL-6 paracrine growth signal among cells in the tumor environment
Both Kevetrin and SNS01-T are targeting the activation of p53, the "Guardian Angel Gene".
Pre clinical studies
Kevetrin has been studied in animal models using a number of drug-resistant cell lines. Kevetrin was studied in two cell lines of multi-drug resistant lung cancer. In two studies with the A549 cell line, Kevetrin showed average tumor growth delay of 72% and average tumor volume reduction of 81% compared to controls. Both tumor growth delay and tumor volume reduction were also significantly greater with Kevetrin than with paclitaxel (p<0.001).
On August 13, 2012 Senesco issued a press release announcing that the results from its completed non-clinical study of SNS01-T in combination of lenalidomide in a model of multiple myeloma. Combining SNS01-T treatment with lenalidomide (the active ingredient in Revlimid marketed by Celgene Corporation) inhibits tumor growth more effectively than either drug alone. All mice treated with the combination survived over 100 days to the end of the study. Tumors were eradicated after a single 6-week cycle of the combination in two thirds of the animals, and there was no regrowth after an additional 8 weeks without further treatment.
Both, Kevetrin and SNS01-T, have shown good pre clinical results.
Clinical trials
Cellceutix's Kevetrin is currently at a Phase 1 trial for solid tumors at Harvard Cancer Center's Dana-Farber Cancer Institute and partner Beth Israel Deaconess Medical Center.
The trial, titled, "A Phase I, Open-Label, Dose-Escalation, Safety, Pharmacokinetic and Pharmacodynamic Study of Kevetrin (thioureidobutyronitrile) Administered Intravenously in Patients with Advanced Solid Tumors," will be conducted for the determination of the pharmacokinetics, pharmacodynamics, tolerance, safety, and maximum tolerated dose in patients with the diagnosis of refractory solid tumors. Approximately 40 patients will be enrolled in the dose escalation portion of study. In addition, once the maximum tolerated dose [MTD] has been established, up to 12 additional patients may be enrolled at the MTD dose level to further evaluate this dosage safety and pharmacodynamics.
Senesco is conducting a Phase 1b/2a clinical study with SNS01-T in multiple myeloma, diffuse large B cell lymphoma [DLBCL] and mantle cell lymphoma [MCL] patients. The clinical study is an open-label, multiple-dose, dose-escalation study, which is evaluating the safety and tolerability of SNS01-T when administered by intravenous infusion to relapsed or refractory multiple myeloma patients. The study design calls for four cohorts of three to six patients each. Patients in each cohort will receive twice-weekly dosing for six weeks followed by up to a four-week safety data review period before escalating to a higher dose level in the next cohort. While the primary objective of the initial study is to evaluate safety and tolerability, the effect of SNS01-T on tumor response will also be evaluated using multiple, well-established criteria including measurement of the monoclonal protein, or M-protein. Senesco has selected Mayo Clinic, University of Arkansas for Medical Sciences and the Randolph Cancer Center at West Virginia University as its clinical sites. The study is open and has completed its first cohort. The results of the first cohort showed that SNS01-T was safe and well tolerated and met the criteria for stable disease in 2 of the 3 evaluable patients. Currently two of the planned three patients in cohort 2 have completed dosing. No drug-related serious adverse events or disease limiting toxicities have been recorded to date.
Currently, both Kevetrin and SNS01-T, are in Phase 1 clinical trials and the trials are progressing as planned.
Financials
Cellceutix reported the fiscal 2013 first-quarter, which ended September 30, 2012, financial results on November 19 with the following highlights:
| | |
| --- | --- |
| Revenue | $0 |
| Net loss | $0.7 million |
| Cash | $0.1 million |
| Debt | $2.0 million |
On December 6, 2012, Cellceutix entered into a common stock purchase agreement with Aspire Capital Fund which provides that Aspire Capital is committed to purchase up to an aggregate of $10 million of shares of the company's common stock over the three-year term of the purchase agreement.
Senesco reported the fiscal 2013 first-quarter, which ended September 30, 2012, financial results on November 14 with the following highlights:
| | |
| --- | --- |
| Revenue | $0 |
| Net loss | $2.7 million |
| Cash | $1.3 million |
| Debt | $2.2 million |
On January 4, 2013, Senesco issued a press release announcing that it will raise approximately $3.0 million in gross proceeds in a registered direct offering of approximately 30,000,000 shares of common stock and five year warrants, to purchase approximately 30,000,000 shares with an exercise price of $0.12 per share. Each share, together with the warrant, was sold at a price of $0.10 per unit.
Insider ownership
As of June 30, 2012, Cellceutix's executive officers and directors together beneficially owned approximately 72% of the outstanding shares. There were no insider sell or buy transactions in Cellceutix during 2012.
As of September 30, 2012, Senesco's executive officers and directors together beneficially owned approximately 28% of the outstanding shares. There were four insider buy transactions in Senesco in 2012 and there have not been any insider sell transactions in Senesco since 2009.
Conclusion
Both of these companies are still highly speculative plays and will be issuing more shares in the future. There is no guarantee that the drugs make it to the markets. By comparing these two companies, one can see many similarities. Cellceutix has already delivered a massive gain from its lows in 2010. Senesco could start its ascent this year.
Disclosure: I have no positions in any stocks mentioned, but may initiate a long position in SNTI.OB over the next 72 hours. I wrote this article myself, and it expresses my own opinions. I am not receiving compensation for it (other than from Seeking Alpha). I have no business relationship with any company whose stock is mentioned in this article.