From time to time, I comment on high yield bonds (sometimes called "junk bonds") because they are akin to turnaround stocks in several ways. While they are called bonds, many high yield issues have return--and risk--characteristics closer to stocks than to other fixed income instruments. Also, many companies that issue high yield debt are in the process of turning around, or at least trying to. Some high yield issuers don't make it, file for Chapter 11 and eventually provide interesting post-bankruptcy stock opportunities.
Last year at this time, I urged caution in approaching high yield bonds, but my concerns proved to be unfounded as high yield had a very strong year in 2012. As measured by the Bank of America Merrill Lynch High Yield Master Index, junk bonds gained an average of 15.4% last year. In my defense, I did say "Maybe the high yield market can squeeze out another decent year before things head south…"
This year, I urge even more caution towards high yield bonds. The yields on junk bonds are at record low levels--below six percent--and I believe that at those levels you are not being adequately compensated for the risks you are taking.
The risks in high yield bonds right now come from a couple of different sources. First of all, I believe that defaults, which have been at very low levels, will begin to increase soon. As the graph below shows, periods of strong high yield issuance are usually followed by periods with a significant number of bankruptcies and defaults. We've seen several years of record breaking issuance, which suggests that a new bankruptcy wave may be just around the corner.
Another risk for high yield bonds (as well as for other types of bonds) is that interest rates will eventually begin to rise again. When that happens, bond prices will fall--perhaps quite sharply.
While it's not certain that either of these risks will materialize this year, I feel that the longer the current boom in high yield continues, the greater the risk of negative surprises. As I said above, at current low yields, holders of junk bonds are not getting adequately compensated for that risk.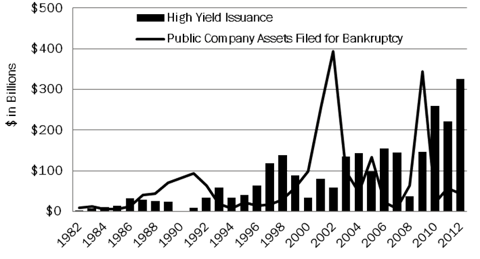 Disclosure: I have no positions in any stocks mentioned, and no plans to initiate any positions within the next 72 hours. I wrote this article myself, and it expresses my own opinions. I am not receiving compensation for it. I have no business relationship with any company whose stock is mentioned in this article.