One stock that I have been accumulating on dips is VirnetX (NYSEMKT:VHC). The company has been on a tear since 2010, rising from $5 to the present price of around $34-$35. There are a number of factors that make VHC a strong buy on my list, which I will discuss below.
VHC develops software and technology solutions for securing real-time communications over the Internet. VHC's software and technology solutions include domain name registry and GABRIEL Connection Technology.
Past history
Let's start by discussing what happened in the past. In 2010, VHC defeated Microsoft (NASDAQ:MSFT) and proved that it owned the secured SIP model. Other settlement licensing deals have been struck with former defendants Aastra, Mitel and Nec in 2012. Lately, Siemens Enterprise Communications and VHC signed a patent licence agreement which gave VHC a one-time payment and an ongoing reasonable royalty for future sales.
The story versus Apple
On November 6th, 2012 VHC won a patent infringement case against Apple (NASDAQ:AAPL). VHC won $368 million. Following the case, VHC filed a new lawsuit whereby they accuse AAPL of infringing on the same four patents that were described prior. The products specified include Apple's iPhone 5, iPod Touch 5th Generation, iPad 4th Generation, iPad mini, servers, and all computers using the Mountain Lion operating system.
On January 15th, 2013, AAPL provided the court with sales data for various products. In my opinion, this bodes very well for VHC's chances of winning this case and getting another settlement. I expect results of this lawsuit anytime next week.
Cowen & Co.'s Matthew Hoffman, who has an Outperform rating on the shares, wrote on November 28th that "We expect the trial judge to at least award VHC an ongoing royalty for still-infringing products."
"We continue to value VHC's patents at $2.7-$3.5B (midpoint $3.1B) and see the potential for shares to appreciate ~70% relative to the market over the next 12 months."
Fundamentals
Market cap $1.75b
Float of $42.42m
% Short 35.41%
% Held by Institutions 28%
% Held by Insiders 16.27%
What I find interesting is that CEO Kendall Larsen owns a chunk of the float and hasn't sold any shares even though VHC has risen to new highs over the last few years. You can see analysis of his listing here.
Technical analysis
Let's start by looking at the daily chart. One can see that VHC has been consolidating since April of 2012. A nice bullish triangular formation can been seen here.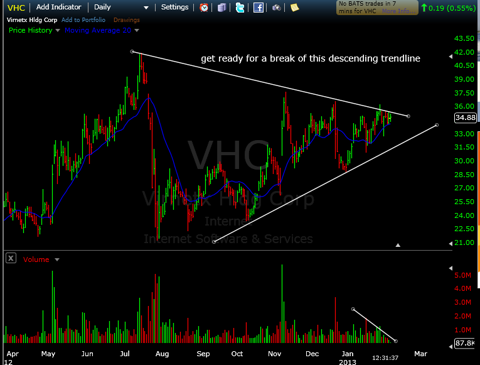 The monthly chart shows some resistance around $35. Once this breaks I expect $42 within a few weeks.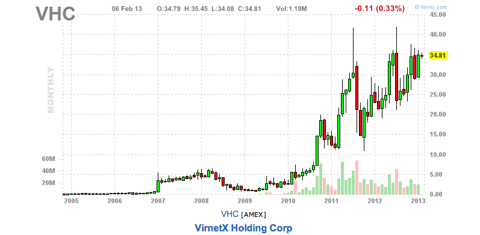 Cisco's upcoming Lawsuit
On March 3rd, 2013, , the trial versus Cisco (NASDAQ:CSCO) begins. The case against CSCO is for "willful" infringement, which if proven, can triple any damages a jury awards.
Last year, CSCO's motion to dismiss was denied by a Texas court on the basis that the court found that VHC retains substantial rights to the networking patents, which were originally transfer from SAIC. The patents are once again related to secure communications over Internet Protocol.
Conclusion
And finally, I'd like to conclude why I believe the technology in VHC makes this a stock to hold or buy for longer term potential.
1. Licensing potentials. VHC has the possibility of licensing its IP and use the technologies in a number of infrastructures and operating systems. The big potential here is 4G/LTE mobile devices which is the future.
2. Secure Domain Name Registry.
3. Possibility of security on cloud devices and mobile payments.
I am long VHC and have been for a while. I will be looking to add on any dips, or once we break over $35.
Disclosure: I am long VHC. I wrote this article myself, and it expresses my own opinions. I am not receiving compensation for it (other than from Seeking Alpha). I have no business relationship with any company whose stock is mentioned in this article.