The Canadian and U.S. natural gas markets operate as one large integrated market. Events in any region such as changes in transportation costs, infrastructure constraints or weather will have impacts on the other regions. The commodity cost makes up most of the final cost to consumers and is subject to change in response to supply and demand conditions. This volatility forces providers to seek a certain level of protection to keep the commodity's risk to a low level. Hedging and/or diversification allows moderate protection.
As we will see, a company stands out in this specialized market. Several projects are being pursued to diversify the business, add incremental value to existing assets and develop large scale energy infrastructure for the long run. These projects will contribute to enhance the equity's value and deliver long-term returns to shareholders.
The Company
TransCanada (NYSE:TRP) is a natural gas pipeline giant based in Alberta. The company operates a network of pipelines mainly on the West Coast of Canada. The first liquids pipeline went into service in 2010 across the U.S. to the refineries in Cushing, Oklahoma, for crude oil to be processed. Decreased volumes of natural gas in western Canada forced the company to diversify its activity in an attempt to reduce the risk.
According to the company, net income attributable to common shares for third quarter of 2012 was $369 million or $0.52 per share compared to $386 million or $0.55 per share in third quarter of 2011. Several natural gas projects are under way and will solidify the company's play on the West Coast. Adding the Keystone XL Project to the existing Keystone Pipeline will insure revenue and dividend growth for years to come.
Prince Rupert Gas Transmission Project
On January 9th, TransCanada was selected by Progress Energy (OTC:PREX) to design, build, own and operate a natural gas infrastructure in a submitted Prince Rupert Gas Transmission Project. The project will be the second major natural gas pipeline proposed on the West Coast of Canada since the Coastal GasLink Pipeline Project announced last June.
This pipeline would transport natural gas primarily from the North Montney gas-producing region near Fort St. John, British Columbia, to the Pacific Northwest LNG export facility in Port Edward near Prince Rupert. Cost is estimated at $5 billion according to the company.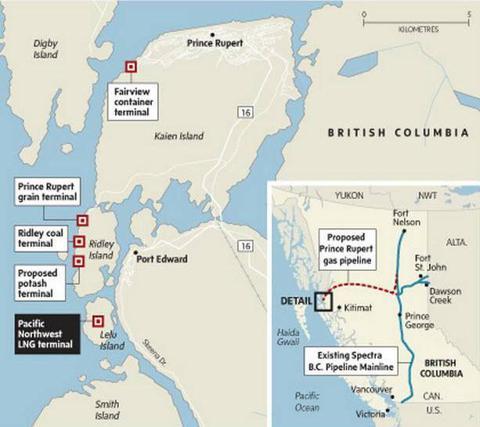 Source: 2B1st Consulting
Discussions with the local communities, essentially aboriginal, are in progress. The site selected needs extensive environmental inspection to assess the impact over the communities involved before designing a final route. The capacity of the pipeline would be 2 billion cubic feet per day to 3.6 billion cubic feet per day. The construction of infrastructure should begin somewhere in 2015 and be in service by the end of 2018, subject to regulatory approvals.
Russ Girling, TransCanada's President and CEO, said to the Canadian Press when interviewed on January 9th: "Western Canada has one of the largest and best deposits of shale gas in North America and it has a great opportunity to capture a significant share of the growth in the global LNG market by putting these kinds of projects together."
Keystone XL Pipeline Project
On January 22nd, TransCanada received good news when the Governor of Nebraska approved the Keystone XL Project re-route. Keystone XL would transport crude oil from Hardisty, Alberta, to Steele City, Nebraska, through a new section from the existing Keystone Pipeline. For more information about this project, please refer to my article published on January 31st on the Keystone XL Pipeline: A Flow Of Cash Up For Grabs.
Coastal GasLink Pipeline Project
The Coastal GasLink Pipeline is a major natural gas pipeline involving the construction of a 403 miles pipeline from the Dawson Creek area to the West Coast of B.C. The capacity of the designed pipeline would be 1.7 billion cubic feet per day with a potential expansion of 5 billion cubic feet per day. The estimate cost by the company is $4 billion and benefits in taxes would be $17 billion annually in four regional districts.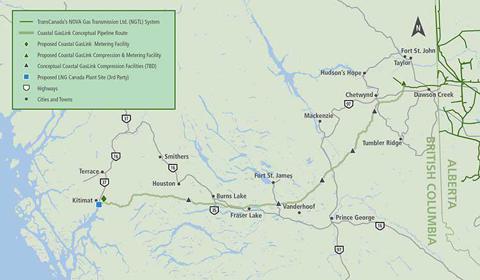 Source: TransCanada Corporation
The Coastal GasLink Pipeline Project will safely transport natural gas from the abundant gas reserves in northeast B.C. to the coast where it can be delivered to international markets while the Prince Rupert Gas Transmission Project will strengthen the company's natural gas provider position on the Western Coast.
NOVA Gas Transmission System Extension
TransCanada proposes to extend its existing NOVA Gas Transmission System in northeast B.C. to connect both the Prince Rupert Gas Transmission Project and the North Montney gas supply from Progress Energy and other parties. Adding this new infrastructure would allow the Pacific Northwest LNG Export Facility to access North Montney supplies as well as other Western Canada Sedimentary Basin gas supply through the NOVA Inventory. The estimate cost of this extension would be $1.5 billion and the delivery date should be in late 2015.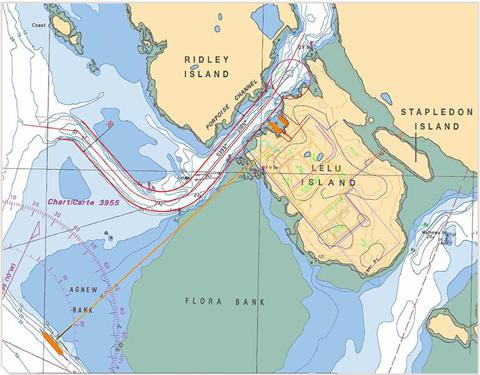 Source: LNG World News
Conclusion
As we have seen, several projects are in motion. TransCanada has the experience and the expertise to deliver their projects within the timeline and without major issues. TransCanada moves 15 billion cubic feet of natural gas per day, delivering to local distribution companies and businesses across Canada and the U.S. The company continually explores new ways to help producers reach their markets.
The philosophy of the company is appealing for the responsible approach regarding environmental and safety matters. Any project is scrupulously analyzed every step of the way to insure minimal footprint on the environment. TransCanada has over 50 years of experience in designing, building and managing pipelines. Its expertise and leadership are well recognized in the industry.
TransCanada is showing its determination to ensure new earnings growth beyond the Keystone XL Project. Investors looking to increase share value over time should consider this equity. The stock closed at $48.43 on February 5th, up $0.40 from yesterday on the NYSE Stock Exchange. I recommend monitoring the stock and wait for a better point of entry, ~$47 a share. Dividends have never been cut since inception in 2000 and increased every year.
Disclosure: I have no positions in any stocks mentioned, and no plans to initiate any positions within the next 72 hours. I wrote this article myself, and it expresses my own opinions. I am not receiving compensation for it (other than from Seeking Alpha). I have no business relationship with any company whose stock is mentioned in this article.