The new low volatility emerging market ETFs have delivered some nice performance this past year and as their name implies, with considerably less drawdown and volatility. The low or minimum volatility ETFs seem to be a winning combination to investors as many are understandably queasy after all the market turmoil the last several years. Typically the conventional emerging market funds can be more volatile and these products seek to minimize some of the drama with their respective security selection methodologies.
(NYSEARCA:EELV) PowerShares S&P Emerging Markets Low Volatility Portfolio. This ETF commenced trading just a little over a year ago on January 13, 2012. The fund tracks the S&P BMI Emerging Markets Low Volatility Index. For folks who have the means and inclination to backtest the index, the Bloomberg symbol is SPEMLVUT. From the EELV fact sheet the fund "consists of the 200 least volatile stocks of the S&P Emerging BMI Plus LargeMid Cap Index over the past 12 months". The fund currently holds 201 securities and carries an expense ratio of 0.45%. Low volatility stocks typically have a value bent and provide some yield. This PowerShares ETF has a very modest yield (so far) of only around 1.3%. The fund has caught on with investors as it has a healthy market cap of around $101 million. Listed below are the funds latest top country allocations.
Top 10 Country allocations for EELV:
South Africa 18.42 %
Malaysia 14.75
Taiwan 11.22
Brazil 8.26
Chile 8.11
Thailand 6.68
South Korea 5.78
Mexico 5.31
China 3.52
Indonesia 3.51
(NYSEARCA:EEMV) iShares MSCI Emerging Markets Minimum Volatility Index Fund. This ETF has a bit more history as its inception date is October 18, 2011. The fund tracks before fees and expenses the MSCI Emerging Markets Minimum Volatility Index. The Bloomberg symbol for this index is M00IEF$O. From the iShares MSCI EEMV fund fact sheet, "the underlying index measures the performance of equity securities in global emerging markets that have lower absolute volatility." The ETF currently has 211 holdings and has a very reasonable expense ratio of 0.25%. The yield on this ETF is about 1.7%. This fund has also been a hit with investors with a very large market cap of over $1 billion. The top 10 country allocations are listed below.
Top 10 Country Allocations for EEMV:
Taiwan 15.54 %
China 14.26
South Korea 9.45
Malaysia 7.92
Brazil 7.63
Thailand 7.12
South Africa 6.99
Indonesia 6.45
Chile 5.76
Colombia 3.98
(NYSEARCA:HILO) EGShares Low Volatility Emerging Markets Dividend ETF. This ETF which commenced trading on August 4, 2011, is a bit different and more ambitious than the others in that it aims for both low volatility and high yield in the emerging market space. The fund seeks investment results that correspond before fees and expenses to the price and yield performance of the Indxx Low Volatility Emerging Markets Dividend Index. The Bloomberg ticker for this index is IHILOT. From the EGShares HILO fact sheet - describes the index in this way: " a dividend yield weighted stock market index developed to provide a greater dividend yield (high income) and lower relative volatility (low beta) than the MSCI Emerging Market Index." The HILO ETF has just 30 holdings and carries an expense ratio of 0.85% which is in effect until at least July 2013. The yield is much higher as expected, chugging in at around 5.2%. The market cap is an acceptably healthy $87 million. The top 10 country allocations are listed below.
Top 10 Country Allocations for HILO:
South Africa 21.0 %
Turkey 17.8
China 11.3
Malaysia 10.0
India 9.5
Mexico 8.4
Thailand 7.1
Poland 4.8
Colombia 3.7
Philippines 2.7
One Year Total Return for EELV, EEMV, HILO - versus benchmarks (NYSEARCA:EEM) and (NYSEARCA:VWO). Source: ycharts.com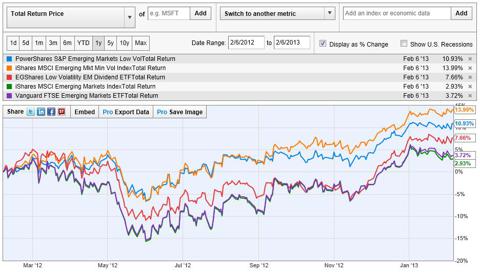 Conclusions and opinion:
From a big picture perspective, the diversified emerging market exchange traded products can have very different indexes with some curious country selections tagged as "emerging market". Some critics argue that some of these country selections have in fact much more of a "developed" nation type profile. Clearly the definition of emerging markets can be subjective and the criteria for these indexes are still evolving. For example, Indexer FTSE and its emerging markets index, the FTSE Emerging Transition Index (Vanguard's VWO) will gradually reduce exposure to South Korea as that country graduates to "developed nation" allocation status.
The country allocations in the context of volatility can have a very important impact on a fund's performance. With the world's geopolitical worries and its impact on currencies, country allocations and ultimately security selection will have a strong impact on all of these ETFs. These young low volatility ETF products have so far mitigated some of the drawdown and have delivered some impressive early performance.
Disclosure: I have no positions in any stocks mentioned, and no plans to initiate any positions within the next 72 hours. I wrote this article myself, and it expresses my own opinions. I am not receiving compensation for it (other than from Seeking Alpha). I have no business relationship with any company whose stock is mentioned in this article.