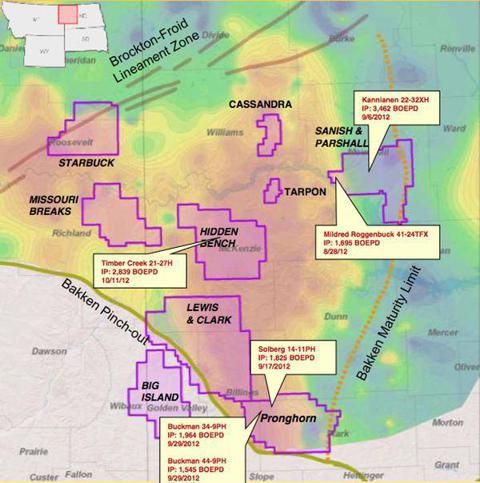 Now that Exxon Mobil (NYSE:XOM), Chevron (NYSE:CVX), ConocoPhillips (NYSE:COP), and Phillips 66 (NYSE:PSX) have announced their Q4 earnings, its time to switch gears and get ready for the Bakken producers to announce. Investors want to know if Bakken shale oil producers' earnings will be enough to juice their somewhat stagnant stock prices. Here are some prominent up-coming Q4 2012 earnings announcement dates:
As can be seen, February 28th will be a busy day. Investors can listen to the CLR call and go directly into the WLL call - two consecutive hours of fun. NOTE: clicking on the date links above will take you to the respective company's webcast page.
Oil Refiners' Gain Is Shale Producers' Pain
So far, energy companies' Q4 earnings were more evidence that refining has been the best way to invest in surging shale production over the past year. Significant production growth in the Bakken, Permian, and Eagle Ford shale plays, as well as from Canadian oil sands, have led to a steep discount in WTI ($96.79) versus Brent ($116.86). Bakken crude delivered to Clearbrook, MN is currently priced at a further $3.25 discount to WTI. While this spread has been very profitable for refiners like PSX and Valero (NYSE:VLO), it has cramped the realized prices, and the stock prices, of the Bakken oil producers. The following two charts compare the performance of some top refiners to some top Bakken oil producers:
3 Top Refiners: Average 1 year gain = 95%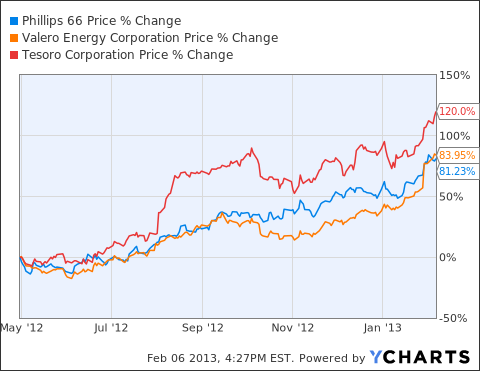 3 Top Bakken Producers:Average 1 year gain = 7.6%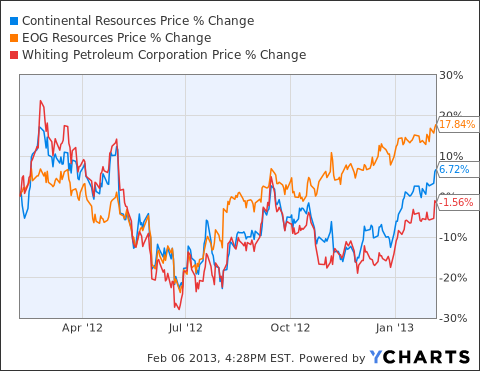 Clearly, refining has been the place to be. Whiting Petroleum is actually down over the past 12 months even as production has gone from 70,685 boe/d at the beginning of the year and will exit the year at ~85,000 boe/d, which would be a production growth rate of ~20%. We don't know the exact production rate in Q4 yet, but President & CEO Jim Brown commented during the February 5th Credit Suisse presentation that Q4 production "would not disappoint" and hinted at a mid 80's number. That presentation is available here. I suggest you skip the slide presentation and go straight to the audio version of which I have some interesting highlights from Brown's talk:
Reserves will be similar to last year (274% of 2011 production)
No winter problems, "great 4th quarter".
New Tarpon well came in at over 5,000 boe/day. This came on the heels of a 7,000 boe/day Tarpon well last year. Took 1 year to get the permit since the wells are on BLM land. Permit issues with the government have been resolved.
Pronghorn currently has 6 rigs and is producing 30,000 boe/d.
Big Island well: $3 million, no frack required, EUR 300,000 range
Rail transport has made a significant impact and differentials are pulling in. 25-30% of WLL production will be transported by rail.
Pronghorn, Lewis & Clark, and Hidden Bench continue to show better results than the prolific Sanish & Parshall field.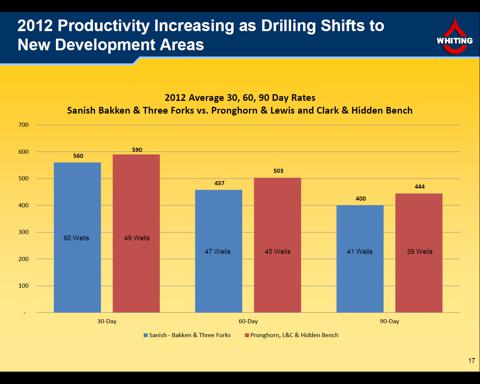 Robinson Lake MLP possible. Prefer to keep operator control so as to prioritize WLL gas gathering.
Postle Field: Trust is possible, but WLL is entertaining offers for an outright sale, decision to be made in Q1. Expect proceeds of $800 million to $1 billion.
Rig efficiency is up, which means production is above forecast as is cap-ex.
Brown said the company is seeing much better results in the Wolfcamp play of the Permian. The company currently has no 2013 cap-ex plans for this play. However, the company recently changed from their Bakken well drilling strategy (sliding sleeve, well packers, etc) to cemented liners and plug-n-perf. As a result, the May 2502H well is
"ahead of the curve" and he is "very pleased" with the results after 40 days of flow-back. Oil production is coming in at a very "nice cut", and it is still increasing. Two more wells are awaiting completions. Based on the May 2502H results, the company may reconsider the cap-ex budget and direct some dollars toward the Wolfcamp.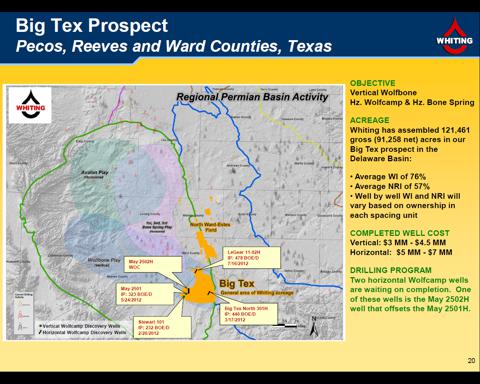 Speaking of Wolfcamp, I noticed Pioneer Natural Resources (NYSE:PXD) entered into a $1.7 billion deal with Sinochem Group to sell 40% of its interest in about 207,000 net acres in the play. Pioneer said the Sinochem Group will pay $500 million in cash. The remaining $1.2 billion will be paid in the form of future drilling and facilities costs.
Overall, Whiting's presentation at the Credit Suisse conference was very upbeat. It will be interesting to see what WLL's realized prices are when they release earnings. Currently, analyst estimates are at $0.74/share. I expect a large beat based on the mid 80's production guidance and the excellent drilling results mentioned during the Credit Suisse presentation.
The Bakken oil producers were market laggards in 2012. 2013 could be the year when increased rail transport significantly reduces crude price differentials. If that is the case, companies that are quickly growing production, like WLL, should finally see nice stock price appreciation.
Disclosure: I am long COP, CVX, PSX, XOM, WLL. I wrote this article myself, and it expresses my own opinions. I am not receiving compensation for it (other than from Seeking Alpha). I have no business relationship with any company whose stock is mentioned in this article.
Additional disclosure: I am an engineer, not a CFA. Please do your own research and contact your investment adviser. I am not responsible for investment decisions you make. Thanks for reading and good luck!