Amazon (NASDAQ:AMZN) didn't make a dime in 2012. Investors have been very forgiving of the profit deficit and instead have focused on Amazon's revenue growth.
Indeed, sales have been increasing. Take a look at yearly revenue growth over the last five years: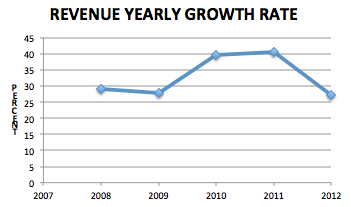 (Sourced from 10ks.)
Yet, there's a problem. While revenue growth had been accelerating year after year, up 28% in 2009, up 40% in 2010, and up 41% in 2011, lately Amazon has taken its foot off the gas pedal. Revenue growth has stopped accelerating. This year, sales grew 27%, a far cry from the roaring 41% increase of 2011.
But hey, one year. What's that? One year doesn't make a trend.
However, there is a deeper more firmly entrenched pattern, a lot more disturbing than the yearly revenue growth. Take a look at the last seven quarters. Every earnings season growth has been slowing down.
In fact, revenue growth has slowed in each of the last seven quarters. Each earnings season has brought a smaller sales increase from the year-ago quarter. Sales grew a whopping 51% in July 2011. Growth has decelerated from there. Last quarter, sales grew a much lower 22%.
Here are quarter sales and the percentage change from the year-ago quarter. Note the steadily growth deceleration:

(Sourced from 10Qs.)
If the pattern holds, the next few quarters will see sales growth trend below 20%. You can see the trend in the graph below:
Don't know about you, but seven quarters of decelerating sales is worrisome. This isn't the shoot-the-lights-out growth you'd expect from a company with a current PE of 179.
So what does Amazon say about its future revenue growth? From their conference call, Amazon expects $15 billion to $16.6 billion in sales next quarter, a 14% to 26% increase. The midpoint of the range is 20%. That would make the 8th quarter of decelerating revenue growth.
If the on-line seller is taking share and growing to the sky, why has Amazon's sales growth been slowing down?
Amazon's Growth Rate Is Overpriced Compared To Other Stocks
Amazon has a forward PE of 72 with slowing revenue growth. I ran a screen for all companies with over a billion dollar market cap meeting the following criteria:
- Revenue growth TTM over previous year TTM of at least 27%.
- Revenue growth latest quarter over year-ago quarter of at least 22%.
Only 16 companies had forward PEs of 40 or more. By far, Amazon had the lowest revenue growth of the cohort. Yelp (NYSE:YELP), Palo Alto Networks (NYSE:PANW), Splunk (NASDAQ:SPLK), ServiceNow (NYSE:NOW), Zillow (NASDAQ:Z), Level 3 Communications (NASDAQ:LVLT) and LinkedIn (NYSE:LNKD) grew revenue growth for the year and quarter greater than 60%. Amazon's growth pales in comparison to this bunch.
However, there were 117 companies with forward PEs of 30 or less. With its declining revenue growth, Amazon more appropriately fits into this group.
Bottom Line
No profits. Decelerating revenue growth. Crazy-high valuation. Until Amazon gets its sales mojo back, it deserves a pull back.
Disclosure: I have no positions in any stocks mentioned, and no plans to initiate any positions within the next 72 hours. I wrote this article myself, and it expresses my own opinions. I am not receiving compensation for it (other than from Seeking Alpha). I have no business relationship with any company whose stock is mentioned in this article. The opinions in this document are for informational and educational purposes only and should not be construed as a recommendation to buy or sell the stocks mentioned. Past performance of the companies discussed may not continue and the companies may not achieve the earnings growth as predicted. The information in this document is believed to be accurate, but under no circumstances should a person act upon the information contained within. We do not recommend that anyone act upon any investment information without first consulting an investment advisor as to the suitability of such investments for his specific situation.