Supply and demand statistics for copper were released January 20 by the International Copper Study Group; of course, like many statistical reports, there is some lag time and data is a bit delayed. This latest release contains information through October 30, 2008. These "latest" statistics put some definite numbers to what everyone has already known; demand for copper in key markets has dropped. Usage in the U.S. dropped by 10.3%, while the EU-15 countries and Japan had much more modest declines: 2.8% and 1.9%, respectively. But even so, use of refined copper managed to grow by 2.8% over the same time period in 2007.
Why Is Everyone Concentrating on the Bad News?
The big surprise (sarcasm) is that China had an increase of 12.7%. But that's only apparent copper usage. And in China, appearances can be deceiving.
Reuters independently calculated that Chinese demand for copper rose only 7% for all of 2008, compared with a 36% rise in 2007. And while China's still expected to grow, it's expected to be anemic:
We expect Chinese copper demand to remain positive, but much lower than last year, rising 3.5 percent in 2009," Barclays Capital analyst Yingxi Yu said.

Globally, we also expect to see positive demand growth, but there are risks it might be less than our expectations of a 1.1 percent rise."
Given that China has been the big growth engine of the global commodities market, these single-digit numbers are definitely not good news, because it means copper bulls have to count on the rest of the world, and that hasn't been working out so well either. U.S. housing starts, a good demand indicator for copper due to the miles of copper pipes and wiring used in the construction industry, are at 50-year lows.
The only good news for copper prices is that is looks like the incidence of pillaging buildings for scrap copper has gone down. Apparently it had gotten so prevalent in Florida, that since October, scrap companies were photographing sellers and logging their vehicles as they dropped off materials to "recycle," in an effort to curb illegal scrap harvesting (aka stealing).
Across the ocean at the London Metals Exchange, copper inventory levels are moving up, while prices are down. In fact, prices are back to levels not seen since the first quarter of 2005.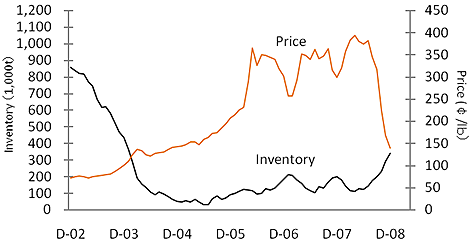 Looking at the graph above, you can see how price and inventory levels have interacted. Inventory is not a direct measure of demand, but it does give a hint as to what's going on in the larger market. The LME has not reported inventory levels this high since 2003/2004, and it's a pretty good guess that if inventory continues to climb, we will start seeing the same kind of prices we had back in 2002.
Forecasts Are Dismal
But don't take our word for it. Credit Suisse lowered its 2009 forecast to $1.75 per pound and its 2010 forecast to $2.25, a 30% and 25% decrease, respectively. CESCO, the not-for-profit copper industry think tank in Chile, is a bit more pessimistic in its 2009 price forecast, estimating a range of $1.50 to $1.80.
Along with the low prices, copper surpluses are expected. Morgan Stanley forecasts that 2009 will see three times 2008's surplus – 478,000 metric tons to be exact. In the same article:
We're absolutely sure the current situation on the demand side will continue to worsen," said Eugen Weinberg, an analyst at Commerzbank AG in Frankfurt. "We haven't seen dramatic cuts in production. That's why we have ample inventories."
But the news from Chile says that production cuts are already under way. Juan Carlos Guajardo, executive director of CESCO, told Reuters:
If you look at the 19 largest mines in Chile, 10 saw falling production last year [2008], so we are talking about more than half of Chile's mines with falling copper [output]."
Additionally, approximately $10 billion in planned investment is being postponed or even canceled in Chile due to low copper prices – around $7 billion of that at BHP Billiton alone.
Any Silver Linings on This Copper Cloud?
One place that the industry is looking for [hoping for] positive news is the U.S. government. Specifically, the economic stimulus package combined with this passage from President Obama's inaugural speech:
For everywhere we look, there is work to be done. The state of our economy calls for action, bold and swift. And we will act, not only to create new jobs, but to lay a new foundation for growth. We will build the roads and bridges, the electric grids and digital lines that feed our commerce and bind us together. We'll restore science to its rightful place, and wield technology's wonders to raise health care's quality and lower its cost. We will harness the sun and the winds and the soil to fuel our cars and run our factories.
As Commerzbank AG's Weinberg told Bloomberg the day after the inauguration:
U.S. President Barack Obama's $850 billion government spending program to revive the economy is necessary to keep copper from extending declines, Weinberg said. Without government stimulus programs, prices would fall to $2,500 a ton in the second half, he said.

"We're talking about hundreds of billions being invested in new infrastructure, electricity infrastructure and roads, and it has a lot to do with copper," Weinberg said. "It's one of the reasons copper is not as weak as it should have been given very bleak demand."
By Friday, copper rose slightly [up 0.765 cents] on the combined news of an earthquake in Chile, some optimism that the economic stimulus package may help as well as some investors covering their short positions. But most experts don't expect a strong recovery until the second quarter or even the second half of 2009.
Note
Even as prices are down, copper processors are winning increases in their treatment and refining prices. In 2008, those prices were around $45 a tonne and 4.5 cents per pound. This year, Mitsubishi Materials Corp. managed to up its processing fees around 70%. The numbers haven't been officially announced, but an article on Mineweb states, "It is widely believed that 2009 processing fees between Mitsubishi Materials and Freeport were set at $75 to treat and 7.5 cents to refine."
Better to process than procure, it seems.