EVENT FQ2 Revs $4.269B (-0.8% Below Street); FQ3E Rev Midpoint $3.9B (-1.0% Below Street)
CAUSE Guidance Inflated ~$300M Due To Acquisitions, Early Start To FQ3, Mgmt Optimism
IMPACT Worse Than Initially Appears For Semis, Foundries, Distis
ACTION Continue To Avoid Semis, Foundries Distis
click to enlarge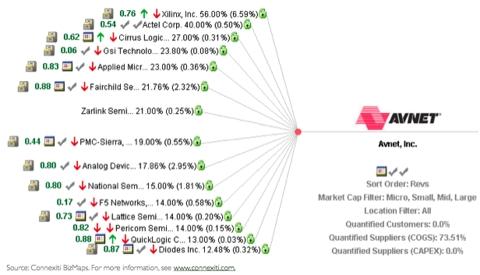 Click to enlarge
SUPPLY CHAIN EVENT TRACKER
1.6.09 Supplier SMSC guides FQ4 revs -37.2% below Street expectations
1.7.09 Supplier INTC guides Q4 revs -6.7% below Street expectations
1.7.09 Supplier ONNN guides Q4 revs -4.9% below Street expectations
1.13.09 Supplier LLTC guides FQ3 revs -13.5% below Street expectations
1.14.09 Supplier XLNX guides FQ4 revs -10.5% below Street expectations
1.15.09 Supplier INTC guides Q1 revs -3.8% below Street expectations
1.20.09 Supplier IBM reports Q4 revs -4.1% below Street expectations; declines guidance
1.20.09 Supplier ADI guides FQ1 revs -8.0% below Street expectations
1.22.09 Supplier AVX declines to provide guidance due to lack of visibility, but Q1 as the bottom
1.22.09 2nd Supplier TSM guides Q1 revs -35.3% below Street expectations
1.22.09 Supplier MRVL guides FQ4 revs -27.2% below Street expectations
1.22.09 Supplier MSCC guides FQ2 revs -16.1% below Street expectations
1.22.09 Supplier SMTC guides FQ4 revs -5.1% below Street expectations
EVENT: GUIDES IN LINE, BUT WIDE
RANGE. On Thurs (1.22), AVT reported FQ2 revs of $4.269B (-0.8% below Street expectations of $4.305B). The Q/Q decline of -5.01% is well below a consistent 7-year seasonal avg of +10.0% Q/Q (s=4.08). EM (semiconductor) revs of $2.27B declined -15.9% Q/Q. TS (server/storage) revs of $2.00B increased +11.7% Q/Q. Management guided FQ3 revs to a wide range of $3.6-4.2B (midpoint $3.9B -1.0% below Street expectations of $3.939B). The implied Q/Q decline of -8.6% is below a consistent 8-year avg of -2.9% (σ=3.64). EM revs of $2.3B are forecast +1.3% Q/Q; TS revs of $1.6B are forecast -20.0% Q/Q.
CAUSE: GUIDANCE INFLATED BY ONE-TIME FACTORS, OPTIMISM. Management stated on the conf call that its two acquisitions completed during the Q adds ~$100M in FQ3E revs. Additionally, AVT's 2008 ended on 12.27, and it billed ~$180M in revs during the last 3 days of 2008—thus management stated that "normal seasonality is actually handicapped a bit." Ex these items, organic guidance is ~$3.62B, which would imply a Q/Q decline of -15.2%, which would have been -8.8% below Street expectations. Both these numbers are more in line with other supply chain data. Finally, in light of negative supply chain data and management's own comments on the conf call, the guidance midpoint appears optimistic, which helps explain the wide range. In response to a question, AVT explicitly stated that "visibility is even more limited" than it was 90 days ago, and it needs more turns business to meet its guidance.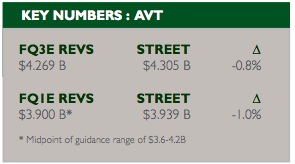 IMPACT/ACTION: CONTINUE TO AVOID SEMIS, FOUNDRIES, DISTIS. We have little faith in guidance based on visibility that is still deteriorating, by management's own admission and as seen from other data. Mar-Q guidance from AVT's semi suppliers to date has been universally negative and still below Street expectations. While AVT's results and guidance appear in line with the Street, closer examination reveals organic weakness, and hence we would continue to avoid ARW and AVT; virtually all semiconductors; and foundries CHRT, TSM, and UMC. We believe Street estimates for the group remain significantly higher than actual business conditions. For more information, see our BizMaps at www.connexiti.com.