U.S. companies that supply the auto industry are on bankruptcy watch, according to a report in the Wall Street Journal Monday morning, which says many in the sector are lining up financial and legal advice for possible bankruptcy filings.
It was fairly obvious to Research Recap back in mid-December that the auto suppliers would be the next shoe to drop in the worsening auto recession, following ratings downgrades in the sector from Moody's Investor Services.
The WSJ quotes Daniel Ninivaggi, executive vice president at Lear Corp., (NYSE:LEA) saying that the company has ample cash, but is trying to renegotiate credit agreements to avoid defaulting on loans. Ninnivagi has this sobering remark, according to the WSJ:
A couple of significant failures could bring the whole industry down.
Visteon Corp. (NYSE: VC) is said to be lining up bankruptcy financing, the WSJ reports. Earlier this month, Standard & Poor's Credit Research lowered the credit ratings of Visteon and 12 other auto supply companies due to cratering demand globally for automobiles.
Here is a ratings recap from S&P, in case you missed it: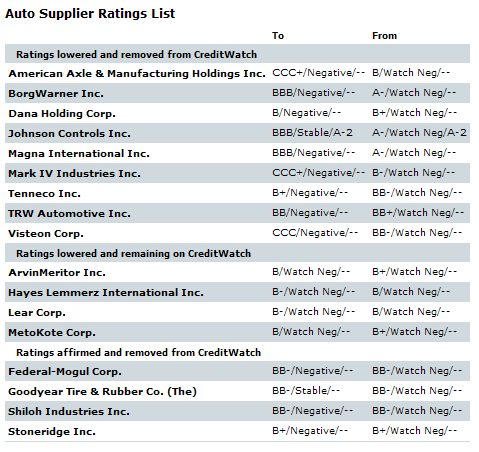 Moody's released a 30-page report last week explaining new parameters for its ratings on the automotive supply industry. For details, see "Global Automotive Supply Industry."