Pacific Drilling (NYSE:PACD) gave a presentation to investors on February 4, 2013, that illustrates and explains the very good growth potential that this company has. A PDF copy of the presentation is available on the company's web page and I recommend that any investor interested in the offshore drilling sector review it as this is truly a best of breed company in the industry. This article will discuss why.
Pacific Drilling is a pure play on the ultra-deepwater environment. This is one of the most promising growth areas for the offshore drilling industry given the large number of ultra-deepwater discoveries in the past few years and the comparatively limited number of rigs capable of developing these resources. Pacific Drilling has a fleet of eight ultra-deepwater drillships. Of these eight, four are operational, three are under construction, and one is on order which means that construction has not started yet. These four rigs are not yet generating any revenue, only the four operational rigs are. Thus, the company has excellent prospects for topline and bottom line growth, once these rigs have been constructed and are placed under contract and begin operating. That is not all, however. Pacific Drilling stated in its presentation that the company is targeting a twelve rig fleet. A twelve rig fleet would provide further growth prospects over an eight rig fleet due to the addition of four more rigs that will be generating revenue and profit following construction. A twelve rig fleet would more than triple Pacific Drilling's revenue from current levels. This is because the company's currently operating rigs were all put under contract when dayrates were below today's levels. The new rigs are likely to be contracted out at higher rates than the currently operating rigs. Since growing the fleet to twelve rigs would triple the number of rigs in operation and the new rigs would collect higher dayrates, this would more than triple the company's revenue.
Pacific Drilling also has a modern fleet. In fact, the company's fleet is one of the most modern in the industry.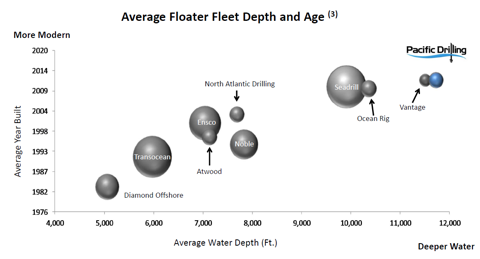 Click to enlarge
Source: Pacific Drilling
This gives Pacific Drilling several competitive advantages over many of its rivals. Modern rigs have many advantages over older ones and this has resulted in oil and gas companies explicitly showing a preference for using these rigs in their field development projects. These advantages include:
Modern rigs are much more efficient in drilling operations than older rigs and this decreases the total cost of the well for operators.
Modern rigs are better equipped to handle the high temperatures and pressures that are increasingly common in drilling projects today.
Modern rigs are better able to exploit recent advances in well construction techniques (for example, intelligent completions).
Modern rigs typically have better safety and accident preventing equipment which is increasingly needed to meet the demands of regulators in the post-Macondo world.
These advantages are sufficient enough to have created bifurcation in the marketplace with younger, more modern, and more technically sophisticated rigs commanding a dayrate premium over older rigs. This market bifurcation is a very good trend for rig contractors with modern ultra-deepwater fleets including Pacific Drilling, Seadrill (NYSE:SDRL), and Vantage Drilling (NYSEMKT:VTG).
Ultra-deepwater rigs are very profitable to their owners. It costs an offshore drilling company approximately $180,000 per day to operate an ultra-deepwater rig. When we consider that the dayrates on these rigs are currently between $600,000 and $650,000 per day, it is easy to see just how profitable these rigs can be. The high upfront cost of these rigs does somewhat constrain profitability though. It costs approximately $600 million to $700 million to construct an ultra-deepwater rig (depending on design, configuration and equipment). Thus, it takes on average about five years for an ultra-deepwater rig to pay for itself at today's dayrates, net of operational expenses. Pacific Drilling explained these economics in its presentation, using its newbuild drilling Pacific Sharav as an example.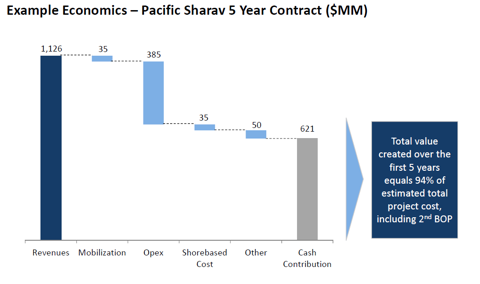 Click to enlarge
Source: Pacific Drilling
After the rig has completely paid for itself, the entire dayrate after expenses is pure profit. As Pacific Drilling illustrates, these margins can be in excess of 50%. These rigs are the most profitable type used by the industry.
According to Thomson Reuters, Pacific Drilling has the potential to deliver EBITDA growth that is greater than that of all of its peers except for Ocean Rig (NASDAQ:ORIG). Ocean Rig is partially owned by DryShips Inc. (NASDAQ:DRYS), a fact which has made some investors nervous. Pacific Drilling could offer an enticing alternative to these investors.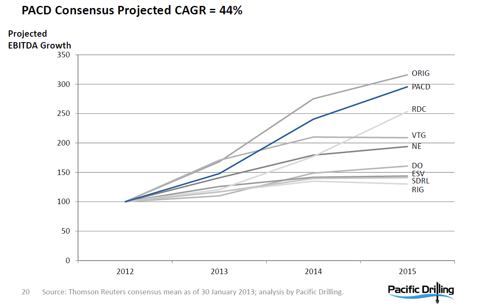 Click to enlarge
Pacific Drilling is expected to grow its EBITDA at a compound annual growth rate of 44%. This will allow the company to grow its operating cash flow to approximately $653 million by 2015 assuming an eight rig fleet. As previously discussed, the company is targeting a total fleet size of twelve rigs which will push operating cash flow significantly higher.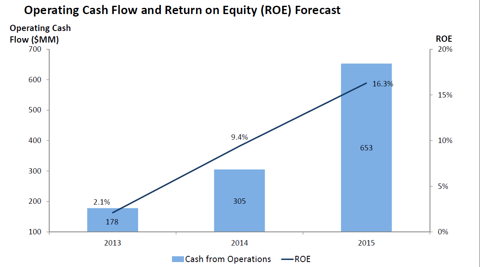 Click to enlarge
Source: Pacific Drilling
In previous articles, I have discussed Pacific Drilling's leverage. The company intends to use the increased cash flow from its new rigs to de-lever itself and thus increase shareholder value. Pacific Drilling included this chart in its presentation that shows the company's outlook for its leverage position going forward: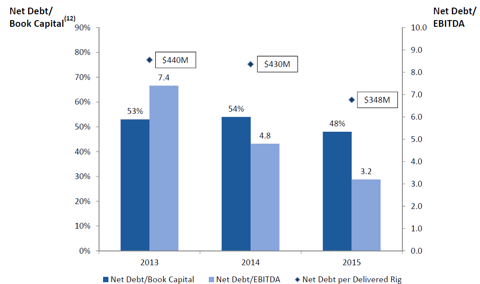 Click to enlarge
Source: Pacific Drilling
As Pacific Drilling predicts, the company's net debt-to-EBITDA will rapidly decline over the next few years as the new rigs come online and push up the company's EBITDA. This will have the effect of increasing that amount of EBITDA that is available to shareholders instead of creditors. This would enable the company to make several shareholder-positive moves such as, for example, instituting a dividend.
This latest presentation drove home the point that Pacific Drilling is an up-and-coming drilling company with very high potential. Investors interested in this industry may want to add to their existing positions or enter into a new position on dips and then hold on for the next few years.
Disclosure: I am long PACD, SDRL. I wrote this article myself, and it expresses my own opinions. I am not receiving compensation for it (other than from Seeking Alpha). I have no business relationship with any company whose stock is mentioned in this article.