The energy sector is in focus as production in the U.S. is on the rise, the U.S. has a chance to become the number one oil producer by 2020. Exchange traded funds are the best way to play this sector as it climbs.
"A remarkable rise in oil production in the U.S. once again lured the global energy firms to the U.S. market. If the current trend continues the U.S. may become the world's biggest producer of oil five years down the line," Zacks Equity Research wrote.
Over the past two months, oil prices have moved from $87 per barrel to $96 per barrel, confirming the uptrend of the sector. In the U.S., oil production is up an average 1.3 million barrels per day, a 22% increase from one year ago, reports Paul Baiocchi for Forbes. U.S. energy companies have the capacity to gain profit, as OPEC has cut production and the U.S. now has the chance to become energy independent.
The Energy Select Sector SPDR (NYSEARCA:XLE) is up 8% year-to-date, and tracks 43 of the largest U.S. energy companies. In 2012, XLE gained 5.21% for the year. About 80% of the portfolio focuses in on oil and gas companies, while the remainder of the fund tracks oil production companies. The iShares U.S. Energy ETF (NYSEARCA:IYE) focuses 75% of the portfolio to oil and gas producers, while oil equipment, services and distribution make up the rest. IYE has gained 5.6% year-to-date.
The strong earnings from energy companies have helped boost the sector upward, and analysts are expecting the same strong reports to come out of the first quarter. Investors beware -- energy is the second most volatile sector, second to the financial sector. Patterns indicate that it can be the best-performing sector, or it's the worst-performing sector in the S&P 500, reports Baiocchi.
The iShares US Oil and Gas Production ETF (NYSEARCA:IEO) has a year-to-date return of 8.8%. The ETF focuses in on the production and exploration aspect of energy rather than the commodity itself. Market Vectors Oil Services ETF (NYSEARCA:OIH) is up 9.4% year-to-date.
Energy Select Sector SPDR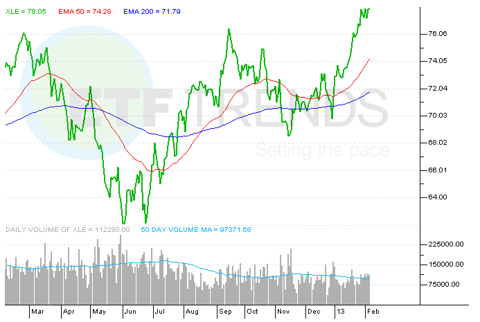 Click to enlarge
Tisha Guerrero contributed to this article.
Disclosure: I have no positions in any stocks mentioned, and no plans to initiate any positions within the next 72 hours. I wrote this article myself, and it expresses my own opinions. I am not receiving compensation for it. I have no business relationship with any company whose stock is mentioned in this article.