On Jan. 10, it was announced that Ford (NYSE:F) would be doubling its dividend. What great news for those who have been long-time shareholders. Those who invested before 2008 and held strong not only watched their dividend get slashed to nothing, but also watched Ford nearly collapse on itself as it traded all the way down to $1. Since then, however, shares have rebounded and the dividend was reinstated, for $0.05, in December 2011.
Ford felt that this was an appropriate payout, as it was looking to restart its dividend plan without running the risk of having to reduce or halt it in later years. So what does it say now when Ford has doubled its quarterly dividend, up to $.10? It says a lot, actually. For starters, it shows investors that Ford is confident it will never have to slash, reduce, or stop paying a dividend of this magnitude. It also shows that the balance sheet is strong enough to allow such a payout to occur.
Ford could have simply increased the dividend by a penny or two. But instead, the automaker showed confidence that demand would remain high and business would be good, despite the recent pessimism over European losses, which are expected to be about $2 billion in 2013 alone. Now, with the recent pullback in Ford's share price, coupled with the increased dividend, Ford's yield is north of 3%. Does this change the type of buyer that may be looking at owning a piece of this American automaker?
In my mind, yes. Previously, the yield was low, about 1.5% when Ford traded near the $14 mark. Not many income-oriented investors or fund managers would waste their time with such an insignificant yield. This is most evident when you look at other companies with the same, or even higher payouts, that have a better chance at maintaining and consistently paying out its dividend such as Apple (NASDAQ:AAPL), which currently yields 2.3% with zero debt and a plethora of cash.
Before the dividend boost, Ford began doing many things right, thus creating a lot of bullish sentiment and causing the stock to break out in late 2012. Before that breakout, though, many fund managers, and even individual investors, were likely only buying the stock for two purposes: value or growth. Some felt that the stock was deeply undervalued, while some saw the growth prospects of domestic and Chinese auto sales. However, it is very doubtful than anyone purchased these shares for the dividend.
The lower dividend (when Ford paid $0.05 quarterly) might have helped push managers and investors over the edge -- if they, indeed, bought the stock -- but it wasn't the sole reason for purchasing shares of Ford. But I think that tide could be turning. After all, Ford is still slightly undervalued and definitely does have strong domestic and Chinese growth. But now Ford should see a whole new buying crowd emerge: investors who strictly focus on dividend investing.
In an effort to illustrate some of this bullish sentiment among investors, below is a one-year chart with Ford's daily volume displayed. Prior to the explosive volume seen in late December, Ford's three-month average volume was ~48 million shares per day, as highlighted by the blue horizontal line at the bottom of the chart. As you can see, Ford traded more than double that average in seven out of eight trading days to end 2012 (made obvious by the orange circle). It also shows that Ford traded 15 consecutive days with higher volume than its 48 million share average.
Click to enlarge image.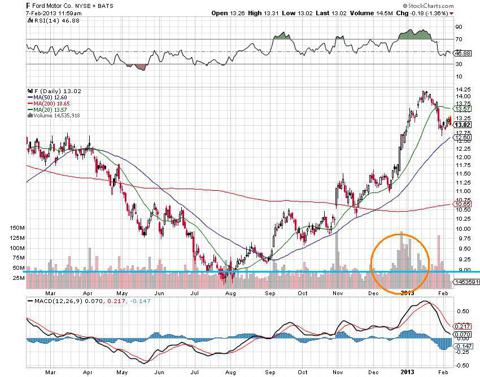 Click to enlarge
Source: E-Trade.
The idea is that Ford began trading on heavy volume in mid- to late December, before the dividend was announced. While it was beginning to become apparent that a dividend hike might be in Ford's future, not many saw it coming in the second week of 2013. So if demand for shares began before the dividend, I would imagine that demand will increase over the next several months, as income-oriented investors join the value and growth investors in the hunt for solid returns.
While the notion of attracting more buyers makes sense, it will take a few months to see if it plays out. Ford's share price has climbed rapidly since the buying that occurred in mid-December, so I would expect some consolidation in the stock for at least a few weeks (from the post-earnings fall). Eventually, I think heavy buying will take place from institutional buyers, which will aid in Ford's advancing stock price in 2013.
(A recent review of bullish sentiment can be found in my previous Seeking Alpha article, here.)
Disclosure: I am long F, AAPL. I wrote this article myself, and it expresses my own opinions. I am not receiving compensation for it (other than from Seeking Alpha). I have no business relationship with any company whose stock is mentioned in this article.