European stocks and exchange traded funds have been rallying over the past six months, however, new trouble is brewing in Italy and Spain. Political issues are arising in these countries just as the debt worries have subsided.
"ETFs in Europe continued to gain traction in 2013. Given the performance of European stock markets, it is not surprising that equity-focused exchange traded products saw the largest inflows," Len Welter, Director, ETFs at Markit, said in a report.
European assets began attracting inflows last July when the European Central Bank vowed to preserve the euro, saving the region from collapse, reports Simon Jessop for Reuters. A rapidly growing part of the market, assets invested in Europe-focused funds grew $14 billion in 2012, data from Markit said.
The ETFs that track Italy and Spain, iShares MSCI Italy Index (NYSEARCA:EWI) and iShares MSCI Spain Index (NYSEARCA:EWP), had added about 20% for the second half of 2012. This year, both Italy and Spain have political drama to contend with, just as respective economies started to mend. In Italy, political uncertainty rules, with Prime Minister Silvio Berlusconi trying to secure another term. In Spain, Prime Minister Mariano Rajoy is facing a surge of anger from the general population over bribery accusations, with many calling for his resignation, reports Eric Dutram for Zacks.
Investors can expect volatility from both countries as political instability is dominant, making a full economic rebound difficult. A broad-based European ETF is a better bet for now, as many Europe-focused funds are still holding up from the multi-million dollar surge that took place in January. The Vanguard MSCI Europe ETF (NYSEARCA:VGK) gained 16.8% over the past 6 months, and the SPDR Euro Stoxx 50 ETF (NYSEARCA:FEZ) has gained 19% over the same time period.
SPDR Euro Stoxx 50 ETF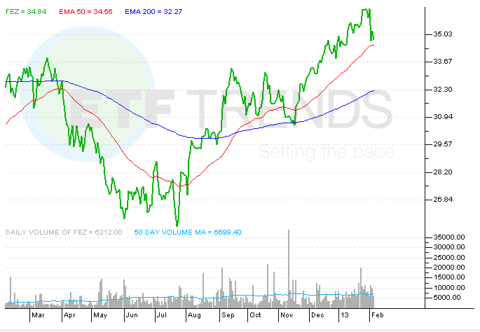 Tisha Guerrero contributed to this article.
Disclosure: I have no positions in any stocks mentioned, and no plans to initiate any positions within the next 72 hours. I wrote this article myself, and it expresses my own opinions. I am not receiving compensation for it. I have no business relationship with any company whose stock is mentioned in this article.