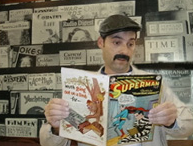 It doesn't surprise me that volatility is increasing as many indices are trying to take out previous highs. These levels clearly mark resistance and have been highlighted this way for the last month. The only exception has been small caps (Russell 2000: RUT), where weekly DeMark indicators have signaled exhaustion. But these indicators are in a fierce duel with liquidity injections, courtesy of the Fed's nonstop QE operations.
It was almost amusing to read the biggest Fed dove's remarks Thursday that the Fed's QE is like an "energy bar" that will drive unemployment to 7% by the end of 2013.
On the other hand, the Fed's Governor, Jeremy Stein, stated today: "…an extended period of low interest rates could create risks to financial stability, and policymakers should keep an eye on junk bond and leveraged loan markets for signs of excess risk-taking, and we are seeing a fairly significant pattern of reaching-for-yield behavior emerging in corporate credit." This was an admission related to the negative behavior of High Yield Bond (NYSEARCA:HYG) we posted yesterday.
The dollar (NYSEARCA:UUP) and currency trading in general has led to so-called currency wars. When Japan decided to double the level of the inflation rate target, that led to a massive decline in their currency. This puts other countries on guard to devalue their currencies to maintain their competitive edge. And so it goes. Below is a weekly chart of the yen (NYSEARCA:FXY) followed by a weekly chart of BZF (Brazil Real ETF), with the latter being lightly traded. The currency decline, due to government policy offered little help for market technicians since policy can steamroll indicators. We were able to profit from the first move, but the second move was too difficult given how oversold the yen quickly became. Brazil is quickly taking note as they worry both about inflation and competition. Yields on Brazil debt are higher, but now we see a DeMark sequential weekly 9, which may slow the rise down as the government contemplates competitive easing.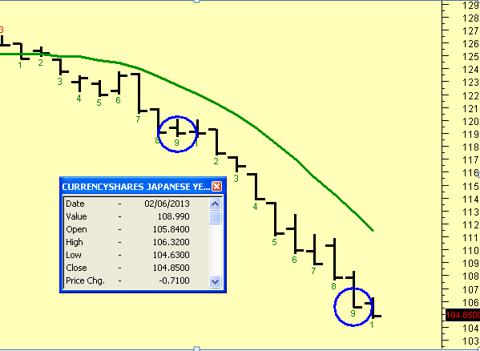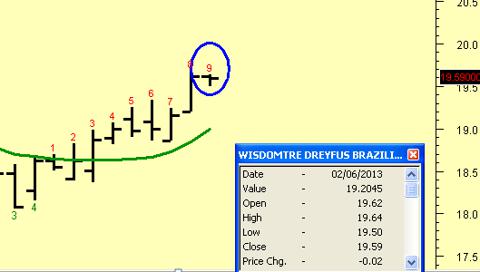 One area where we can profit from currency wars is with DBV (DB G-10 Currency ETF), which shorts low yielding currencies within the G-10 in favor of being long higher yielding currencies and locking in the spread. Below is a weekly chart of DBV, and you'll not an imperfect 9 count, since it was not higher than the high of the 6 count. This may seem like mumbo-jumbo, but it's an important distinction nevertheless.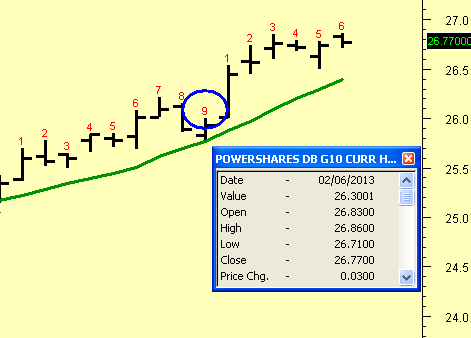 We're long DBV and have been since November, with some additions in January.
The news in currency markets today beyond what's displayed above came from Mario Draghi and the ECB, who basically "talked down" the euro (NYSEARCA:FXE), causing the dollar to rally. This shows the currency war has few boundaries.
Stocks fell sharply early, occasioned first by poor economic data as Jobless Claims (366K vs. 360K expected and prior revised to 371K from 368K). This allowed headline writers to spin a larger drop in claims than was deserved. Productivity fell (-2% vs. -1.3% expected and prior revised higher to 3.2% vs. 2.9%) and Costs rose (4.5% vs. 3.1% expected and prior revised lower to -2.3% vs. -1.9%). These numbers are a poor combination of weaker productivity and higher costs. Draghi's comments weren't well-received either. With the dollar higher, most commodities (NYSEARCA:DBC), (NYSEARCA:USO) and (NYSEARCA:GLD) saw selling. Bonds (NYSEARCA:TLT) were higher in price.
Earnings news wasn't particularly bullish overall, as some tech companies like Akamai (NASDAQ:AKAM) missed with results and Green Mountain Coffee (NASDAQ:GMCR) fell, hurting Consumer Discretionary (NYSEARCA:XLY), which had been a leader. After the close, Coinstar (NASDAQ:CSTR) reported results that disappointed, while LinkedIn (NYSE:LNKD) pleased, allowing shares to rise over 10%.
Volume picked up Thursday on mostly selling, although there were dip buyers in the PM once again. Breadth per the WSJ was negative.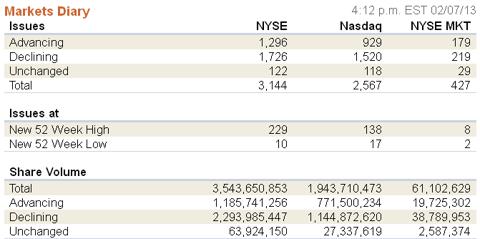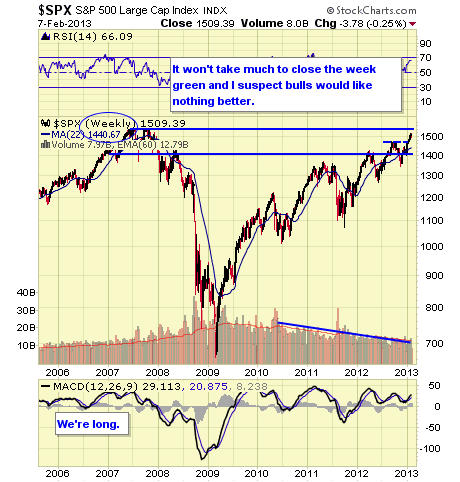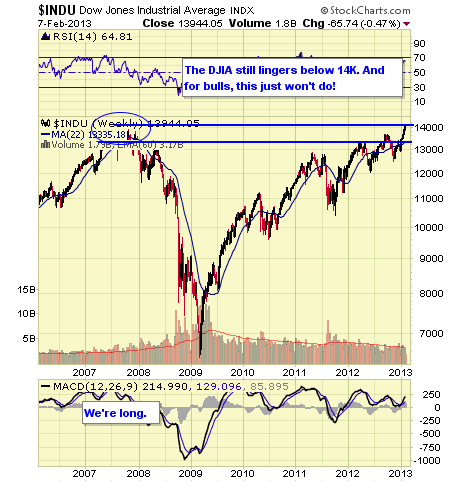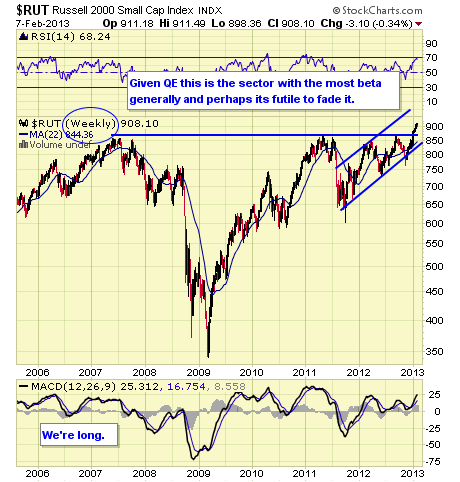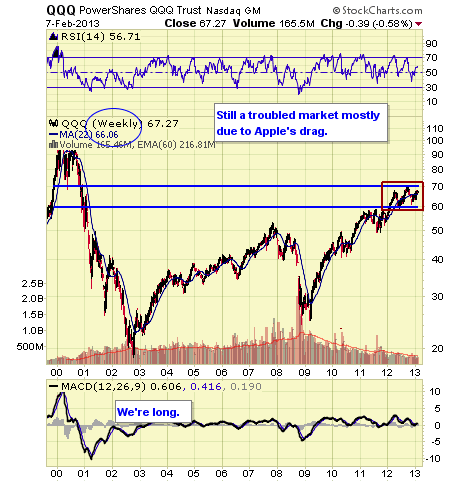 Continue to U.S. Sector, Stocks & Bond ETFs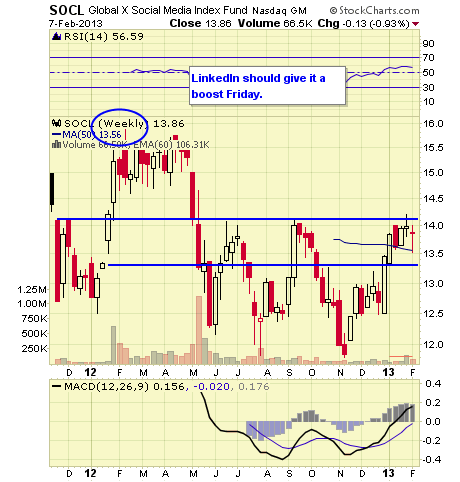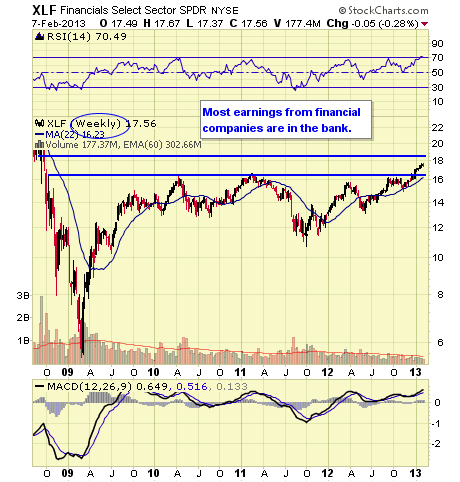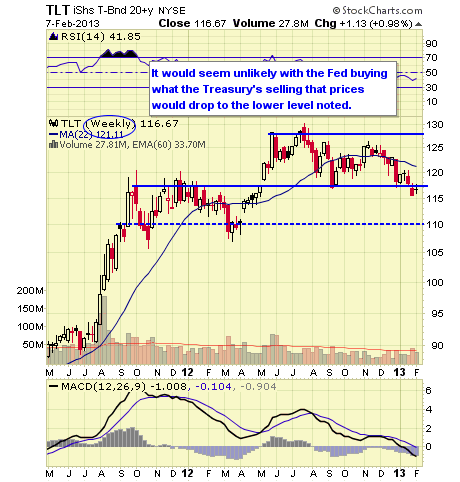 Continue to Currency & Commodity Market ETFs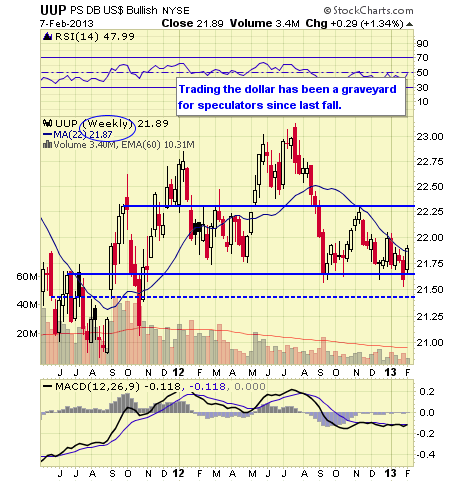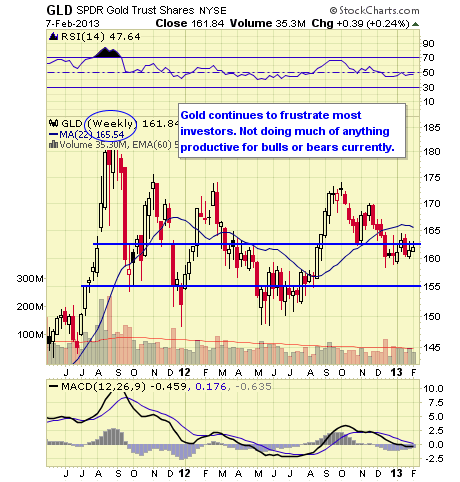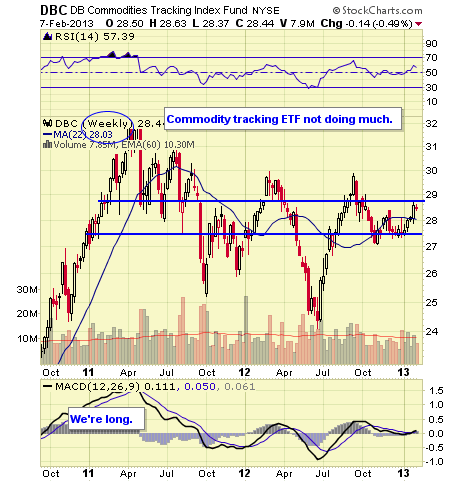 Continue to Overseas Sectors & ETFs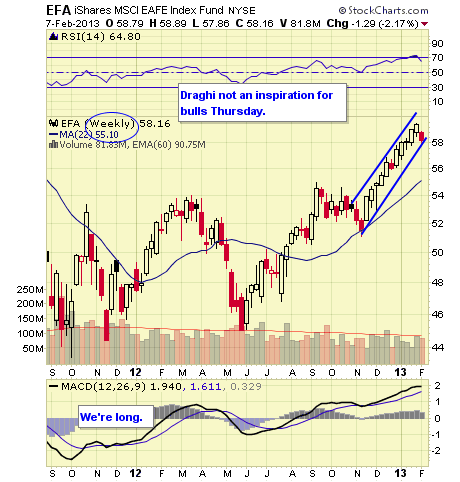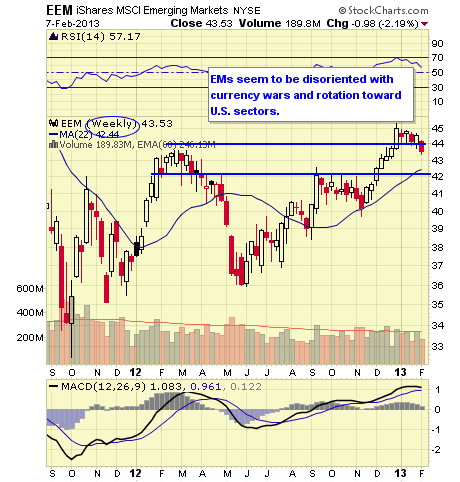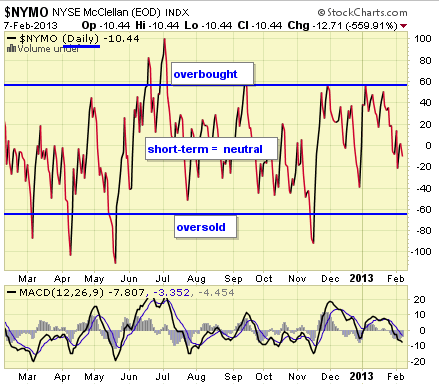 The NYMO is a market breadth indicator that is based on the difference between the number of advancing and declining issues on the NYSE. When readings are +60/-60, markets are extended short term.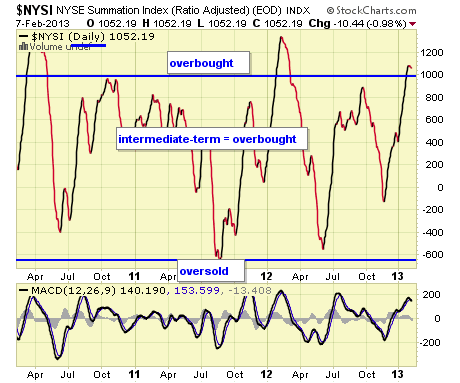 The McClellan Summation Index is a long-term version of the McClellan Oscillator. It is a market breadth indicator, and interpretation is similar to that of the McClellan Oscillator, except that it is more suited to major trends. I believe readings of +1000/-1000 reveal markets as much extended.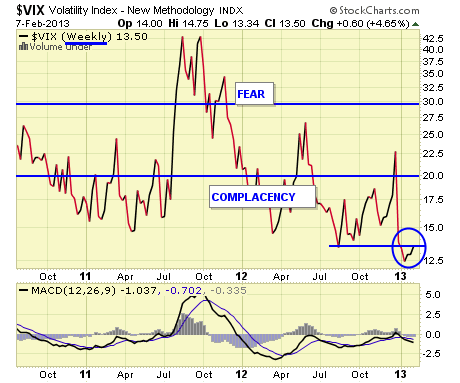 The VIX is a widely used measure of market risk, and is often referred to as the "investor fear gauge." Our own interpretation is highlighted in the chart above. The VIX measures the level of put option activity over a 30-day period. Greater buying of put options (protection) causes the index to rise.
Concluding Remarks
International and Wholesale Trade are the only economic releases set for Friday.
Disclaimer: The ETF Digest maintains an active ETF trading portfolio and a wide selection of ETFs away from portfolios in an independent listing. Current "trading" positions in active portfolios, if any, are embedded within charts: Lazy & Hedged Lazy Portfolios maintain the follow positions: VT, MGV, BND, BSV, VGT, VWO, VNO, IAU, DJCI, DJP, VMBS, VIG, ILF, EWA, IEV, EWC, EWJ, EWG, & EWU.
The charts and comments are only the author's view of market activity and aren't recommendations to buy or sell any security. Market sectors and related ETFs are selected based on his opinion as to their importance in providing the viewer a comprehensive summary of market conditions for the featured period. Chart annotations aren't predictive of any future market action rather, they only demonstrate the author's opinion as to a range of possibilities going forward.
Disclosure: I have no positions in any stocks mentioned, and no plans to initiate any positions within the next 72 hours. I wrote this article myself, and it expresses my own opinions. I am not receiving compensation for it. I have no business relationship with any company whose stock is mentioned in this article.