ConocoPhillips (NYSE:COP) shares started this year at around $57, and then quickly rallied with the markets up to about $62. Alas, the gains did not last after the company reported earnings, but the stock still appears to be in an uptrend and the recent dip is probably a solid buying opportunity.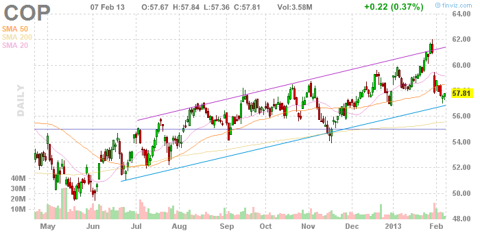 As the chart above shows, ConocoPhillips has been trending higher, and it is now trading at the lower end of the recent trading range (as shown by the blue trendline). This, along with strong fundamentals, are reasons why investors should consider buying shares now. First, let's take a look at earnings:
For the fourth quarter of 2012, the company earned $1.43 billion, or $1.16 per share. However, excluding certain charges, it earned $1.76 billion, or $1.43 per share. This was in line with consensus estimates of around $1.42 per share. The company provided guidance for a 3% production increase, and for earnings for the first quarter to come in at around $1.58 to $1.60 per share.
ConocoPhillips remains a solid choice for income investors, as it offers a yield that approaches 5%. It has a history of raising the dividend.
For example, in 2008, the quarterly dividend was 47 cents per share, but thanks to regular increases, it now pays 66 cents per quarter. That represents dividend growth of about 50% in just 5 years. Another dividend payment is coming soon: On February 6, it declared a 66 cent dividend to be paid on March 1, for shareholders on record as of February 19.
ConocoPhillips trades for just about 10 times earnings while the average stock in the S&P 500 Index (NYSEARCA:SPY) trades for around 15 times. At current levels of around $57, the stock has upside potential. The median analyst price target for ConocoPhillips is $62. If this target is reached, it could provide capital gains of about 10% from current levels, and the solid dividend yield will reward investors while waiting for a higher share price.
Here are some key points for COP:
Current share price: $57.79
The 52 week range is $50.62 to $78.29
Earnings estimates for 2013: $5.55 per share
Earnings estimates for 2014: $6.62 per share
Annual dividend: $2.64 per share, which yields 4.6%
Data is sourced from Yahoo Finance. No guarantees or representations are made. Hawkinvest is not a registered investment advisor and does not provide specific investment advice. The information is for
informational purposes only. You should always consult a financial advisor.
Disclosure: I am long COP. I wrote this article myself, and it expresses my own opinions. I am not receiving compensation for it (other than from Seeking Alpha). I have no business relationship with any company whose stock is mentioned in this article.