Market Recap:
The market looked weaker on Thursday, but bounced off a triple digit loss in the afternoon to finish down only forty points on the Dow Jones (NYSEARCA:DIA). The problem for the market this morning was a lack of catalyst for more upside, as jobless claims came in higher than expected at 466K versus 460K expectations. Productivity also dropped 2% last month. Expectations were for just over a 1% drop. Both those data points started the market off on the wrong foot. That news was complemented as well by negative comments from ECB President Mario Draghi, who commented that he was fearful of inflation in Europe if the euro kept rising. The situation in Europe does look sticky right now, as Spanish yields have moved higher again, and with the market as overbought as it is right now, any signs of weakness are going to hurt the market.
The Dow finished down just over 40 points, while the S&P (NYSEARCA:SPY) finished down 3 points.
Stocks To Trade:
Today, we are looking at longs in American Express (NYSE:AXP), Kohl's (NYSE:KSS), Panera Bread (NASDAQ:PNRA), and why Apple (NASDAQ:AAPL) is at a standstill.
We like the looks of American Express right now for a strong move into April earnings. The company lagged Visa (NYSE:V) and MasterCard (NYSE:MA) over the last couple months, but today, the company looks like the leader of the pack. The reason is that the company announced today at the Semi-Annual Financial Community Meeting that it was targeting revenue growth of 8% and EPS growth of 12-15%. The upside, though, is in that analysts were only predicting the company to grow 6% this year in revenue and 8-10% in EPS. Further, the stock broke a key resistance line at $62 that we were watching. The company's earnings in January were weak due to restructuring charges as net income fell 47%. That weakness, however, was an opportunity. Business is strong, as signaled by the company's 8% revenue growth in Q4 and the announcement today. The company's CEO and Chairman commented for the quarter:
Since rebounding from the recession, we have gained share in a very competitive U.S. industry and enhanced the many benefits we provide card members. We have improved our risk management capabilities, begun to tap additional revenue streams and deployed new technologies that let us serve a growing number of customers online and through their mobile phones. At the same time, we've expanded into new markets internationally and extended our presence well beyond the traditional American Express footprint. The investments we've made in the business are substantial, but we have also been able to contain the growth in overall operating expenses.
We like the chances for AXP to continue to move higher into Q1 earnings for 2013. The company looks very solid, and we expect it to continue higher from here. We like combining two April option spreads to play upside. The 60/62.50 bull call spread has a 75% potential gain right now, while the bull put spread has a 14% potential as a nice hedge.
Trade: AXP, Apr20, 60/62.50 Bull Call Spread and 57.50/55 Bull Put Spread
Max Gain: 75% and 14%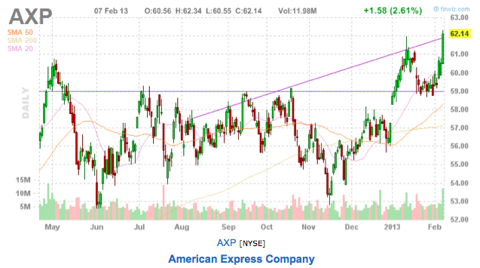 Another long that looks very interesting right now is Kohl's. Out of nowhere, the company reported same-store sales increased 13% in January of this year. That growth is very solid for a brick and mortars business, and we believe it may show an upward move by consumers from cheaper retail options to a slightly higher premium retailer. What's interesting, though, is that expectations are for EPS to drop 10% and revenue to only climb 4%. Let's look at November and December same-store sales. December saw same-store sales increase 4%, while November saw same-store sales decrease 5%. We believe that these estimates do not properly reflect the solid increase in January. The holiday season was decent for the company, with sales increasing around 1%, but the company is off to a fast start in 2013. Will it last? We believe that the company is a solid turnaround story for 2013. We believe spending trends do favor online retailers, but the company sits in a solid level where it appeals to individuals that are looking to save money, but can also benefit from individuals moving up into more premium retail. With a valuation at a 10 future P/E and 0.6 price/sales, KSS is very cheap. Even if the company does not outperform, it is pricing in literally no growth at this point. We believe that the stock is great for a bull put spread, and if the stock declines past the spread level, we will be able to take the stock at an even lower level. The stock has great support at $42, and we like the 42/40 bull put spread.
Options Trade: KSS, Mar16, 42/40 Bull Put Spread
Max Gain: 14%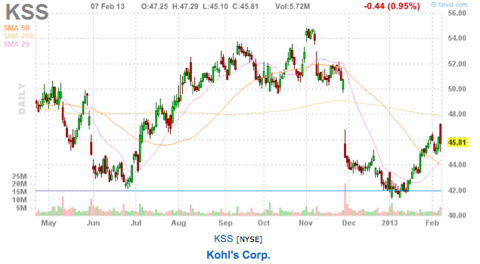 What's not to like about Panera right now? Just look at these comments from the company's CEO after the last round of earnings:
For the full year 2012, our earnings per share were $5.89, which represents a 27% year-over-year increase, excluding the onetime legal expense. This also marks the fifth consecutive year that our full year earnings growth has exceeded 20%. We believe this consistently strong financial performance is an outgrowth ((ph)) of our strategy of continually investing in the quality of our food, marketing, operations, and overall customer experience. Looking at our sales results in Q4, Company on comparable bakery cafe sales were up 5.1%, which represents a two-year Q4 comp of 11% and is consistent with the two-year comps we generated throughout the year.
Panera is company of consistent, non-volatile growth that we believe offers tons of growth potential, along with solid value that continues to be a great investment. It was one of our top picks for 2013. PNRA's value seems great with a future P/E at 23, as we believe this level effectively reflects the company's strong growth model that is very consistent. The company has continued to grow sales by 9-14% each year over the past four years, and should continue to be very strong again in 2013. The company's most appealing prospect is that it has a ton of geographical expansion potential domestically and internationally. The company only has over 1600 stores currently, but could expand to anywhere from 3500-4000 stores throughout the country. At a rate of about 200 new stores per year, the company has a lot of long-term potential for growth. Additionally, the stock trades at price/sales of just over 2.0, which does not show great overvaluation as well. After another solid round of earnings, PNRA is a must-buy.
Position: PNRA, Long
Buy Point: Over 160.00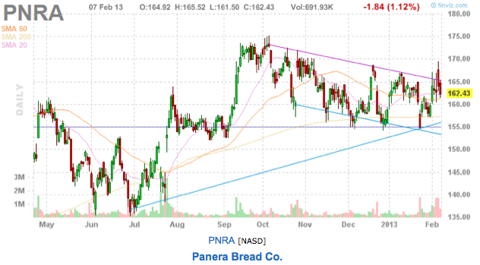 So where is Apple going to go? It's the question everyone wants to know, and no one really knows the answer. What if it wasn't going to go anywhere? We believe for every positive for the company, there is an equal disappointment. For example, the company has dominant market share in the phone (36% share in the U.S.) and tablet market (49% share), but many analysts/investors are complaining that the company lacks new innovation to maintain its current stature. For each person that says Apple is so undervalued with a sub-10 future P/E, another needs to only see the company also holds a nearly 3.5 price/book level, which is typically seen as fairly valued. For each person that says Apple is a fundamentally sound company with lots of cash (it has over $15B), another looks at the fundamentally weak supply chain the company has that is creating delays and higher costs. The story is thick and full of opinions. We do agree that the stock is undervalued, and we also believe it's nearing a bottom. At the same time, what will be the catalyst for a move for Apple? It needs one, and we do not see one. Earnings are not until April. A new iPhone is not expected until around June, while a new tablet is not expected until mid-2013 as well. No new products, no earnings...near-term catalysts seem dry. A deal with China Mobile (NYSE:CHL) would definitely help the stock, but even that would not get Apple moving back to the $700 range that it held last year. Apple looks stuck to us. It's a large holding for many individuals, but most do not want to add to it due to the lack of vision about where the company will go. So, if you are an Apple investor, what can you do? We like an iron condor to take advantage of time that the stock stands still. An iron condor is a combination of a bull put spread and bear call spread that makes money for its holders if the underlying stock stays between the two spreads. For AAPL, this type of position looks promising. Right now, we can make 10% with a 515/520 bear call spread complemented with a 420/410 bull put spread. 515 is above the gap down level before earnings, and the stock has shown support at 440. We like this position as a way to make money on Apple as we wait for it to make its next move.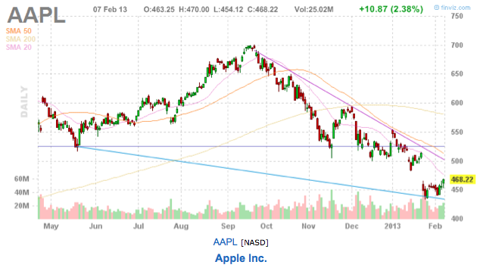 Tomorrow's Outlook:
The market took another step back Thursday, so what does that mean to end the week? The end of the week is usually a time for shorts to cover, but will the market regain its mojo? The big news on the plate for the market will be Trade Balance. The number is expected to increase from -48.7B to just over -46B. A solid trade balance tomorrow would do wonders for the market. In addition to that number, investors should be watching for Chinese Trade Balance information. China has had solid data as of late. Any signs that its strength is waning will not be a positive for the market. Finally, earnings from AOL (NYSE:AOL) and Louisiana-Pacific (NYSE:LPX) will be key to the market tomorrow morning as well. Look for the market to mostly play off the trade balance tomorrow.
Charts courtesy of finviz.com
Disclosure: I have no positions in any stocks mentioned, and no plans to initiate any positions within the next 72 hours.
Business relationship disclosure: The Oxen Group is a team of analysts. This article was written by David Ristau, one of our writers. We did not receive compensation for this article (other than from Seeking Alpha), and we have no business relationship with any company whose stock is mentioned in this article.