Late last week, payment processor MasterCard (NYSE:MA) announced terrific fourth quarter results. Revenue jumped 10% year-over-year to $1.9 billion, in line with expectations. Earnings, however, exceeded consensus estimates, growing 21% year-over-year to $4.86 per share.
Much like Best Ideas Newsletter portfolio holding Visa (NYSE:V), MasterCard continues to ride secular tailwinds as the world moves to a cashless society. Though the US is MasterCard's largest market, its credit card market share substantially lags that of Visa. Still, the company has tremendous global exposure. With credit and debit payments nearing maturity in the US, other markets (shown below) are driving the growth at MasterCard (Image Source: MasterCard Earnings Presentation).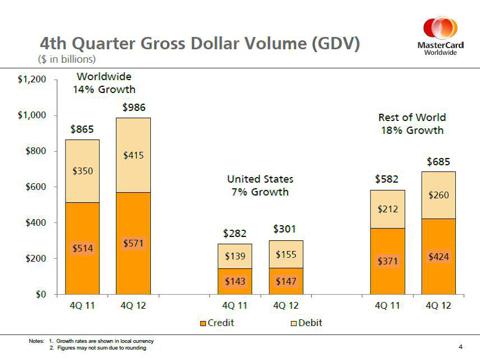 Although the company's exposure to Europe may be worrisome to a degree (given economic concerns), we actually like the firm's presence in the region because payment processing remains a long-term secular growth business (as opposed to cyclical). The benefits of credit and debit payments compared to cash are so strong that we don't see fluctuations in the economic cycle stopping this trend (for the foreseeable future).
During the quarter, MasterCard did a fantastic job controlling expenses, as the company's operating margin increased 340 basis points year-over-year to 47.4%. Though this metric is still far behind Visa's measure, we think MasterCard's operating margin has further room to expand, especially if global economic growth rebounds. Going forward, the firm didn't provide much in terms of specific guidance, but it had this to say about expectations for future revenue and earnings expansion, which we think is achievable:
"So looking forward, let me just start first with our long-term performance objectives. We remain confident that our business can deliver in a 11% to 14% net revenue CAGR and at least 20% EPS CAGR over the 2013 to 2015 period. These growth rates are on a constant currency basis and exclude any new acquisitions."
We continue to love the structural characteristics of the payment processing industry, but we think shares of MasterCard are fairly valued at this time. In the group, we prefer Visa (due to its stronger brand name and superior operating margin) and eBay (NASDAQ:EBAY), which owns PayPal's dominant online payment franchise.
Disclosure: I have no positions in any stocks mentioned, and no plans to initiate any positions within the next 72 hours. I wrote this article myself, and it expresses my own opinions. I am not receiving compensation for it (other than from Seeking Alpha). I have no business relationship with any company whose stock is mentioned in this article.
Additional disclosure: V is included in the portfolio of our Best Ideas Newsletter.