Since the 2010 acquisition of ACS, Xerox (NYSE:XRX) has transformed from a "commodity like" printer manufacturer to a high quality service provider with a lot of potential for growth.
Xerox according to its site is:
[...] the world's leading enterprise for business process and document management, offering global services from claims reimbursement and automated toll transaction to customer care centers and HR benefits management.
That means that Xerox offers a wide variety of outsourcing services, leveraging its legacy technology and expertise.
The reason I am mentioning all these isn't to advertise Xerox but to emphasize one overlooked fact. Xerox has created a strong & expanding business moat around itself. All these services that Xerox offers have one thing in common... the need for continuous communication and cooperation between Xerox and its customers.
The business & personal relationships that are created in the process (given that Xerox does its job well of course) are a big barrier that a competitor will have to overcome to take Xerox's customers away.
"So what?" you might say, "How does all these affect me, the shareholder?". Well, businesses with that kind of moat enjoy stable earnings even in rough times and their future earnings trajectory is easier (and safer) to predict.
As you can see in the two charts below the company was absolutely right to turn its attention to outsourcing services. The services segment currently generates 52% of its revenue and is growing while the technology segment generates 42% and seems like it hit the roof.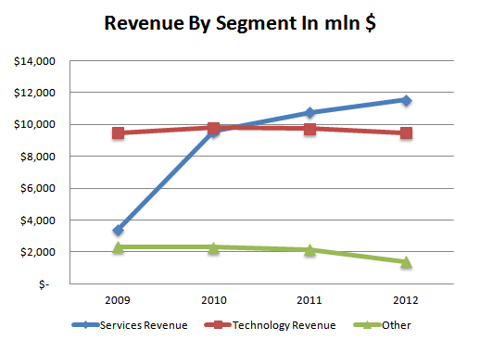 Click to enlarge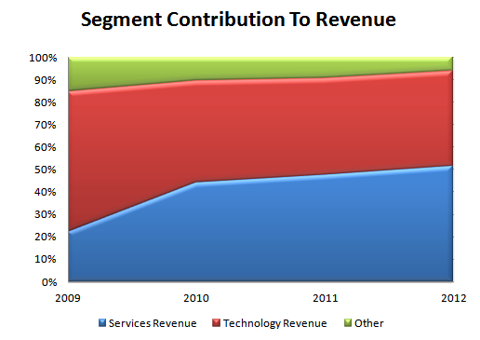 Click to enlarge
Now let's talk about earnings and valuation. In 2012 Xerox generated $1.03 EPS (7.8 P/E ratio) adjusting for non-cash one-time charges. For 2013 the company expects adjusted EPS between $1.09 and $1.15. Analysts expect $1.12 (7.15 P/E ratio) of adjusted EPS for 2013. Furthermore, Xerox generated $1.69 of FCF/share in 2012 and expects the same for 2013.
Given that its services segment grows at 7% while its technology segment shrinks at a 4% rate, I expect that for the next 3 to 5 years Xerox will grow at an average 3% rate. After that and as its technology segment continues to shrink (and becomes a smaller drag) I expect it to grow at an average 5% rate.
Bonus facts:
In 2012 the company reduced its share count by 8.5% to 1,224 million shares and might continue to do so in 2013.
Ursula M. Burns - Chairman and Chief Executive Officer

We bought back more than $1 billion in Xerox stock in 2012, and share repurchase will remain part of our balanced approach to capital allocation.
It pays a $0.17 dividend per share which currently yields a little more than 2%.
Mr. Einhorn of Greenlight Capital likes this stock too.
All of the above considered along the competitive advantages the company enjoys, I believe that Xerox is worth 13-15 times its projected 2013 earnings. That places its value at $14.56-$16.80 per share which is 80% to 110% higher than its current stock price.
Disclosure: I am long XRX. I wrote this article myself, and it expresses my own opinions. I am not receiving compensation for it (other than from Seeking Alpha). I have no business relationship with any company whose stock is mentioned in this article.