Short interest can have a powerful impact on stock prices. There are three stocks that met my search screen: growth in earnings and sales, high short interest (above 20%), and bullish price action. Those features can put enormous pressure on a stock price, and force short sellers to cover their short positions and fuel the price even higher.
3D Systems Corp. (DDD)
There is much hype around this stock. Its aggressive acquisition strategy, exciting new technology and products and quite high growth levels are driving the stock price to new highs. Short interest is 23%, and has declined in four 15-day periods in a row, with the price surging.
Sales growth in the last four quarters was 35% to 63%. Adjusted earnings growth was from -11% to 28% in three quarters preceding the third quarter, when earnings surged 128%, and are expected to rise 137% and 78% in the next two quarters.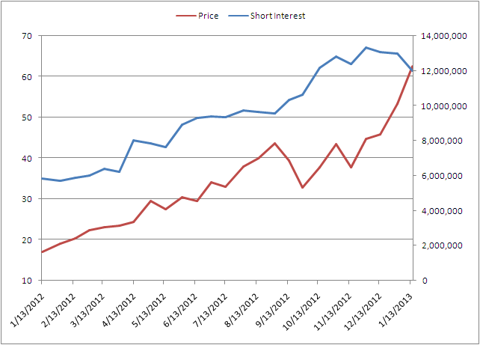 Source for data: Nasdaq.com
Price action was quite volatile recently. It had a failed breakout in late October, than quickly broke out again in late November, with the second one being successful.
Green Mountain Coffee Roasters Inc. (GMCR)
I wrote about Green Mountain Coffee a month ago, when the emphasis was on the Importance Of Momentum. Short interest also might be a powerful ingredient for momentum. The stock had a run of more than 1,000% and a subsequent decline of more than 80%. And then again, after bottoming, it is up more than 150%.
The company's growth has cooled down from triple digits, and has stabilized in the two most recent quarters, with earnings up 36% and 26% respectively, and revenue growing 33% and 15%. Solid growth levels are expected, with earnings expected to rise 14% and 28%, and revenue to grow 20% and 18%, according to Yahoo Finance.
Short interest is 24% as of 15th January. The stock broke out from a consolidation following the gap-up move after reporting earnings in late November.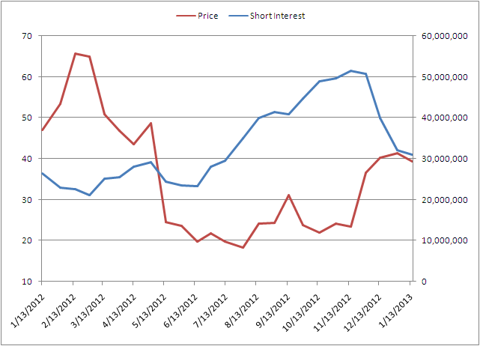 Source for data: Nasdaq.com
SodaStream International Ltd. (SODA)
SodaStream International has a trailing PE of 26.95, and forward PE of 19.43, with a PEG ratio of 0.80. Earnings growth was 40% and 64% respectively in the last two quarters, while sales growth was 33% and 43% in the same period. Analysts expect earnings to rise 19% and 24%, and sales 41% and 27% respectively in the next two quarters.
Short interest is a very high 47%. The stock broke out from a 16-month consolidation in early January. The consolidation was a result of an abrupt price breakdown in August 2011, which sent the stock down 65% in two months.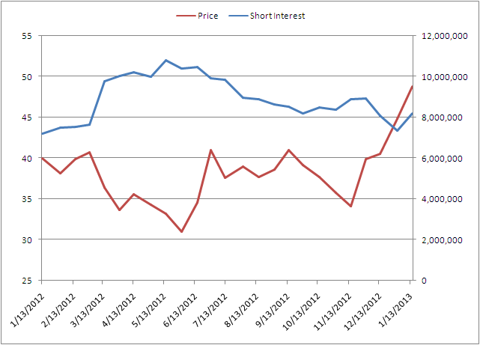 Source for data: Nasdaq.com
Conclusion
Short interest can give a very powerful boost to a stock price, especially when combined with solid growth, and bullish price patterns. However, caution is advised with trading these stocks, because it can go both ways. If too many short sellers come into the stock, the price will decline.
Disclosure: I have no positions in any stocks mentioned, and no plans to initiate any positions within the next 72 hours. I wrote this article myself, and it expresses my own opinions. I am not receiving compensation for it (other than from Seeking Alpha). I have no business relationship with any company whose stock is mentioned in this article.