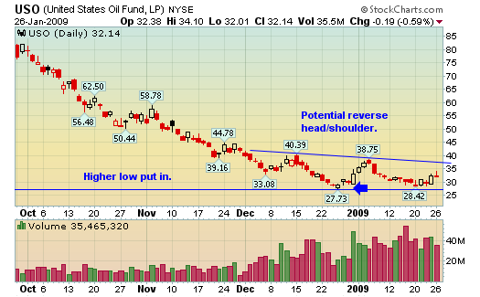 Oil has been in the headlines a lot lately and I've been watching from a distance until yesterday. My proprietary system issued a buy signal on USO yesterday but there are a few caveats I want to talk about before we go all in this sector. First off, we put in a higher low last week at 28.42 with volume being quite heavy during the selling of the last couple of weeks. We also have a reverse head and shoulder pattern forming which, if it plays out, should have this chart trading in the mid 45's sometime in the next month or so. Individual issues in this sector should fare much better and a few I'm looking at are:
Yesterday's buy signal was fairly weak and if this issue trades significantly lower today it will cancel out any buy signal I received yesterday. However if we can build on these gains I will feel more confident about opening some positions in this sector and in the previously listed stocks. Inflationary sectors like precious metals are also turning bullish now and that could help fuel additional speculation, driving oil higher in the short term.
If you refer back to a previous post I wrote regarding long term support you'll see that we never dipped below my "lines in the sand" and a recovery in oil could be just around the corner.