While the FED is trying to expand the balance sheet by actively purchasing mortgage-backed securities, many people are reallocating their portfolios and investing in riskier assets. As a result, a record $55 Billion has been invested in all equity mutual funds and ETFs in January. The previous record of $53 Billion was set in February 2000, in the peak of the dotcom bubble.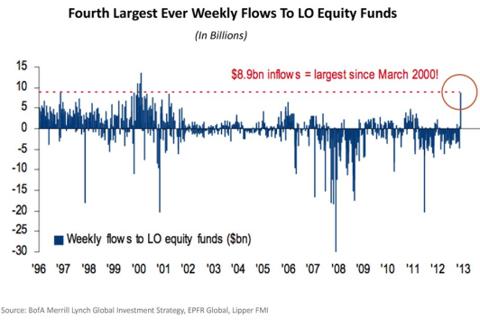 In their quest for higher returns, investors have also put their money into junk bonds, pushing down the yields to all-time lows in the 5-6% territory.
I believe the three ETFs I am discussing in this article are good alternatives to the junk bonds. In addition to the great dividend, they can also give you exposure to the stock market, which appears to be in a good shape recently, and allow you to benefit of the rising prices.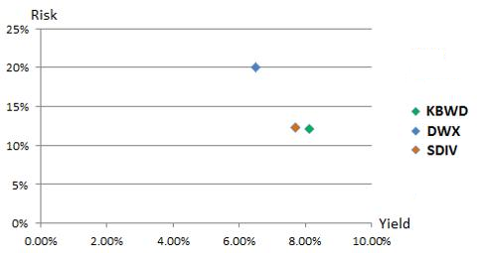 1. PowerShares KBW High Dividend Yield Financial Portfolio ETF (NASDAQ:KBWD)
The PowerShares KBW High Dividend Yield Financial Portfolio ETF is based on the KBW Financial Sector Dividend Yield Index. The index is recalculated on a monthly basis, giving more weight to the higher yielding companies. It is comprised of companies based in the United States and are engaged in banking, insurance and diversified financial services. Additionally, companies from the mortgage and real estate business can be included, if they offer solid dividends. As of February 8, small-cap companies represent 67% of the index, followed by mid-caps, 22%.
The yield is very generous, 8.12%, paid monthly. The ETF traded almost flat in the first 10 months of 2012 and hit low levels in November. Since then, the fund has been in a bullish trend, surging more than 15%. Despite the recent upward movement, the average P/E of the underlying companies is still low, 10.44.
The 200-day volatility, a measure of its risk, is 12%. If you believe the strong earnings season in the industry will be sustainable and the companies will continue doing well, then you should definitely consider this fund.
2. SPDR S&P International Dividend ETF (NYSEARCA:DWX)
This ETF targets high yielding companies based in developed countries outside the United States. Significant attention is given to Europe, led by Spain, France and Italy. Other countries include Australia, Israel and China. The weighted average market cap comes in at $17.5 Million and the average P/E is 11. The ETF has total net assets of $1.2 Billion. It has been flat since 2010 and is currently trading at about $48.
The fund has a yield of 6%, tripling the average yield of the S&P 500. The 200-day volatility is almost 20%. The SPDR S&P International Dividend ETF should be a good investment for people who are positive about Europe and seek to generate solid streams of income. There is a significant risk due to the great exposure to Europe, but a considerable reward, too.
3. Global X SuperDividend ETF (NYSEARCA:SDIV)
This fund is comprised of the top 100 best-yielding companies worldwide, giving it a relatively good diversification. An interesting feature is that all companies are given equal weight of 1%. The average market cap of the companies comes in at $8.5 Million, and the P/E is 12.5. The ETF last traded at $23, and has been in an upward trend since mid-November.
Global X SuperDividend ETF offers 7.7% dividend and its 200-day volatility is 12.3%. This fund is a great opportunity for people bullish on the world economy or want to diversify their portfolio and I believe it is a good investment.
Disclosure: I have no positions in any stocks mentioned, and no plans to initiate any positions within the next 72 hours. I wrote this article myself, and it expresses my own opinions. I am not receiving compensation for it (other than from Seeking Alpha). I have no business relationship with any company whose stock is mentioned in this article.