By Michael S. Akhras, PhD, Christina Loh, PhD, Amy J. Lam, and Jordan R. Plews, PhD
While a variety of sources have identified competitors of Response Genetics (NASDAQ:RGDX), the actual relationship to and impact of these "competitors" on Response Genetics varies widely. We have analyzed the technological background and current product offerings of a variety of previously identified competitors to more succinctly describe these relationships and how they might affect the future of Response Genetics in the molecular diagnostics market.
As the costs of sequencing goes down at a rapid pace, companies like Response Genetics stand to benefit given that their expertise is related to sequencing, but ultimately, margins will likely become tighter as reimbursement changes, such as the new CPT code policies that went into effect Jan 1, 2013, make it more difficult for many diagnostics testing companies to charge for their services. However, Response Genetics still has a leg up on many companies because of their niche product offerings that do not simply diagnose, but predict the outcome of a given treatment on a specific patient (Response DX line). It is this segment of the market that should be watched closely as value dissipates from other diagnostic product segments, such as those that are not linked to predicting patient outcomes.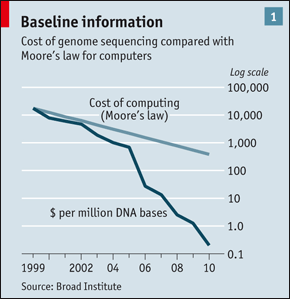 Courtesy of The Economist
Response Genetics Overview
Response Genetics offers Lung, Colon, Gastric, and Melanoma diagnostic products as part of its ResponseDX line, offering tests that predict a patient's responsiveness to a particular treatment. This has lead to strategic partnerships with big pharma companies, outlined in the table below.
Pharmacogenomic Drugs & Related Pharma Partners:
RGDX panel

Drug

Pharma company

1. ResponseDX Lung

Crizotinib (Xalkori)

Pfizer

2. ResponseDX Colon

Cetuximab (Erbitux)

Bristol-Myers Squibb

Cetuximab (Erbitux)

Eli Lilly and Company

Panitumumab (Vectibix)

Amgen

3. ResponseDX Gastric

Trastuzumab (Herclon, Herceptin)

Genenetech (Roche)

4. ResponseDX Melanoma

Cetuximab (Erbitux)

Bristol-Myers Squibb

Cetuximab (Erbitux)

Eli Lilly and Company

Panitumumab (Vectibix)

Amgen
COMPETITION OVERVIEW
Definitions:
*Direct competitors: Have/works with similar test(s), or targets the same test groups
**Indirect competitors: Works within the same market segments
***Non-competitors:Works in the same biotechnology field, however not the same market
Direct RGDX Competitors
Clarient, Inc was acquired in late 2010 by GE Healthcare, a unit of General Electric Company. Clarient is in the molecular diagnostics sector and GE Healthcare acquired Clarient with the intent to combine Clarient's diagnostic tests and its own strengths in diagnostic imaging to accelerate the development of new integrated tools for the diagnosis and characterization of cancer. Clarient offers over 300 tests and the acquisition by GE Healthcare is sure to cause tougher competition for Response Genetics and lead to a lower share of the molecular diagnostics market.
Exact Sciences Corp. is a molecular diagnostics company, focused on developing a molecular diagnostic technology for the early detection and prevention of colorectal pre-cancer and cancer.
Competing Product(s): Cologuard, a non-invasive stool-based DNA colorectal cancer screening test that is designed to detect each of the four stages of colorectal cancer, as well as pre-cancerous lesions. Recently, in early November, good validation data was presented about Cologuard. Exact Sciences announced Dec 10th, 2012 that it has submitted to the U.S. Food and Drug Administration the first module of the premarket approval (PMA) application for its stool DNA colorectal cancer screening test, Cologuard. Cologuard is meant to be used in conjunction with, or potentially as an alternative to, colonoscopy, which has relatively poor compliance due to the high level of patient discomfort. The test adds a new and potentially interesting value proposition in that it is capable of detecting precancerous adenomas.
Genomic Health is a global health company founded in August of 2000 that aims to improve the quality of cancer treatment decisions through the research, development and commercialization of genomic-based clinical laboratory services. To that end, the company conducts genomic research to develop clinically-validated molecular diagnostics which provide individualized information about a patient's response to certain types of therapy, as well as the likelihood of disease recurrence. These diagnostic technologies generate information that healthcare providers and patients can use in making treatment decisions and are in competition with Response Genetics' ResponseDX product line.
Competing Product(s): Oncotype® DX Colon Cancer Assay
Oncotype DX is a clinically validated multi-gene assay that gives a quantitative assessment of the risk of distant recurrence and has been shown to predict chemotherapy treatment benefit. The Oncotype® DX line of tests is expanding. Their breast cancer test was presented at the 34th Annual CTRC-AACR San Antonio Breast Cancer Symposium (SABCS). In two studies, Genomic Health demonstrated the test's cost effectiveness in invasive breast cancer and ductal carcinoma in situ (DCIS).
Myriad Genetics is a molecular diagnostics company focused on the discovery and commercialization of tests to assess an individual's genetic risk of developing disease, guide treatment decisions, and assess risk of disease progression and recurrence. While many companies provide diagnostics that diagnose diseases, key competitors of Response Genetics, such as Myriad Genetics, provide deeper, patient specific information, such as how a given patient will respond to a therapy or their risk of disease progression.
Competing Product(s): COLARIS® & COLARIS AP®
COLARIS® assesses an individual's risk of developing colorectal, endometrial and other related cancers based on the detection of mutations in the MLH1, MSH2, and MSH6 genes. This hereditary cancer syndrome is known as Hereditary Nonpolyposis Colorectal Cancer (HNPCC, or Lynch syndrome). COLARIS AP® assesses an individual's risk of developing colorectal polyps and cancer based on detection of mutations in the APC and MYH genes. These hereditary cancer syndromes are known as familial adenomatous polyposis ((FAP/AFAP)) and MYH - associated polyposis (MAP).
Other Key Product(s): They have developed a test which provides a Homologous recombination deficiency (HRD). This score predicts pathologic response following neoadjuvant platinum-based therapy in triple-negative (lacking estrogen receptor, progesterone receptor, and HER2) and BRCA1/2 mutation-associated breast cancer, one of the most aggressive and most difficult to treat subtypes of breast cancers. Essentially, the assay provides doctors with an indication of how a patient will respond to specific treatment regimen.
Nanostring is a privately held company, founded in 2003, that utilizes an exclusive license to develop and market a molecular barcoding technology to allow for multiplexed gene expression analysis of mRNA and microRNAs and copy number variation detection. In 2010, Nanostring Technologies announced its shift towards medical diagnostics by announcing the development of a diagnostic tool for high throughput subtyping of breast cancer. The strength of their product in medical diagnostics is the speed, reproducibility and scalable technology. At the moment, although not suitable for use by clinicians, researchers have been taking advantage of this technology for innovative purposes and the commercial medical diagnostics market remains to be tapped by Nanostring Technologies. Nanostring Technologies is therefore positioned to become a direct Response Genetics competitor.
Neogenomics is a CLIA certified clinical laboratory that specializes in cancer genetics diagnostic testing. The company offers testing services based on 5 main technologies - cytogenetics, fluorescence in situ hybridization (FISH), flow cytometry, immunohistochemistry (IHC), and molecular genetics. Neogenomics also possesses NeoTYPE Cancer Profiles for solid tumors (breast, colorectal, gastric, and lung), chronic lymphocytic leukemia (CLL), acute myeloid leukemia (AML), and SNP/Cytogenetic. NeoTYPE™ Cancer Profiles are multi-method test panels, custom-designed for a specific tumor type, that identify the genetic changes most significant to therapy decisions, prognosis, and clinical research. Neogenomics' competitive advantage is primarily based on turn-around time and their unique business model.
This service competes directly with Response Genetics as both companies offer similar services. An important note is that Neogenomics partnered with Response Genetics in 2008 to expand the availability of Response Genetics' ResponseDX tests to the national marketplace. However, that partnership was restructured in 2010 when Neogenomics claimed lack of profitability. Neogenomics was traded on the Over-the-Counter (OTC) Bulletin Board but has recently been approved for listing on the Nasdaq Capital Market (NEO) on Dec 10th, 2012. Listing on the Nasdaq Capital Market is likely to increase publicity of Neogenomics and potentially increase trading. Positive attention on Neogenomics is likely to draw attention away from Response Genetics, but may also lead to a general boost in trading in this area of tech.
Qiagen is a provider of sample and assay technologies for molecular diagnostics, applied testing, academic and pharmaceutical research with headquarters in Venlo, Netherlands. In 2009, they acquired UK based DxS. DxS has developed a set of molecular diagnostic assays which allow physicians in oncology to predict patients' responses to certain treatments in order to make cancer therapies more effective and safer. They have reached most success with a companion diagnostic test for Erbitux, which reached FDA pre-approval last year. Qiagen/DxS directly competes with Response Genetics, vying for the same market segment, particularly with the ResponseDx Colon product line.
Quest diagnostics is a Fortune 500 company with a strong market presence, currently offering a variety of products in the same realm as Response Genetics and acquiring additional companies, such as Focus Diagnostics, which competes with Response Genetics. Their diagnostic products include: testing services or commercial products (i.e. kits, reagents & devices), clinical trials and innovative healthcare information. Response Genetics functions as a testing service only; thus is only a small part of the medical diagnostics market - which is comprehensively covered by Quest. As Quest, an already large entity, grows larger through acquisitions and partnerships, it should be able to drive down costs and increase efficiency, ultimately negatively affecting Response Genetics' market share.
Indirect RGDX Competitors
AssureRx Health is a privately held personalized medicine company that takes a pharmacogenomics approach to study genomic factors that influence an individual's response to certain drug treatments. Their major product line is the GeneSightRx. GeneSightRx features products for psychotropic agents (antidepressant and antipsychotic medications), ADHD medications, and analgesics (patient response to opioids medication). Furthermore, they feature a CAP-accredited and CLIA certification to perform genetic analysis on clinical samples. In regards to Response Genetics, they are partially competing in the same space; however with their focus on neuropsychiatric disorders they do not currently compete directly with any Response Genetics product lines.
OPKO Health
OPKO Health is listed on the NYSE and has products that are addressing at least five different billion-dollar markets. The company focuses on pharmaceuticals and diagnostics, and invests as well. It has two target areas in diagnostics - point-of-care diagnostics and molecular diagnostics. Point-of-care diagnostics offers portable laboratory quality immunoassays primarily used to detect proteins associated with infectious diseases, cancer, and immune diseases. The molecular diagnostics platform is based on IgG autoantibodies as disease-specific biomarkers. While Response Genetics and OPKO Health both provide molecular diagnostic services, they do not directly compete.
Sequenom is a molecular diagnostics and testing company that provides research use only (RUO) products, services, applications and genetic analysis products. Sequenom's development and commercialization efforts include non-invasive women's health- related and prenatal diagnostics (MaterniT21), ophthalmology, and other medical conditions, such as oncology, infectious diseases and autoimmunity. The Sequenom Center for Molecular Medicine (CMM) is CAP-accredited and CLIA certified, and offers a panel of genetic tests on their MassARRAY mass spectrometer platform in order to interrogate somatic mutations in cancer pathways and genetic variations that may influence absorption, distribution, metabolism, and excretion of drugs and compounds.
Response Genetics and Sequenom are partially competing in the same space; however Sequenom is currently marketing products geared primarily towards prenatal diagnostics and ophthalmology, with focus on RUO for their other product lines. Sequenom is an early adopter of using next-generation sequencing instruments for medical diagnostics, such as the MaterniT21 assay, which Response Genetics sees as a potential future pathway.
Vermillion focuses on discovery, development and commercialization of novel diagnostic tests. Their products cover oncology, hematology, cardiology and women's health. VRML's major product line is OVA1 which was launched in March 2010 and cleared by FDA for pre-surgery ovarian cancer evaluation. Their current pipeline includes OVA2 (an improvement of OVA1) and VASCLIR in order to diagnose Peripheral Arterial Disease (PAD). Vermillion and Response Genetics are competing in the same diagnostics space, but Vermillion focuses on proteomic biomarkers and Ovarian cancer which is not in competition with any current Response Genetics product line.
Non-Competitors listed as RGDX Competition
Acura Pharmaceuticals, Inc is a specialty pharmaceutical company developing and commercializing tamper-resistant products to combat medication abuse and misuse. Acura Pharmaceuticals is not involved in diagnostic testing, and is therefore not a competitor of Response Genetics.
Akorn, Inc. is not really a Response Genetics competitor. Despite being in the diagnostic product space, it is an ophthalmologic pharmaceutical company that develops, manufactures and markets pharmaceutical products specifically for the eye, a market that Response Genetics has not focused on.
Clarus Therapeutics, Inc (CLRS)
Clarus Therapeutics, Inc is a privately held pharmaceutical company focused on the development and commercialization of an oral testosterone replacement product. Clarus is focused on development, not diagnostic testing, and is therefore not a competitor of Response Genetics.
Hospira, Inc is a provider of injectable drugs and infusion technologies. They aim to improve patient and caregiver safety, clinical outcomes, cost management, as well as caregiver efficiency and effectiveness by integrating technologies at the point of care. This company does not share technology or market segments with Response Genetics and should therefore not be considered a competitor at this time.
MAP Pharmaceuticals is a biopharmaceutical company focused on developing and commercializing new therapies in neurology. The Company is developing LEVADEX®, an orally inhaled investigational drug for the acute treatment of migraine. The New Drug Application for LEVADEX is currently under review by the U.S. Food and Drug Administration. MAP Pharmaceuticals has entered into a collaboration agreement with Allergan, Inc. to co-promote LEVADEX to neurologists and pain specialists in the U.S. and Canada. The Company also plans to apply its proprietary drug particle and inhalation technologies to other pharmaceuticals, enhancing the therapeutic benefits of proven drugs, while minimizing risk. MAP Pharmaceuticals is not really a competitor of Response Genetics due to its focus on proprietary drugs and novel drug delivery of existing drugs, not molecular diagnostics.
OncoGenex Pharmaceuticals, Inc
OncoGenex was established in May 2000 as a spin out from the Prostate Centre at Vancouver General Hospital and the University of British Columbia. Initially formed to develop and commercialize Custirsen (OGX-011), a companion treatment along with chemotherapy. OncoGenex has partnered with TEVA Pharmaceuticals (NYSE:TEVA) and has two mRNA antisense based therapeutic agents in Phase III studies. Response Genetics and OncoGenex are both Prostate Cancer focused, but OncoGenex uses antisense mRNA as a treatment against the protein that causes resistance to treatment.
Nanosphere, Inc.
Nanosphere develops, manufactures and markets an advanced molecular diagnostic platform with headquarters in Northbrook, IL, USA. They have developed the Verigene System, based on bio-barcode technology which offers sample-to-answer diagnostic products for both genomic and proteomic biomarker detection. In regards to Response Genetics they do not compete in the same market segment, although Nanosphere develops a technology which Response Genetics could potentially use for their biomarker applications. Both are companies to watch for strategic partnership activity as consolidation in this space continues.
Peregrine Pharmaceuticals, Inc.
Peregrine Pharmaceuticals is a biopharmaceutical company that utilizes over 200 patents directed towards the use of monoclonal antibodies in the imaging, diagnosis and treatment of tumors and virally infected cells. Most sales are from contract manufacturing, not competing molecular diagnostics. Although Peregrine is not a competitor of Response Genetics, they might make a good partner in the future as Quest and LabCorp (NYSE:LH) grow larger and Peregrine's core competencies would complement Response Genetics' well.
Seattle Genetics focuses on the development and commercialization of antibody-based therapies for treatment of cancers. They are focused on the antibody drug conjugate (ADC) market segment, and offer a technology designed to harness monoclonal antibodies' target affinity to deliver site specific drugs to cancer cells. By doing so, the ADC spares non-targeted cells, which may reduce the toxic effects of traditional chemotherapy. While Seattle Genetics and Response Genetics are both doing cancer related work, they are not competing in the same space.
Looking Ahead
While Response Genetics claim 'proprietary technology', their tech is not really what sets them apart when taking into consideration the rapid development and commercialization of new, competing, and arguably more advanced, technologies that will soon be cheap enough to give them competition in the near future. Also, a lot of their tech is licensed from others with their core in service and sales through their CLIA certified clinic. Being a service business, they depend on increasing revenue through new customers, and new product offerings. They have already shown that, through strategic partnerships with large pharma companies, they can substantially increase their revenues. They are currently in the process of seeking new partners, however, it is unclear who they are most likely to partner with next at this point, but a jump in stock price is likely to follow if the past is any indication of how partnerships affect Response Genetics' performance.
There has been a wave of consolidation in lab tools, diagnostic and prognostic space. General Electric Co. acquired Clarient Inc. (CLRT); Novartis AG (NYSE:NVS) purchased Genoptix Inc. (GXDX); Laboratory Corporation of America Holdings acquired Genzyme Corp. (GENZ), and others. While prognostic/prognosis based tests have been on the decline, diagnostics that provide predictive reactivity to treatment type (like types of chemotherapy) are still strong, which is good news for RGDX.
Unfortunately, prices for molecular diagnostics are likely going to be pushed lower. Obamacare will likely demand cheaper prices across the board for diagnostics in the future, and the ever cheaper cost of DNA/RNA sequencing related tech will also play a role. Also, the new molecular diagnostic coding system, effective from January, 1st 2013, is expected to result in increased pricing and reimbursement pressure, according to industry experts. There is no pricing in place yet for the new system, but commodity-like pricing for first tier codes is expected and there's concerns that reimbursement of new tests may take up to two to three years.
Disclosure: I have no positions in any stocks mentioned, and no plans to initiate any positions within the next 72 hours. I wrote this article myself, and it expresses my own opinions. I am not receiving compensation for it. I have no business relationship with any company whose stock is mentioned in this article.
Business relationship disclosure: Alpha Cardinal is a team of graduate students and postdocs at the Stanford University School of Medicine. This article was written by Christina Loh Ph.D., Michael Akhras Ph.D., Amy Lam, and Jordan Plews Ph.D., members of one of our teams. We did not receive compensation for this article, and we have no business relationship with any company whose stock is mentioned in this article.