One of the most lucrative and volatile investment strategies is investing in former high-flying stocks that have crashed but look poised for a turnaround. It is a strategy fraught with risks, but I have found it to provide some of the best returns over the long term. One of the biggest scores of my investment career was buying search portal Ask Jeeves after the Internet bust when it was selling near $2 a share (net cash was over $3 a share at that time). I pocketed an over 1,200% return a few years later when what is now IAC/InterActiveCorp (IACI) purchased the company.
Turnarounds that provided impressive returns using this strategy over the last year include America Online (NYSE:AOL) and Sprint (NYSE:S).
Click to enlarge image.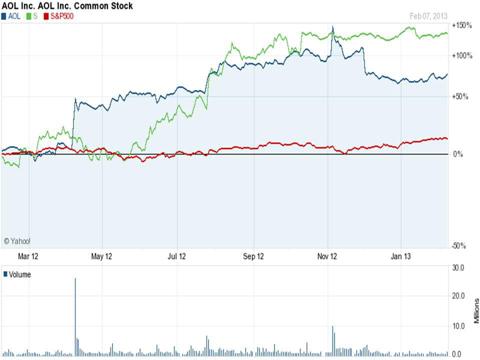 After two decades of employing this strategy, I believe the key is to find stocks that have momentum after long declines and some catalysts to move them still higher. Here is a once "dead" stock that is on the mend and could move significantly higher.
Zynga (NASDAQ:ZNGA) operates online social games as live services on the Internet, social networking sites, and mobile platforms.
Here are seven reasons why ZNGA makes a good speculative play at just over $3 a share:
After being a poster child for social media excess, management departures, and overvalued IPOs, ZNGA has found momentum recently. After bottoming at just over $2 a share in November, the stock is up some 50% in the last three months. Given its 52-week high is north of $15 a share, the rally could be in the early stages.
The stock is being buoyed as it appears well-positioned if online gambling is allowed. New Jersey Governor Chris Christie is currently pursuing this revenue stream. Given stressed budgets at the state level, I would look for other states to follow suit.
In addition, the stock recently reported an unexpected profit and had more bookings than analysts had estimated.
"Farmville," the company's most popular game, is being made into a half-hour television show.
Over half of the company's market capitalization is in net cash.
The company has almost $200 million remaining on a stock purchase plan, which would lower float by around 8% at current prices.
The company is very cash flow positive even as it posts small gains/losses.
Disclosure: I am long ZNGA. I wrote this article myself, and it expresses my own opinions. I am not receiving compensation for it (other than from Seeking Alpha). I have no business relationship with any company whose stock is mentioned in this article.