The Q3F13 results released by Apollo Investment Group's (NASDAQ:AINV) on 6th February this year certainly have not had a positive impact on investors and financial analysts alike, as it seems from the current news. With unsteady portfolio yield, rising interest rates and risky investments, the quality of earnings suffers. And that probably shows in the declining net income and losses in investments.
As Wells Fargo (NYSE:WFC), which recently downgraded the company to "market perform" with a valuation range of $8.49-50, says:
"We are downgrading shares to Market Perform as both credit/market risks elevate. Recall, AINV has focused on increasing portfolio yield by investing more complex/esoteric "structured products" including CLOs/Aircraft leasing. Based on the potential for increasing credit risk associated with those investments as well as the stock trading near our $8.50-9.00 valuation range, we believe the share price currently reflects intrinsic value. Based on AINV's rank in the BDC scorecard (Quartile 3), we estimate AINV shares will trade at a 9.2-9.7% yield on our 2013 NOI estimate of $0.83. In addition, we believe AINV's P/NAV will likely remain constrained until management institutes a high water mark to protect investors from paying an outperformance fee to the external manager even when they generate investment losses (as they did with their investment in Cengage this quarter). Based on FQ3 2013 results, we are lowering our 2014 NOI estimates slightly to $0.84 from $0.87 to account for potential credit risks associated with select education investments."
Qualitative Analysis
With net asset value per share going down to $8.14 in the latest quarter last year, compared to $8.55 at the end of Q4F12, either the portfolio market value is going down, the liabilities are going up, or perhaps both. However, what concerns me is that when the NAV per share seems to be going down, the share price seems to be going up.
While the Blackstone Group stock price has reported an over 30% increase in the last 6 months, Apollo Investment is lagging behind at 5.71%. Again, that is not too bad when we compare Apollo Investment with the rest of the big private equity companies and the present market condition in the United States.
Nevertheless, this upward movement should be taken with a pinch of salt. In case of Blackstone Group, the P/E ratio is 46.50X compared to 7.40X of Apollo Investment. When Blackstone Group clearly seems overvalued, what is the valuation condition of Apollo Investment? Needless to say, if the NAV per share keeps on ratcheting down, share price will have to go down as well.
Well, Apollo's real-time price-to-book ratio stands at 1 approximately; that is, the stock price trading at $8.16 (at the time of writing this article) is above the current NAV per share of $8.14. From the look of it, price should go up from here. But wait! Here is a snapshot of NAV at different time intervals.
| | |
| --- | --- |
| Dates (As On) | NAV per share ($) |
| 31st March, 2011 | 10.03 |
| 31st March, 2012 | 8.55 |
| 30th June, 2012 | 8.30 |
| 30th September, 2012 | 8.46 |
| 31st December, 2012 | 8.14 |
Alarmingly, the NAV has been going down periodically. A little more analysis shows the FMV of the non-controlled investments have gone down to $2.36 billion, as compared to the total cost of $2.51 billion. In the portfolio, the preferred equity value (comprising 0.7% of the total investments) seems to have been badly hit with FMV down to $11.4 million, as compared to cost of $41.2 million. It is noteworthy that even the senior/subordinated debt agreements have lost value over time. As a matter of fact, when interest rates rise, bond prices fall. At 31 December 2012, 61% or $1.5 billion of its income-bearing investment portfolio is at fixed rate and 39% or $1.0 billion is at floating rate, on a cost basis. This certainly explains the declining NAV per share.
Since 88% of the total portfolio is composed of debt, either secured or subordinated, NAV is expected to go down as interest rates increase. And that being said, stock prices can either stay where they are or go down with further decrease in the asset value.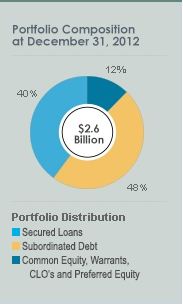 Another problem with interest rates rise is that it will probably increase the expenses of the company. Here is what the company management says:
"We are subject to financial market risks, including changes in interest rates. During the three and nine months ended December 31, 2012, many of the loans in our portfolio had floating interest rates. These loans are usually based on floating LIBOR and typically have durations of one to six months after which they reset to current market interest rates."
As total debt has increased to $1.04 billion (MRQ), compared to $1 billion in March 2012, liabilities might be another bothersome factor in the balance sheet. However, it is noteworthy that only $421 million of that is at a floating interest rate and is due to expire by 2016. As more of the principal amount is being amortized, the interest payments might actually decrease provided that Apollo Investment does not get on a debt acquiring spree in the time to come.
Although high debt and rising interesting rates pushed down the investment income to $0.19 per share in the nine months ending in December last year, interest payments should go down in the coming couple of years and net income should rise. However, if more debt is incurred, net investment income might take a downturn. As in 2012, debt-to-equity ratio has actually come down since the end of 2011.
Coming to the next point, net income depends on both total investment return and total expenses. Total investment return depends largely on the quality and diversification of the portfolio. Regarding the quality and diversification of the portfolio, business services and healthcare segments top the list.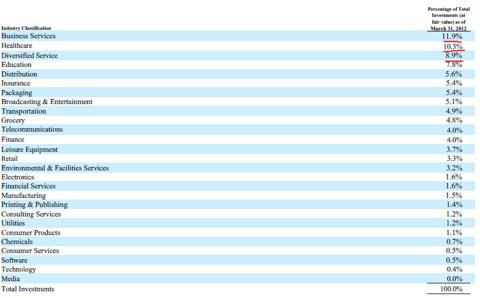 (Click to enlarge)
Now, the question is whether the top three industrial sectors invested in do show any signs of improvement in the coming few years or not. We can measure the rate of change in an industrial sector roughly by the rate of change of employment related to that industry. Looking at the graph below, we can say that the following sectors - business services, health care and social care, and education - these are among the fastest improving sectors, along with construction.
In short, with the right companies from the right sectors, the portfolio does not pose too much market risk as of yet.
Next most disturbing factor - the declining dividend income - certainly rejects Apollo Investment as a dividend stock. In the last couple of years, the dividend has fallen drastically.
This is natural when the investment income (subsequently, the earnings per share) has suffered for the last couple of years. Unless the net income improves with the new portfolio additions, dividend income is not going to show any improvement.
Yet in comparison with the other companies, Apollo Investment seems to be doing better than most of its primary competitors, such as BlackRock Kelso (NASDAQ:BKCC), Gladstone Investment (NASDAQ:GAIN), PennantPark Investment (NASDAQ:PNNT) and Triangle Capital (NYSE:TCAP) are doing (that includes dividend payment as well).
| | | | | |
| --- | --- | --- | --- | --- |
| Companies | PE Ratio | Dividend ($) | LT Debt/Equity | Return on Average Assets (ROAA) |
| AINV | 7.26 | 0.20 | 54.49 | 10.33% |
| BKCC | 12.38 | 0.26 | 54.67 | 4.94% |
| GAIN | 880.05 | 0.15 | 19.64 | 5.24% |
| PNNT | 9.05 | 0.28 | 43.97 | 7.06% |
| TCAP | 12.78 | 0.52 | 66.53 | 9.24% |
Looking at the ratios above, Apollo Investment seems to be cheap, with comparatively ordinary dividend income and high return on assets. Higher return on assets might just be because of higher risks incurred in investments, as Wells Fargo commented.
Conclusion
With declining dividend income and higher risky portfolio, things are getting uneasy in here. If, however, Apollo Investment can pull the business off with higher return and lower liabilities, we are going to see increased bottom-line in the next couple of years.
In other words, I give the stock a "neutral" rating now. I will probably like to wait a couple of quarters (perhaps the full 2013) to make a committed decision.
Disclosure: I have no positions in any stocks mentioned, and no plans to initiate any positions within the next 72 hours. I wrote this article myself, and it expresses my own opinions. I am not receiving compensation for it (other than from Seeking Alpha). I have no business relationship with any company whose stock is mentioned in this article.