Shares of Coca-Cola Company (NYSE:KO) have returned 12.6% over the past 12 months. At $38.91, the stock is trading at around the mid-point of its 52-week price band from $33.71 to $40.66 and offers a dividend yield of 2.7%. Is a buy rating warranted by the company's current fundamentals and share price level? In this article, I will elaborate on the stock valuation analysis which may assist you in formulating an appropriate investment decision.
Sell-side analysts on average predict KO's revenue, EBITDA, and EPS to grow at solid CAGRs of 5.2%, 7.2%, and 8.6%, respectively, over the current and next calendar years (see comparable chart below). Those consensus estimates are fairly consistent with the averages of 5.6%, 7.1%, and 8.5%, respectively, for a group consisting of KO's primary competitors in the beverage sector. The company's EBITDA margin is forecasted to expand by 1.1% over the same horizon, markedly above the peer average of only 0.6%. On the profit side, KO has demonstrated a superior performance as all of the company's margin measures are considerably above the par. KO's capital return metrics including ROE and ROIC are only slightly below the peer averages, but they remain at a healthy level on an absolute basis. On the debt side, KO's leverage is quite comparable to the group average as reflected by its in-line debt to capitalization and debt to EBITDA ratios. In terms of liquidity, KO's trailing free cash flow margin substantially outperforms the group average. Due to the higher profitability, the firm was able to maintain a healthy interest coverage ratio. Both KO's current and quick ratios are in line with the peer averages, reflecting a healthy balance sheet performance.

To summarize the financial comparisons, KO's in-line growth potential as well as its superior performance in profitability and free cash flow generation should reasonably justify a solid valuation premium for the stock relative to the peer-average level (i.e. 10% to 20%). The shares' current valuations at 13.0x forward EBITDA, 28.4x trailing free cash flow, 18.1x forward EPS, and 2.1x PEG together represent just a premium of 10.5% over the peer-average trading multiples (see chart above), suggesting that KO is now trading at the low end of its fair value range on a relative basis.
Further, KO shares' trailing EV/EBITDA multiple of 13.5x is 4.7% over its 5-year average at 12.9x (see chart below). The slight valuation premium over the historical level appears to be substantiated by the facts that: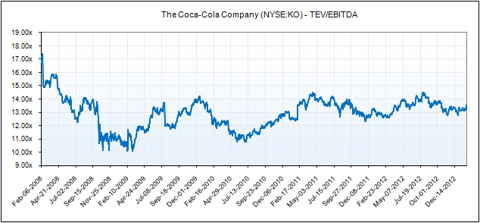 1) KO's capital return metrics including ROE, ROIC, and ROA have all experienced a steady performance over the past 5 years;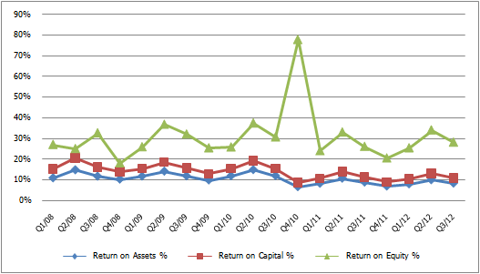 2) the firm's various profitability margins have also experienced a similar trend despite the fact that both the gross margin and the EBITDA margin have compressed slightly;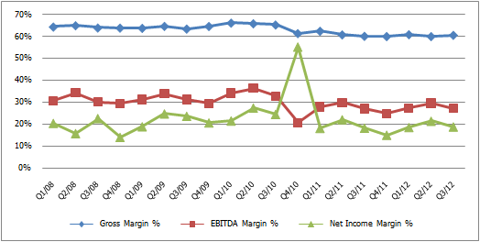 3) although KO has become more leveraged over the period as reflected by its increasing debt to capitalization ratio, the company's interest coverage ratio as measured by EBITDA over interest expense has risen, indicating a healthy solvency condition; and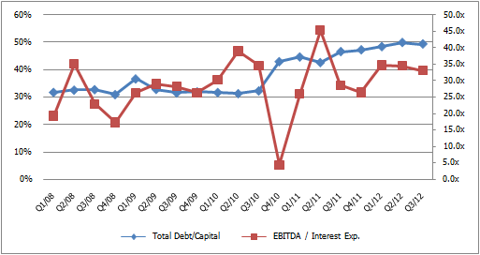 4) the market's consensus EPS (normalized) growth estimates show a stabilizing trajectory over the current and next years, and the average estimated EPS growth rate is fairly consistent with the 5-year historical average.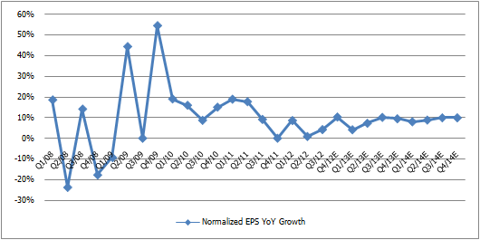 Moreover, KO's forward P/E multiple of 18.1x is trading at 25.7% premium over the same multiple of the S&P 500 Index, which now stands at 14.4x (see chart below). The higher valuation suggests a fair level to me provided that 1) over the past 12 months, KO's P/E ratio has been trading at an average premium of 33.3% over the market; 2) KO's long-term estimates earnings growth rate of 8.7% is above the average estimate of 8.2% for the S&P 500 companies; 3) due to its geographically-diversified revenue sources, KO offers investors significant global market exposure and stability in earnings performance; and 4) the stock also offers a 2.7% dividend yield, which is above the 2.2% average yield for the S&P 500 Index.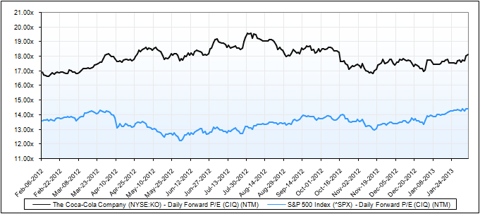 In a recent research note, Thomas Mullarkey, a research analyst at Morningstar, elaborated on his view for KO's valuation which I tend to agree on (sourced from Thomson One, Equity Research):
"In 2009, Coca-Cola described its 2020 vision, and since then the firm has been making steady progress in achieving its goals. The company hopes to double the amount of Coca-Cola beverages consumed around the world and to double system revenue in that time frame. While we believe that volume growth during the next decade will be led by emerging markets, we also think that Coca-Cola's sales in mature geographies will likewise expand as the company continues to broaden its portfolio of still beverages. Coca-Cola's vast distribution network and powerhouse brands are second to none and have helped the company create one of the widest economic moats in our consumer defensive coverage universe. We believe the firm's wide moat justifies an above-average multiple."
To test the investment's margin of safety, let's take a dividend standpoint. KO has a track history of raising dividend. Over the past 10 years, the company has raised its dividend per share by a CAGR of 11.0% (see chart below). Given KO's robust free cash flow margin, it would be reasonable to believe that the company has an ample capacity to sustain the current pace of the dividend expansion. In addition, the potential upside for KO's 2.7% dividend yield appears to be limited by the strong investor demand for quality high-yield assets as a result of the current low-interest market environment. As such, assuming a target dividend yield from 2.5% to 3.3% (KO's yield has never reached this level since 2010), and supposing that KO would raise the dividend per share by just 5% over the current (likely in next week's earnings release) and next years from the current level at $1.02 to $1.12, the conservative scenario would imply a 1-year stock price ranging from $34.46 to $44.80, or a tempting 1-year price return from -8.7% to 17.8% after considering the 2.7% dividend income.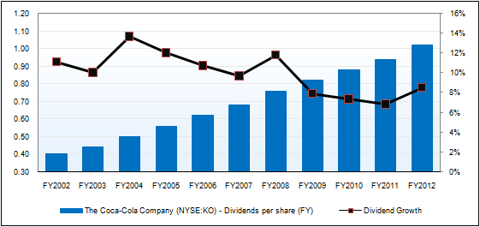 Bottom line, in the light of KO's favorable risk/reward profile, I recommend acquiring the shares at the current price level, especially for long-horizon investors.
All charts are created by the author and all financial data shown in the article and the charts is sourced from Capital IQ unless otherwise noted.
Disclosure: I am long KO. I wrote this article myself, and it expresses my own opinions. I am not receiving compensation for it (other than from Seeking Alpha). I have no business relationship with any company whose stock is mentioned in this article.