We recently saw how effective rewards sites could be for hotels, but is it still working for the airlines, whose frequent flier programs have been rewarding repeat customers for more than two and a half decades?
These programs are still going strong - an effective airline rewards program and accompanying online rewards site can greatly diminish cross-shopping and lost-bookings. The program with the greatest online presence, Delta's SkyMiles, attracts nearly a million unique visitors per month. Delta.com's rewards penetration rate – the percent of site traffic clicking on rewards content is the highest among the competitive set. However, when it comes to loyalty, Northwest's World Perks and Southwest's Rapid Rewards are the strongest programs.
Rewards penetration rate measures how effectively a supplier site engages visitors into rewards content. Behind SkyMiles' 20% penetration rate, NWA, Continental (NYSE:CAL) and US Airways (LCC) drive more than 10% of their homepage traffic to rewards pages. Other competitors, Southwest (NYSE:LUV), American, and United all lag the competitive average in this regard.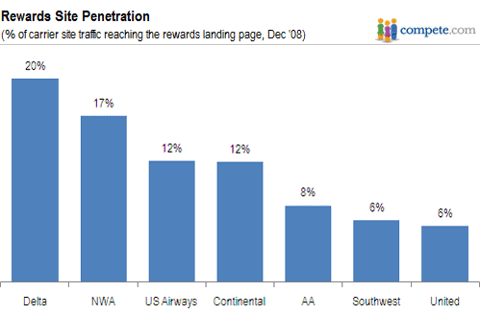 NWA and Southwest are the most effective at creating loyalty amongst site visitors clicking on rewards content. NWA captured 79% of the bookings of World Perks visitors in December 2008, while Southwest held 77% of the transactions of its rewards traffic. The laggard in this metric is Delta.com, losing 71% of the bookings of its rewards audience in December.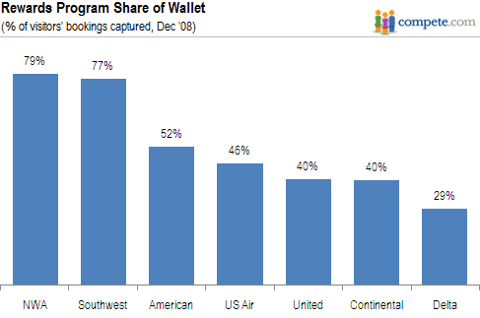 An effective frequent flier platform is imperative to an airline's brand loyalty. Two critical success factors for programs are driving online platform usage and loyalty. Newly married competitors Delta and NWA appear to have all the right ingredients for an effective combined offering. Both sites effectively drive traffic to their respective rewards pages. Delta, however, lags behind NWA at creating loyalty amongst this audience. By folding both companies' routes, programs, and other perks together, the combined entity has an opportunity to resonate with fliers like never before.