The market has rallied to multi-year highs, but for the past few days there have been times when it has dropped by over 100 points. Now it might be time to wait for a real market pullback before buying stocks. Earnings season is winding down, and investors might soon turn their attention to other headlines. The debt ceiling debate is still looming and there is a potential sequester on March 1, that could lead to significant spending cuts. These issues could create a market pullback. One stock that I would consider buying in the next market correction is General Motors (NYSE:GM).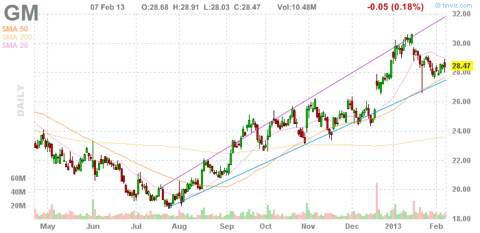 As the chart shows above, shares of GM have seen a tremendous rally since July of 2012, when it was trading for about $19 per share. It recently even hit $30 and this represents a gain of about 50%, in just a few months. In the past several days, GM shares have been showing signs of topping out and it might now be ready to retrace some of the recent gains.
In a market correction, the first area of support for GM shares might be $27.50. That is because this is the price where the U.S. Government has agreed to sell shares back to GM. However, that support level might not be that strong. The next level of support might be around $24 and this should be a much stronger support level for a couple of reasons. First of all, the 200-day moving average is around $23.64, and secondly, the $24 level would represent about a 50% retracement of the rally since July. I think investors should consider GM shares around $24 as a major buying opportunity for the long-term for a number of reasons.
Analysts expect GM to earn about $3.65 per share in 2013. If the stock gets back to $24, that would put the price to earnings ratio at about 7 times. At that level, the shares would be very attractive since the average stock in the S&P 500 Index (NYSEARCA:SPY) trades for about 15 times earnings. Furthermore, the company is making products that sell not just in the United States but around the world. China is one of its biggest markets and GM shares could be poised to benefit from income growth in many emerging market countries.
Management also seems to be taking steps to improve existing products to make them more marketable. For example, electric vehicle sales have been slow with the Chevy Volt, but the company is now introducing this vehicle as the Cadillac "ELR" to hit the luxury car market. GM appears to be on the way to a brighter future, and the stock could also get a lift once the government has unloaded all of its shares. However, I still think it makes sense to wait for a better buying opportunity in the next market correction before buying this stock for the long-term.
Here are some key points for GM:
Current share price: $28.47
The 52 week range is $18.72 to $30.68
Earnings estimates for 2012: $3.26 per share
Earnings estimates for 2013: $3.65 per share
Annual dividend: none
Data is sourced from Yahoo Finance. No guarantees or representations
are made. Hawkinvest is not a registered investment advisor and does
not provide specific investment advice. The information is for
informational purposes only. You should always consult a financial
advisor.
Disclosure: I have no positions in any stocks mentioned, and no plans to initiate any positions within the next 72 hours. I wrote this article myself, and it expresses my own opinions. I am not receiving compensation for it (other than from Seeking Alpha). I have no business relationship with any company whose stock is mentioned in this article.