Well, will wonders never cease.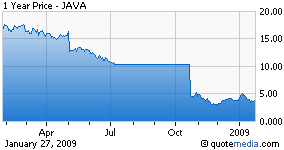 Sun Microsystems (JAVA) Tuesday afternoon demonstrated that if the Street cuts their estimates low enough, eventually even a troubled company can find a way to beat them. For the fiscal second quarter ended December 28, the company posted revenues of $3.22 billion. That was down 10.9% from a year ago, but nonetheless above the Street consensus of $3.16 billion, and up 7.7% sequentially.
Meanwhile, the company lost $209 million, or 28 cents a share on a GAAP basis, but Sun posted a non-GAAP profit of $114 million or 15 cents a share, beating the Street consensus forecast of a loss of 10 cents a share.
Gross margin in the quarter was 41.9%, down 6.6 percentage points from a year ago, but up 1.7 points sequentially.
Sun finished the quarter with $3.008 billion in cash and investments, down from $3.3 billion at mid-year.
The company did not provide forward guidance.
JAVA shares Tuesday closed up 21 cents, or 5.6%, to $3.99.