Shares of EnteroMedics (NASDAQ:ETRM) are in the spotlight today after the company released top-line Phase III study results from its randomized ReCharge Pivotal Trial of VBLOC vagal blocking therapy for the treatment of obesity.
The results showed excess weight loss (EWL) of 24.4% for VBLOC therapy-treated patients, with 52.5% of patients achieving at least 20% EWL. The trial met its primary safety endpoint, though it did not meet its predefined primary efficacy measures. In other words, patients implanted with an active VBLOC device lost just 8.5% more excess weight than those implanted with placebo. The result missed statistical significance by a wide margin, with a p value of 0.705.
The company's shares plunged more than 55% on this news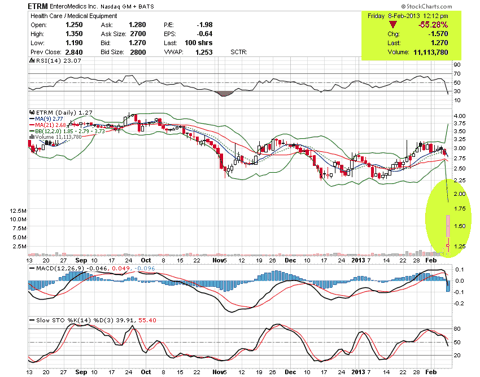 Click to enlarge
(Click to enlarge)
VBLOC is a surgically implanted device that uses electrical pulses to target the multiple digestive functions under control of the vagus nerves and to affect the perception of hunger and fullness. Unlike pacemakers, patients power the EnteroMedics' VBLOC device on and off with a control belt worn around their waist. When VBLOC is on, patients are supposed to feel less hungry, eat less and therefore lose weight.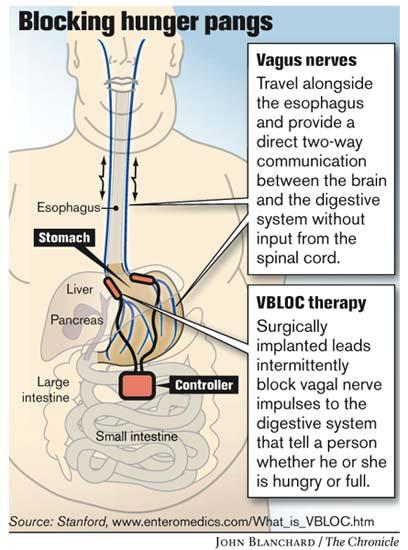 According to the company, VBLOC is potentially less invasive and reversible, unlike gastric bypass surgery. But EnteroMedics is also developing VBLOC at a time when the obese have far easier treatment options. Recently approved pills from Vivus (NASDAQ:VVUS) and Arena Pharmaceuticals (NASDAQ:ARNA) are some of the examples.
ReCharge enrolled 233 obese patients, all of whom were implanted with VBLOC devices. Two-thirds of the patients were randomized to active treatment with a fully functional VBLOC. The remaining one third of the patients in the control arm never had their devices turned on. EnteroMedics had hoped that by using dummy devices in the control arm, the ReCharge study will not suffer from an artificially high placebo effect, which was the real reason why its previous Phase III study known as Empower also failed.
What's most interesting that EnteroMedics admits that some patients feel a sensation when the VBLOC device is active and blocking the signals of the nerve. So obviously, in ReCharge, patients in the treatment arm were likely to feel when their devices were working. Control arm patients felt nothing, since their devices were inactive, and could have realized that they weren't receiving any treatment.
In order for the study to be successful, VBLOC was required to hit a 10% statistical superiority margin over the Placebo device. That meant the VBLOC EWL needed to be approximately 20% higher than the EWL of the dummy device. Clearly, the 8.5% numerical difference came nowhere close to a 20%. This will imply that Arena Pharmaceuticals' recently approved weight loss pill Belviq and Vivus' weight-loss pill Qsymia is more effective than VBLOC. Moreover, Belviq and Qsymia are pills easily swallowed, whereas VBLOC requires a device to be implanted in the abdomen and turned on ~10 hours per day.
Amazingly, EnteroMedics claimed the disastrous results from the ReCharge trial as a near miss and said it would still seek FDA approval for the VBLOC device. In its Press Release company says:
As a result of the excellent safety and efficacy profile of VBLOC Therapy, EnteroMedics plans to move forward with a Pre-Market Approval (PMA) application with the U.S. Food and Drug Administration (FDA) in the second quarter of 2013.
I can't comprehend how EnteroMedics will be able to convince the FDA to approve a minimally effective weight-loss device based on the data from two failed Phase III studies. Even if it gets the approval, the commercial potential will certainly be eclipsed by more effective and convenient obesity-treatment pills.
Disclosure: I have no positions in any stocks mentioned, and no plans to initiate any positions within the next 72 hours. I wrote this article myself, and it expresses my own opinions. I am not receiving compensation for it (other than from Seeking Alpha). I have no business relationship with any company whose stock is mentioned in this article.