In recent articles, we've been covering high dividend stocks, with dividend yields ranging up to over 13%. This week's article focuses on a blue chip dividend stock, which just increased its dividend by over 13%, and goes ex-dividend on Friday, February 15th. In addition, this stock has a five-year forward dividend growth rate of 49%.
Schlumberger (SLB) is often cited as the world's leading oilfield services company. Its Market Cap is over 2.7 times that of its next largest competitor, Halliburton, (NYSE:HAL), and it commands premium Price/Book and Price/Sales valuations vs. its industry's averages: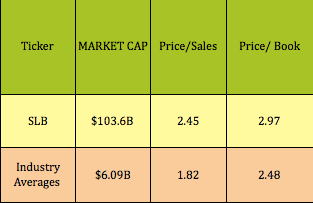 Earnings: One of SLB's main challenges continues to be the oversupply of US natural gas and subsequent lowered demand for land-based oil services here. It has combated that successfully with increased deepwater Gulf Of Mexico drilling-related services.
SLB is seeing much stronger growth internationally, where income rose 31% in 2012. Latin America, Asia, and the Middle East all enjoyed strong growth. Brazil's announcement this week that it may have nearly twice the amount of natural gas than previously estimated could further strengthen demand for SLB's services there for years to come.
SLB is toward the upper end of its 5-year P/E range, but, looking ahead to 2014, appears undervalued on a PEG basis, with a 2014 PEG ratio of just .83:

Dividends: SLB just raised its quarterly dividend to $.3125, from $.275, which is 49% higher than its 2009 quarterly dividend payout of $.21.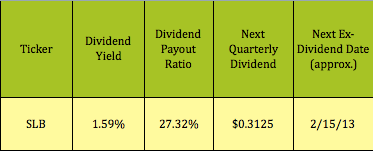 Options: Although SLB isn't a high dividend stock, you can pump up its dividend by selling covered calls. This short-term May trade offers an option payout that's over 9 times SLB's upcoming dividend. The $80.00 strike price offers the possibility of an additional $1.50 in price gains.
You can see more info on over 30 other call trades in our Covered Calls Table:

Selling Puts: With SLB up over 13% year-to-date, and 34% over the past 52 weeks, you may be wondering how much longer it can keep rising. With that in mind, a more conservative way to acquire the stock is to sell cash secured puts below its current share price.
This May $77.50 put sells for $3.40, over 10 times SLB's $.3125 quarterly dividend, and has a break-even that's 5.6% below SLB's current share price.
You can find more details on this and over 30 other put trades in our free Cash Secured Puts Table:

Financials: SLB has better Management Efficiency ratios, lower Debt, but lower Operating Margins than industry averages: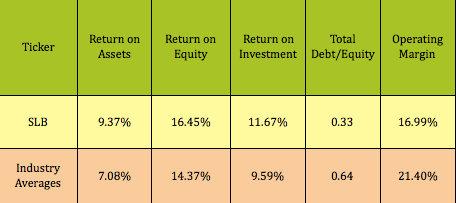 Technical/Performance Data: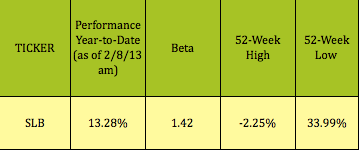 Disclosure: The author held no Schlumberger shares at the time of this writing.
Disclaimer: This article was written for informational purposes only and isn't intended as investment advice.
Disclosure: I have no positions in any stocks mentioned, and no plans to initiate any positions within the next 72 hours. I wrote this article myself, and it expresses my own opinions. I am not receiving compensation for it (other than from Seeking Alpha). I have no business relationship with any company whose stock is mentioned in this article.