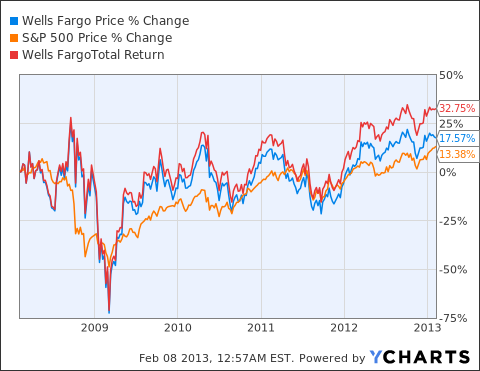 WFC data by YCharts
The stock price for Wells Fargo (NYSE:WFC) has not seen much in the way of substantial improvements for the last five years, although it is still managing to beat benchmarks like the S&P 500. While this performance might have longtime investors impatient, it only adds to its current attractiveness as an investment, allowing one to still accumulate shares at a repressed level. "Mr. Market" appears to be offering up quite a bargain at these current prices. On top of the price level, there are three main reasons, which warrant this stock being attractive for the future, which are as follows:
Housing Market Recovery
While it is indeed not as much of a resounding recovery as many had hoped for, the situation is demonstrably improving. Some even point to it as being the key economic driver for the economy, compensating for other sectors, which are slowing down. Showing its resiliency amidst any other problems with the economy might even make it responsible for keeping us out of a dreaded double-dip recession. There still is much in the way of a recovery to go at this point, which will be benefiting Wells immensely on the way up.
As the largest U.S. home lender, Wells maintains approximately 1/3 of U.S. mortgages, a number which it seems well positioned to improve upon. While this might cause angst among skeptics, fearful of such a large exposure, those taking the opposite view that the housing recovery is real should find this a very attractive statistic.
Sizable Future Dividend Increases
After having a dividend payout ratio hovering between 40-50% for much of the decade prior to the crisis, it fell considerably after Wells was forced into substantially reducing its payouts. Recently it was announced that the company would be raising its quarterly dividend to 25 cents a share from 22 cents, which is an increase of 14%. This brings the current yield to a little shy of 3%. The overall yearly payout is still below pre-crisis levels, and I anticipate it to be met and passed within a very short time period. At a time with yields on other investments so astronomically low, having Wells return to being among the more highly yielding stocks will bring in investors starved for income.
The current dividend increase is actually a part of the 2012 capital plan, which was submitted to the Federal Reserve. The 2013 plan was submitted early in January, and is currently under review, and it too requests permission to increase capital distributions, a strong indication of its healthy capital position.
Superior Management
New regulations, which limit the degree of leveraging that existed pre-crisis might have soured some individual's thoughts on the current investment potential for the financial sector compared with prior years. However, the sector is still able to be a place where good returns can be generated, with hopefully an attachment to them of the absence of the immense risk-taking which caused the crisis. Unfortunately, a common mindset with investors is concentrating on how much they can make with an investment, instead of contemplating the much more important "how much can I lose?"
Wells Fargo, unlike many of its peers, remained conservative and avoided many of the gargantuan mistakes, which so harmed our economy in recent years. In fact, dating all the way back to its founding in the middle of the 19th century it has a long-running reputation of being among the most conservative, if not the most conservative financial institution. Lower risk profitability is the name of its game, and it is going strong today, with current management exemplifying the long tradition. As a result it finds itself sitting in the position it is, being the stock du jour of such investing legends as Warren Buffett, who has been notably adding to his holdings in the company for many quarters now. This is a tremendous vote of confidence from probably the most respected living investor.
This is in my opinion the most important piece of this company. A principal it adheres to, which is the bedrock of its appeal to me. Its ability to go it alone amongst the industry and not be part of the bandwagon jumping their competitors fall victim to.
Conclusion
Among the most commonly used metrics, P/E levels remain hovering slightly over 10, well below average levels for the company, and well below what the S&P 500 as a whole displays. Price/Book still shows the company barely over 1. EPS growth has been steadily marching forward, and is projected to continue. Debt is reasonable and under control. The company is at attractive valuations. But what makes it unique transcends those numbers, and its uniqueness is quite rare for a business of its size.
Disclosure: I am long WFC. I wrote this article myself, and it expresses my own opinions. I am not receiving compensation for it (other than from Seeking Alpha). I have no business relationship with any company whose stock is mentioned in this article.