VIX - Market Sentiment:
Just like the movie "Groundhog Day", just like it seems every day, Friday saw S&P futures higher across the board. Back in focus again were earnings of several companies, driving the market higher. On the positive side, AOL (NYSE:AOL) and LinkedIn (NYSE:LNKD) both saw huge gains after reporting blowout quarters and guidance. Moody's (NYSE:MCO) and Coinstar (NASDAQ:CSTR) were not so fortunate, however, after dropping more than 7%. CSTR, of course, dropping after missing analysts' revenue and profit forecasts, whereas MCO fell over fears of a potential lawsuit. Bonds, interestingly enough, actually ticked higher today as ETFs (NYSEARCA:TLT) and 2x bond ETF (NYSEARCA:TBT) both continued to react to price action. A final check on the NYMO for the week showed a close yesterday reading -10.49, a 12.76 point decrease over Wednesday's close. I would expect this to power mostly back to neutral towards the 0.00 level after today's trading.
Both spot CBOE Volatility Index (VIX) and futures were again sold down hard today as the market tried yet again to close on the highs for the year. Volatility ETF (NYSEARCA:VXX), 2x ETF (NASDAQ:TVIX), and alternative 2x ETF (NYSEARCA:UVXY) were crushed as front month volatility was again sold down hard. Today buyers once again stepped in, buying the February 14 and 13 strike puts in block orders. Other interesting plays went off today in the April 16-17 strangle, which was bought some 14K times. Other notable activity today came in the form for me in the VXX when large put spreads were shut down and rolled out to the September 15-12 put spread 10K times. This follows the large traders who continue to believe there will be no sell-off in the market, and continue to short volatility over long periods of time. Today, VXX saw more than average call volume, with puts net bought to the tune of 1.8M in premium and calls overall net sold.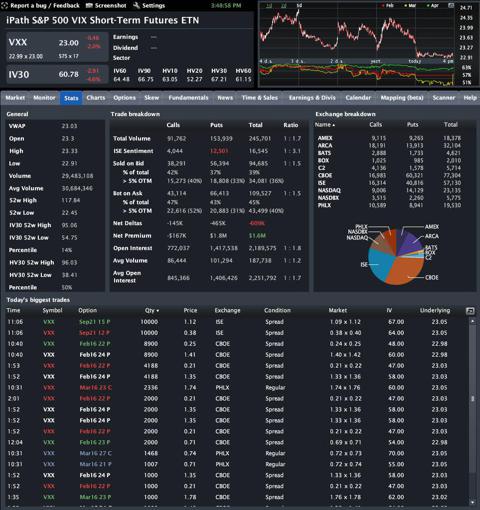 Statistics and Screenshot Provided By LiveVol
VIX futures are below.
Yesterday
· February VIX futures 14.30
· March VIX futures 15.50
· April VIX futures 16.45
Today
· February VIX futures 13.83
· March VIX futures 15.15
· April VIX futures 16.15
Options Paper:
Options paper was nothing short of a snoozer, trading just 12.2M contracts with 60 minutes left in the trading day. S&P ETF (NYSEARCA:SPY) and Apple (NASDAQ:AAPL) again led the way in terms of options volume. Other names seeing greater than average option volume today, interestingly, enough were gaming stocks Activision (NASDAQ:ATVI), Caesars Entertainment (NASDAQ:CZR), and Boyd Gaming (NYSE:BYD). Gaming stocks were ripping higher, and calls continue to be bought in large block orders. I mentioned yesterday (here) and in previous sonar reports BYD has seen some bullish call activity believing the stock is headed even higher. ATVI traded 122K contracts today, which is more than 22x average daily volume of just 5.4K. Large block calls trades were going off throughout the day, with ATVI stock continuing to push higher after guidance crushed estimates and the company announced a dividend last night.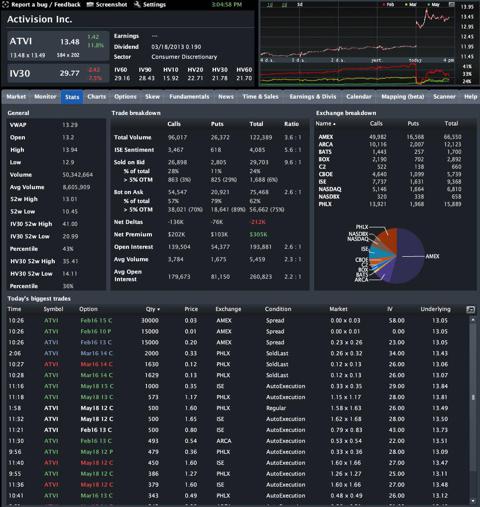 Statistics and Screenshot Provided By LiveVol
Buffalo Wild Wings (NASDAQ:BWLD) is a name I have been short and wrong many times before. Interesting, as some large trades went off ahead of earnings, which has caught my attention. On February 4th, one trader sold 1,204 of the February 80 strike calls for 1.70, and used the proceeds to buy 1,204 of the February 70 strike puts for 1.10. This intrigues me, as this theme has been followed in an extreme way today. Calls were sold on the bid some 35% of the time, and puts were bought on the ask 25% of the time. This is notable because the puts were bought to the tune of 500K over the last 5 trading days, and calls were sold almost 400K. Friday, of course, being the most notable, as option volume was almost 7x average daily volume. Puts have outnumbered calls almost 3:1 over the last week, and I would expect additional downward pressure after earnings on February 12th if this continues. Definitely keep this on your radar, as volatility continues to build ahead of the earnings release.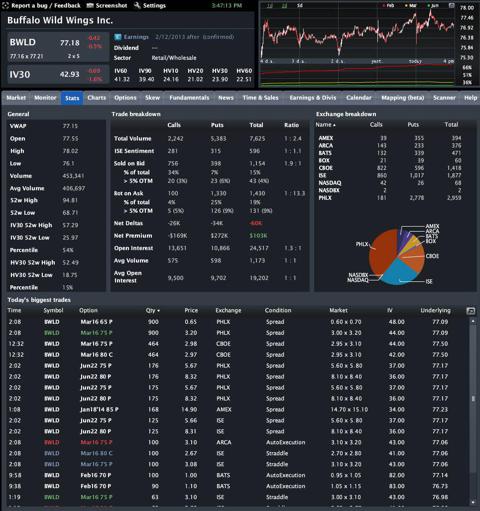 Statistics and Screenshot Provided By LiveVol
Popular ETFs and equity names with bullish/bearish paper:
Bullish Option Flows - ISE & % OTM calls bought on offer
Deutsche Bank (NYSE:DB) 91% - I don't like the trade, but 3.9K OTM calls bought
Discover (NYSE:DFS) 68% - 3K OTM calls bought
Amarin (NASDAQ:AMRN) 6K ISE Calls bought 14-20 June spread
EnCana (NYSE:ECA) 2.9K ISE calls bought
Intuit (NASDAQ:INTU) 1.6K ISE Calls bought
Bearish Option Flows - ISE & % OTM puts bought on offer
BB&T Corp (NYSE:BBT) 85% of 3.1K OTM puts bought
Western Union (NYSE:WU) 70% - Heavy Feb 14 put buying
S&P Metals ETF (NYSEARCA:XME) 66% - 2.8K OTM puts bought
Mercadoilibre (NASDAQ:MELI) 1.2K ISE puts
Brookdale (NYSE:BKD) 932 ISE puts bought
Speculative Play Friday:
Marvell Technology (NASDAQ:MRVL) is a stock that has been in a well-defined downtrend for quite some time before bouncing with the market to start the year. This trade is for the high risk players out there following options activity and sentiment. MRVL reports earnings after the bell on February 21st, and options are predicting more than a 10% move. Bulls today are betting the move will be higher after seeing heavy March 10 strike call buying more than 10K times. Calls today traded more than 12K times, with 69% of them bought on the ask and 97% of the OTM calls bought on the offer. This effect now has calls bought to a net of 200K, and puts continue to be overall sold. For those willing to take a flyer on this, buying the March 10-11 call spread for .17 or better could reap a 500% return if MRVL is above 11 for March expiration. This, of course, is a very high risk high reward trade, and will more than likely be either a home run or a 100% loss. I have considered also doing a potential 1:2 ratio spread, but will wait closer to earnings before I execute at this point.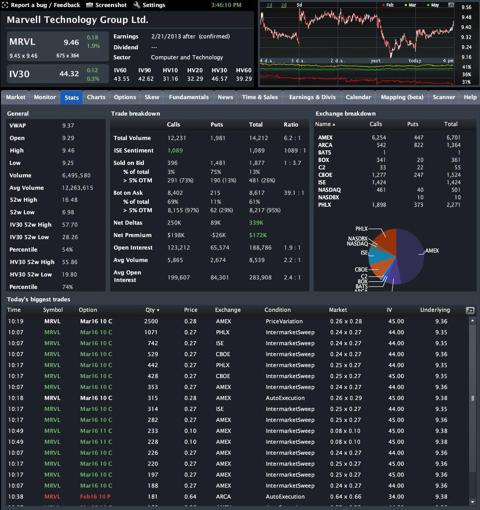 Statistics and Screenshot Provided By LiveVol
Disclosure: I am long AGNC, BA, CBB, CONE, F, INTC, KERX, KOS, LNKD, MTGE, NRG, PCLN (straddle), PG, TUMI, VHC, VOD, and I am short CMG, DDD, EDU, PCLN (Strangle), SPY.
Trades Today: Closed MCD straddle and strangle, closed CSTR short puts, closed LNKD diagonal.
I wrote this article myself, and it expresses my own opinions. I am not receiving compensation for it (other than from Seeking Alpha). I have no business relationship with any company whose stock is mentioned in this article.
Disclaimer: The opinions in this document are for informational and educational purposes only and should not be construed as a recommendation to buy or sell the stocks mentioned or to solicit transactions or clients. Past performance of the companies discussed may not continue and the companies may not achieve the earnings growth as predicted. The information in this document is believed to be accurate, but under no circumstances should a person act upon the information contained within. I do not recommend that anyone act upon any investment information without first consulting an investment professional as to the suitability of such investments for his or her specific situation.