National-Oilwell Varco, Inc. (NYSE:NOV) is one of the largest providers of equipment and components used in oil and gas drilling and production operations, oilfield services, and supply chain integration services to the upstream oil and gas industry. Since our last publication of "National Oilwell Varco, An Even Better Buy By Buying Robbins & Myers" on December 28, 2013, NOV had reached its recent high of $75 on January 25, 2013. Since then, NOV had dropped down and closed at $68.10 as of February 7, 2013, which was still 1.69% above our last reviewed price of $66.97. In this article, recent developments will be updated for NOV and the current options play will be reviewed.
Recent Developments
Q4, 2012 Earnings: On February 1, 2013, NOV reported net income of $668M, or $1.56 a share, from $574M or $1.35, a year earlier. Excluding one-time items, NOV earned $1.49 per share, beating analysts' estimates of $1.44 as compiled by Bloomberg. The revenue was up 33.5% to $5.69B, beating estimate of $5.3B. However, gross margin narrowed to 24.8% from 30.2%. As reported by Fox Business, "Revenue in the rig technology segment jumped 25%, while the petroleum services and supplies unit saw revenue grow 13%. Revenue from the distribution and transmission segment more than doubled, mostly due to recent mergers." Backlog at the rig-technology business reached $11.86B as of December 31, 2012, up from $11.66B in the previous quarter.
Acquisition delayed: The acquisition plan for Robbins & Myers Inc. (NYSE:RBN) was delayed due to the extension of U.S. and Canadian antitrust reviews in December, which had pushed back the proposed closing date. NOV plans to continue its strong growth with this acquisition deal.
Analysts' Calls
On February 5, 2013, Bernstein downgraded NOV from Outperform to Market Perform. On February 1, 2013, Credit Suisse initiated coverage on NOV with a Neutral rating and a price target of $72.00. RBC Capital downgraded NOV from Outperform to Sector Perform with a price target of $80.00 (from $88.00) on January 8, 2013. Lastly, Macquarie initiated coverage on NOV with an Outperform rating and price target of $82.00 on January 4, 2013.
Key Stats and Valuation
NOV has an enterprise value of $28.25B with a market cap of $29.07B. NOV has a total cash of $3.32B with a total debt of $3.15B. NOV has a book value of $47.41. By using Morningstar's data, NOV's key stats will be compared to its peers in the industry of oil & gas equipment & services, including Cameron International Corporation (NYSE:CAM) and Schlumberger NV (NYSE:SLB). NOV has lower revenue growth (3 year average) of 3.0, as compared to the industry average of 6.5. NOV has higher operating margin of 18.8%, ttm, and net margin of 12.9%, ttm, as compared to the averages 14.7% and 8.7%, ttm, respectively. NOV's ROE of 13.1 is higher than the industry average of 12.0. NOV's P/E of 12.1 is lower than the industry average of 18.7 and lower than NOV's 5 year average of 12.2 The forward P/E of 9.3 is lower than S&P 500's 14.0.
Technical Analysis
NOV closed at $68.10 with 2.30% gain on February 7, 2013. NOV had been trading in the range of $59.07-$89.95 in the past 52 weeks. NOV has a beta o 1.69. The MACD (12, 26, 9) indicator is showing a bearish sign with diverging MACD difference. The momentum indicator, RSI (14), is picking up but still shows a bearish lean at 39.82. NOV is currently trading below it 50-day MA of $69.68 and 200-day MA of $77.02, as seen from the chart below.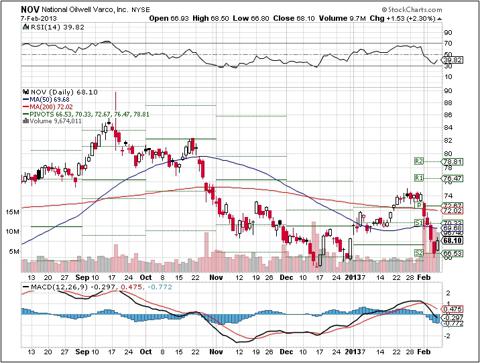 Source: StockCharts.com
Reviewing Options
The previous reviewed options play of Feb. 16, 2013 $60/$62.5 put is currently yielding 35.71% return on margin, achieving 95.6% of the maximum yield. Investors can consider taking the profit off and establish the new credit put spread options play, as below.
Short May 18, 2013 put at the strike price of $62.50 for the credit of $1.82
Buy May 18, 2013 put at the strike price of $60.00 for the cost of $1.22
The maximum profit is $0.60, and the maximum risk/margin requirement is $1.90 ($2.50 loss - $0.60 credit received). If NOV closes above $62.50 on May 18, 2013, 31.58% return on margin will be gained. If NOV falls below $62.50 upon options expiration, NOV stock will be acquired at the cost of $61.90, which is 9.1% below the current price of $68.10.
Note: All prices are quoted from the closing of February 7, 2013 and all calculations are before fees and expenses. Investors and traders are recommended to do their own due diligence and research before making any trading/investing decisions.
Disclosure: I have no positions in any stocks mentioned, but may initiate a long position in NOV over the next 72 hours. I wrote this article myself, and it expresses my own opinions. I am not receiving compensation for it (other than from Seeking Alpha). I have no business relationship with any company whose stock is mentioned in this article.