In this article, we would like to present two of our favorite mid-cap Australian gold miners. Both have certain characteristics in common:
operating mines in the mining friendly Western Australia,
impressive progress in recent years,
catalysts coming up in 2013 that should ensure continuation of growth, and
they are both tradable in the U.S. via the pink sheets.
Australia's economy has managed to emerge from the 2008 GFC turmoil much less scarred than most other Western economies. In fact, Australia only had one quarter of GFC-related negative GDP growth and therefore technically avoided a recession at the time. Checking other economic indicators, one can't help but acknowledge the comparatively good shape that the Australian economy is in. Export of mining products is one of the great drivers of the Australian economy and gold mining plays an important role in this context. With 270t of gold produced in 2011, Australia's output accounted for 10% of world gold production putting Australia in second place behind China in a ranking of countries by gold production.
The Australian dollar has appreciated greatly against the U.S. dollar since the start of the century making investments in Australia more expensive for U.S.-based punters than it used to be. However, there is still very good value to be found for U.S. investors in the land down under. Australian companies explore, develop, and mine gold in most parts of the world. For this article, we have limited our focus to companies active in their home country. We have excluded the large player in this field, Newcrest Mining (OTCPK:NCMGF), and have picked our favorite mid-cap gold producing growth stories.
1. Silver Lake Resources (OTCPK:SVLKF) closed the friendly takeover of fellow Australian Integra Mining late last year. It was a perfect match with Integra's tenements neighboring Silver Lake's Mount Monger operation, and synergies in mining and gold processing an obvious advantage for the merged entity. The merger of the two companies is expected to deliver operational and corporate synergies of $30 million to $40 million per annum according to the latest quarterly report for Q4 2012. Silver Lake Resources have a market capitalization of $1.3 billion and have recently been admitted to the ASX200 index.
The combined Mount Monger complex consists of two mills, one open pit and four underground mines in operation, significant stockpiles, and numerous exploration targets. Quarterly production for Q4 2012 (pro forma) was 45,303 ounces of gold (oz Au). Gold production is projected to almost double to 300,000 oz Au per year by 2014 with an expected mine life of more than 10 years.
A second production center, the Murchison Gold Project, is nearing first production in Q1 2013. The target annual production for this center is 100,000 oz Au. The land package around the mine is extremely prospective with numerous documented promising drill results for possible gold and copper discoveries. During 2012 Silver Lake acquired the Great Southern Project that has the potential to become the third production center in due time.
Silver Lake's management has performed exceptionally well in the past and by all accounts is executing the present growth phase with great success. We anticipate significant value creation from Silver Lake in the next couple of years, and we recommend to consider this company for further research -- especially at the currently depressed share price.
Click to enlarge images.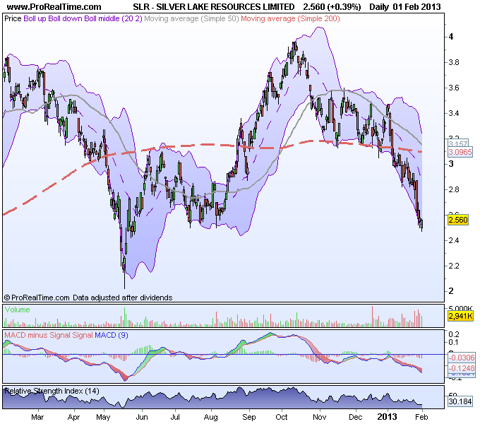 2. Regis Resources (OTCPK:RGRNF) has been a yardstick for Australian gold mining companies for a few years now, and we are showing the weekly chart over the past five years to underpin our selection toward the end of this article. Regis has a market capitalization of $2.4 billion and specializes in the exploitation of lower-grade bulk tonnage open pit mines. Regis is included in the Australian ASX100 index. Within the last year, the Australian ASX Gold index was almost halved, yet Regis' share price still increased by more than 10% during that time.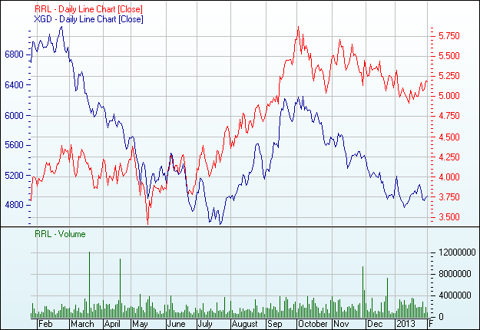 Regis operates two mills within the Duketon gold camp. Moolart Well has been in operation since 2010 and has consistently exceeded name plate production. Garden Well has started production in the past year and is still ramping up toward production targets.
In addition to these operating mines there is also the satellite Rosemont mine where construction is due to start in Q1 2013 and that will produce a concentrate to feed the Garden Well mine. Development of a further development project, the Erlistoun mine is scheduled to start late in 2013 or early in 2014. Total 2013 production is targeted at 315,000 oz to 345,000 oz Au at a cash cost of around $485.
In 2012, Regis Resources acquired another gold project with an existing resource of 2.5 million oz Au called the McPhillamys Gold Project. Exploration and various studies on this new tenement have commenced and Regis Resources have targeted gold production by 2016.
The outlook for 2013 includes the repayment of the remaining bank debt, significant growth through ramping up of Garden Well and start of production at the Rosemont mine and a maiden dividend plan to be announced by around mid-year. With the chart looking as strong as shown below, it is hard to imagine an end to this ongoing success story.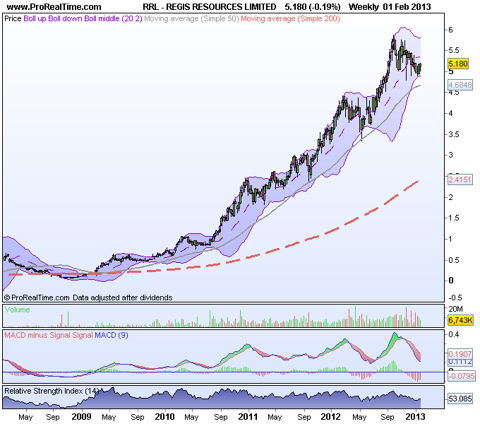 Northern Star Resources would have made No. 1 in our list for this article. However, there does not appear to be a pink sheets ticker for this company in the U.S. If trading on the Australian Share Exchange is an option, then we strongly encourage readers to investigate this success story with blue-sky upside for coming years.
And last but not least, let it be said that the usual cautionary comments with regard to risks in mining investments apply. These include environmental risks, geological and geo-technical risks, market demand fluctuations, opposition by locals and unions, permitting risks, currency exchange risks, etc. Investors unfamiliar with these general risks of mining investment are encouraged to learn about them before committing funds. Also, keep in mind that trading on the pink sheets does not offer the same degree of security and sometimes liquidity as trading on the more regulated exchanges.
Disclosure: I am long OTCPK:RGRNF, OTCPK:SVLKF. I wrote this article myself, and it expresses my own opinions. I am not receiving compensation for it (other than from Seeking Alpha). I have no business relationship with any company whose stock is mentioned in this article.