Continuing the discussion from the first article in the series on stocks to avoid holding long term, that have a high price/sales ratio (please consider: Beware Of The Price/Sales Trap), today I want to give you several other stocks to avoid that also fall in this category.
See it's not only stocks in the SaaS space that have a high price/sales and a high P/E ratio, there is a plethora of others. What is important to remember about this group of stocks, is that while many of them have given extraordinary returns in the past, buying them at today's valuations will statistically set back your portfolio (they will underperform) if not make you lose money.
All the stocks below are short candidates, however I am not telling you to short them, because you have to know what your doing to short stocks correctly. Assuming however you know what you are doing, put these stocks on your radar and act accordingly (sell them short) when you see signs of technical weakness. Remember, never sell short without the help of the charts.
I will leave out biotechnology as a sector, because this category of stocks in certain circumstances might deserve extraordinary high valuations. But even so, the chances of making money long term in the biotechnology space are against you. You have to be a stock cowboy (or cowgirl) to play in that sector.
Pertaining to shorting stocks, I have noticed that extremely expensive stocks are very stubborn and refuse to fall in today's market. Linkedin (NYSE:LNKD) for example is up 20% today because it made a few pennies. I assume this is the result of the Fed's monetary policy and the fact that bonds today are even more expensive than even the most overpriced stocks.
Whatever the reason, it is helpful to keep in mind that when sentiment changes, the stocks in this category mentioned below -- and many others -- will be the ones to dive first and the ones that will bleed the most.
The catalyst to bring these stocks down could be a host of things, such as economic weakness, Europe's debt problems (that have not finished), a strong dollar or a bunch of other things. In any case, just keep in mind that when sentiment changes, these and many other expensive stocks are the one's that will make you money on the downside.
Bottom line:
Don't look what these stocks have done in the past or how much they have run up to date, look at the future and ask yourself, what would happen if they miss guidance or have a bad quarter and if you feel lucky.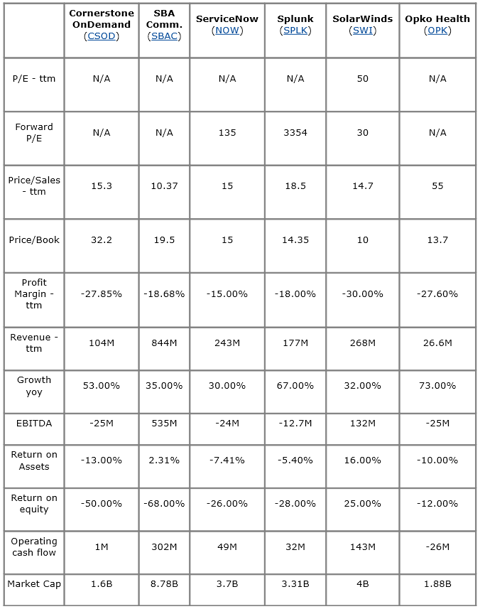 Tickers: (NASDAQ:CSOD), (NASDAQ:SBAC), (NYSE:NOW), (NASDAQ:SPLK), (NYSE:SWI), (NYSEMKT:OPK)
Disclosure: I have no positions in any stocks mentioned, and no plans to initiate any positions within the next 72 hours. I wrote this article myself, and it expresses my own opinions. I am not receiving compensation for it (other than from Seeking Alpha). I have no business relationship with any company whose stock is mentioned in this article.