Though emerging markets (EM) have not been immune to the current crisis, their improvements in economic fundamentals have enabled them to weather the current tumult with far greater market confidence than in the past. Also, they remain well-positioned for further improvements and may benefit from an appreciation of their currencies, especially in an environment of increasing secular pressure on the U.S. dollar. Currency exposure also provides portfolio diversification benefits due to low correlations with other asset classes.
Quantitative Easing to Continue into 2013:
The Federal Reserve: According to a Bloomberg survey, Federal Reserve Chairman Ben S. Bernanke's latest round of bond buying will reach $1.14 trillion before he ends the program in the first quarter of 2014. Bernanke is expected to push on with purchases of $40 billion a month of mortgage bonds and $45 billion a month of Treasuries, even as some Fed officials warn his unprecedented balance-sheet expansion will impair efforts to tighten policy when necessary.
Bank of England: Mark Carney's transatlantic move may mark the latest in a central-banking revolution toward leaders who sound and then act more aggressively than their predecessors. Mario Draghi, who replaced Jean-Claude Trichet at the European Central Bank in 2011, backed deeper interest-rate cuts and broader bond-buying.
At the Bank of Japan, Governor Masaaki Shirakawa's departure allows Prime Minister Shinzo Abe to name a replacement who shares his zest for more activist monetary policy.
The ultimate target of the entire QE gambit is to restore growth and remove unemployment by increasing inflation expectations. This might even call for negative interest rates in the developed world to stabilize their economy. The synchronized QE actions of the developed countries' Central Banks of suppressing real interest rates would culminate to investors vying for asset class with higher yields. Emerging market currencies would be the major beneficiaries and undervalued currencies have real yield advantage.
So far policy makers in emerging markets have taken a mixed approach to currency appreciation. Countries like Brazil (NYSEARCA:EWZ), Russia (NYSEARCA:RSX) and Korea (NYSEARCA:EWY) have resorted to policies that seek to cap their currencies. Some countries decide not to sterilize their currencies owing to cost as in the case of China, where the income from dollars is less than local rates. This leads to excess money supply, which in turn pushes up the equity market valuations.
Investment Options: According to Credit Suisse model, South African rand, Chinese renminbi and the Indian rupee offer both a real yield advantage and are undervalued.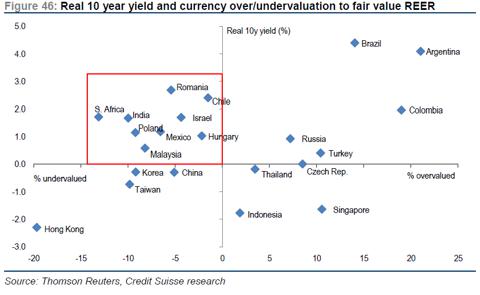 Investors can invest in the EM currencies using the below ETFs.
WisdomTree Indian Rupee Fund (NYSEARCA:ICN)
WisdomTree Brazilian Real Fund (NYSEARCA:BZF)
WisdomTree Dreyfus Emerging Currency Fund - Active (NYSEARCA:CEW)
WisdomTree South African Rand Fund (NYSE:SZR)
PowerShares DB USD Index Bullish (NYSEARCA:UUP)
WisdomTree Emerging

Currency

Fund
CurrencyShares Mexican Peso (NYSEARCA:FXM)
CurrencyShares Russian Rouble (XRU)
WisdomTree Chinese Yuan Fund (NYSEARCA:CYB)
Credit Suisse has also short listed the following companies with significant GEM exposure that should see simple translational benefits from appreciating emerging market currencies.
| | | | |
| --- | --- | --- | --- |
| | Sales from EM | | Sales from EM |
| Sabmiller Plc (OTCPK:SBMRY) | 73% | Standard Chartered Plc | 90% |
| British American Tobacco (NYSEMKT:BTI) | 57% | Prudential Plc (NYSE:PUK) | 60% |
| Unilever Plc (NYSE:UN) | 53% | Telefonica (NYSE:TEF) | 48% |
| Swatch Group (OTCPK:SWGAF) | 50% | Telenor Group (OTCPK:TELNF) | 43% |
| Diageo Plc (NYSE:DEO) | 49% | Vodafone Group (NASDAQ:VOD) | 37% |
| Anheuser-Busch (NYSE:BUD) | 47% | Carrefour (OTCPK:CRRFY) | 29% |
| Henkel Kgaa (OTCPK:HENKY) | 41% | Sanofi (NYSE:SNY) | 28% |
| Lvmh (OTCPK:LVMHF) | 35% | Meda Ab (OTC:MDABF) | 28% |
| Adidas Ag (OTCQX:ADDYY) | 35% | Tesco Plc (NASDAQ:TESO) | 26% |
| Millennium & Copthorne (OTC:MLCTY) | 33% | Wpp Plc (NASDAQ:WPPGY) | 25% |
| Volkswagen Ag (OTCPK:VLKAF) | 32% | Mead Johnson Nutrition (NYSE:MJN) | 58% |
| Reckitt Benckiser (OTCPK:RBGPF) | 32% | Philip Morris (NYSE:PM) | 50% |
| Imperial Tobacco (ITYBY.PK) | 29% | Colgate-Palmolive (NYSE:CL) | 39% |
| Novartis (NYSE:NVS) | 24% | Yum Brands Inc (NYSE:YUM) | 32% |
| Glaxosmithkline (NYSE:GSK) | 23% | Procter & Gamble Co (NYSE:PG) | 27% |
| Standard Chartered Plc | 90% | Kraft Foods Inc (KRFT) | 26% |
| Prudential Plc | 60% | | |
Disclosure: I have no positions in any stocks mentioned, and no plans to initiate any positions within the next 72 hours. I wrote this article myself, and it expresses my own opinions. I am not receiving compensation for it (other than from Seeking Alpha). I have no business relationship with any company whose stock is mentioned in this article.