Last week, David Einhorn, the hedge fund manager of Greenlight Capital that owns between 1.3 million and 1.5 million shares of Apple (NASDAQ:AAPL), initiated a "Proposal 2 awareness" campaign against Apple. His only concern with the company "he apparently loves so much" is as follows (source: Apple website):
"However, like many other shareholders, Greenlight is dissatisfied with Apple's capital allocation strategy. The combination of Apple's low (and shrinking) price to earnings multiple and $137 billion (and growing) hoard of cash on the balance sheet supports Greenlight's contention that Apple has an obligation to examine all options to create and unlock additional value."
As evident in the message above, he is concerned about shrinking capital gains margin with holding an Apple stock. As a potential solution to that, he advised Apple to distribute "free" preferred stocks to the existing common equity shareholders at a predetermined dividend rate. Not to forget the fact that these preferred stocks will have the provision to be traded just like a common stock. In addition to that, Einhorn also added:
"Assuming Apple retains its price to earnings multiple of 10x and the preferred stock yields 4%, our calculations show that every $50 billion of perpetual preferred stock that Apple distributes would unlock about $30 billion, or $32 per share in value. Greenlight believes that Apple has the capacity to ultimately distribute several hundred billion dollars of preferred, which would unlock hundreds of dollars of value per share. Further, Greenlight believes additional value may be realized when Apple's price to earnings multiple expands, as the market appreciates a more shareholder friendly capital allocation policy."
It seems Einhorn proposes something absolutely in contradiction with the Proposal 2 statement recently offered by Apple, which ties together three separate matters: majority voting for directors, elimination of preferred stock, and establishing a par value for the company's common stock. Will existence of preferred equity be favorable for the common investors? The market will decide that. However, according to me, long-term value of the company is far more important than increased dividend payouts in the few upcoming quarters. Here are a few aspects to the whole Einhorn theory that you should look into (I have attached score points of +1 in favor of Einhorn or -1 against Einhorn to decide the ultimate score).
Average Cash Ratio Compared to Peers (+1) - The average cash ratio of Apple is 0.76, compared to 3.35 of Google (NASDAQ:GOOG), 1.93 of Microsoft (NASDAQ:MSFT) and 0.52 of BlackBerry (NASDAQ:BBRY). Though International Business Machines (NYSE:IBM) and Hewlett-Packard (NYSE:HPQ) boast of a cash ratio lower than 0.3, 0.76 of Apple does not seem too large or unconceivable to me when compared with the rest. When most of the US banks are hoarding up cash reserves, tech companies are bolstering their cash assets. But does that really matter whether Apple has too much cash or not? No, the total return to the investment matters.
Restriction on Business Growth Potential (-1) - Following down from the previous point, technology sector is growing faster than the rest of US economy. With the increased focus on SaaS and mobile technology, 2013 is going to be an active year. Moreover, the technology sector is one highly dynamic market where value is gained through acquisitions. As Eric Openshaw, Vice Chairman and U.S. Technology, Media & Telecommunications leader for Deloitte LLP, says:
"Despite the potential for the euro to temper European demand for consumable technology, we'll still see tech companies investing in cool new products. They're also going to continue to hoard cash - cash is still king. The tech sector is sitting on billions of dollars in cash. We'll see more bottom-feeding as interesting companies that cannot withstand the market uncertainty become better buys. On the flip side, acquisition will continue to be the exit strategy of choice because the initial public offering (NYSEARCA:IPO) market is still an undependable alternative."
With lower liquid assets, the power to avail of these opportunities gets restricted, and that stunts the future growth of the company.
Higher NPV to Shareholders (+1) - Well, then again we have to understand the annuity model to figure out what the best return to our portfolio will be - future capital gains or present cash dividends? The total return growth of Apple in the last five years has been phenomenal.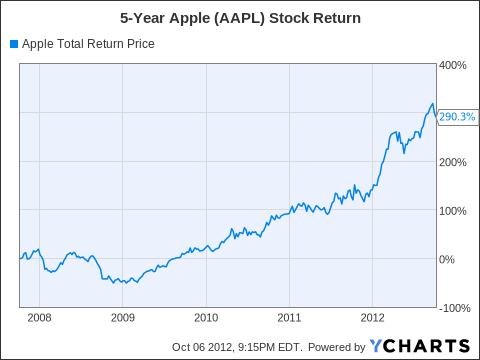 Can Apple carry on this growth rate? If yes, I would gladly go with Apple's decision. Only if this growth rate was going to fall below the current discount rate, I would prefer what Einhorn suggested (and subsequently, the fat cash dividends).
Stock Price Decline (-1) - That brings us to the next point. The stock price has dropped to $475 (at the time of writing this article) in the last five months, from $701 in mid-September 2011. One thing to note here, Apple was a growth stock until now. It is gradually turning into a value stock, as every mature tech company does. The stock price decline is just a show of readjustment by market.
Interestingly, the price gained around 5% in the last week after Einhorn's letter to the shareholders. Hope of higher dividends always increase the immediate stock price of a company, but again, it will get readjusted according to the market and that's when the price tanks.
Cheap Valuation (-1) - Well, Jim Cramer certainly thinks that Apple is a buy. And there is a valid reason why he thinks so. Look at the table below (as provided by my Alpha colleague, Marshall Hargrave).
| | | | | | | | |
| --- | --- | --- | --- | --- | --- | --- | --- |
| Companies | Return on Equity | EV/EBITDA | 5-Yr. Low P/E | 5-Yr. High P/E | Current P/E | Price to Cash Flow | 5-Yr. EPS Growth (expected) |
| Apple | 36% | 7.9 | 10 | 38.1 | 10.4 | 9.3 | 13.70% |
| Google | 16% | 13.3 | 16.7 | 42.5 | 23.7 | 23.2 | 13.70% |
| Microsoft | 22% | 5.6 | 8.6 | 18.2 | 15 | 12.3 | 8.00% |
| IBM | 81% | 8.9 | 9.4 | 17 | 14 | 11.4 | 10.00% |
It needs no explanation that Apple is one of the few rare companies that have the potential to go up in the years to come and still pose a cheap buy price.
No Growth in Dividends (+1) - Last but not the least, we come to the dividend section. Late Steve Jobs wanted Apple to be a growth company and not turn into a dividend stock. And that's why no dividend was paid out since 2005. But from July last year, the fixed rate dividend of $2.65 was issued by Tim Cook, present CEO of Apple.
| | | | | |
| --- | --- | --- | --- | --- |
| Declared | Record | Payable | Amount | Type |
| 23-Jan-13 | 11-Feb-13 | 14-Feb-13 | $2.65 | Regular Cash |
| 25-Oct-12 | 12-Nov-12 | 15-Nov-12 | $2.65 | Regular Cash |
| 24-Jul-12 | 13-Aug-12 | 16-Aug-12 | $2.65 | Regular Cash |
| 11-Feb-05 | 18-Feb-05 | 28-Feb-05 | N/A | 2-for-1 Stock Split |
| 19-Apr-00 | 19-May-00 | 21-Jun-00 | N/A | 2-for-1 Stock Split |
| 6-Oct-95 | 24-Nov-95 | 15-Dec-95 | $0.12 | Regular Cash |
| 18-Jul-95 | 18-Aug-95 | 8-Sep-95 | $0.12 | Regular Cash |
| 27-Apr-95 | 2-Jun-95 | 23-Jun-95 | $0.12 | Regular Cash |
| 25-Jan-95 | 17-Feb-95 | 10-Mar-95 | $0.12 | Regular Cash |
| 3-Nov-94 | 25-Nov-94 | 16-Dec-94 | $0.12 | Regular Cash |
| 20-Jul-94 | 19-Aug-94 | 9-Sep-94 | $0.12 | Regular Cash |
While getting cash in hand never hurts, I wouldn't mind not getting anything if the total return was indeed that high, as I said before. Moreover, coming to the latest demand of Einhorn to Apple, the current dividend paid to the shareholders is higher than that of Microsoft's $0.23. It is worth noting that Google and Hewlett-Packard do not pay anything as of yet.
Total score for Einhorn: 0
Conclusion
While Einhorn wants to get more money for the Apple shareholders, it looks more as if the hedge fund magnate is trying to compensate for lackluster fund return of Greenlight Capital. Is he looking for compensation for the fall in share price and, thus, lower fund return? Activist investing might be good for the fund managers but for the investors who truly believe in the company, Einhorn's advice should be taken with a pinch of salt. Value investing is all that matters and if total return exceeds your expectations, why would ever seek higher cash dividends? In times of overvaluation, you can just trade Apple's stock for some cheaply valued lesser known internet company.
But if you are looking for a steady dividend income from Apple, there's point in what Einhorn has proposed. And regarding Proposal 2, here's what Apple has to say:
"As a part of our efforts to further enhance corporate governance and serve our shareholders' best interests, Proposal #2 in our proxy includes some recommended changes to our articles of incorporation. These changes were recommended independently of Greenlight's proposal and would not preclude Apple from adopting their concept. Contrary to Greenlight's statements, adoption of Proposal #2 would not prevent the issuance of preferred stock. Currently, Apple's articles of incorporation provide for the issuance of "blank check" preferred stock by the Board of Directors without shareholder approval. If Proposal #2 is adopted, our shareholders would have the right to approve the issuance of preferred stock. As such, Proposal #2 has the support of many of our shareholders."
Disclosure: I have no positions in any stocks mentioned, and no plans to initiate any positions within the next 72 hours. I wrote this article myself, and it expresses my own opinions. I am not receiving compensation for it (other than from Seeking Alpha). I have no business relationship with any company whose stock is mentioned in this article.