Aflac (NYSE:AFL), the $23 billion supplemental health and life insurance company with the famous duck, has increased dividend payments every year for 30 years. Such a consistent track record allows the company to be branded as a dividend champion. The stock currently pays $1.40 per share, providing a yield of 2.7%. Aflac investors are comforted, knowing that they'll get a dividend raise every year, regardless of the state of the economy.
In addition to dividends, Aflac implements share repurchases to increase shareholder value. The company announced that it will buy back $400 million to $600 million of shares in 2013.
Although Q4 2012 Aflac Japan sales only increased by 1.5% year-over-year, Aflac Japan's full year sales for 2012 increased 30.8% over 2011. U.S. sales increased 5.8% for Q4, but increased less than 1% in the U.S. for 2012. Japan comprises 80% of the company's sales, while U.S. sales take up the remaining 20%. These are the two largest insurance markets in the world. Overall company sales increased 8.4% for Q4, while earnings increased 6.4%.
Aflac maintained its position of number one seller of cancer and medical sales in Japan for 2012. The company has a priority to maintain that number one status going forward.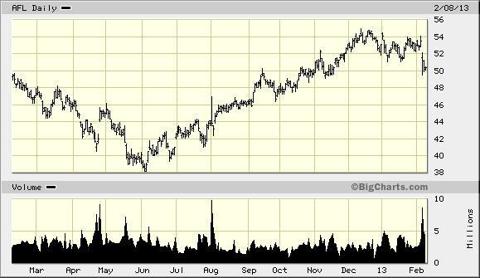 Aflac is undervalued with a trailing PE ratio of 8.23, a forward PE ratio of 7.76, a PEG of 1.17, and a price to book ratio of 1.47. The stock has yet to return to the highs from before the 2008 financial crisis.
The company is expected to grow earnings annually at 6.51% for the next five years. Since the company's dividend increases are so consistent, I think that Aflac would make a great stock for dividend reinvesting. The combined total yield for the stock taking into account the dividend and expected earnings growth is about 9.2%. With this in mind, investors should reasonably expect a $10,000 investment in Aflac to be worth over $15,000 in five years when dividends are reinvested.
Aflac's dividends remain strong as a result of the company's capital strength. Thirty consecutive years of dividend raises is a proven track record for financial strength. The company has a goal of increasing the dividend at a rate that is in line with its EPS growth before the impact of the yen.
Aflac provides financial protection to over 50 million people throughout the world. Given the company's undervaluation, consistent dividend raises, share buybacks, and steady earnings growth, Aflac looks attractively positioned for the future. Many people understand the hardships that result from being disabled. Aflac provides these folks with the financial protection that they seek. This should translate into steady financial gains for investors.
Disclosure: I have no positions in any stocks mentioned, and no plans to initiate any positions within the next 72 hours. I wrote this article myself, and it expresses my own opinions. I am not receiving compensation for it (other than from Seeking Alpha). I have no business relationship with any company whose stock is mentioned in this article.