As a leading innovator in renewable oils and bioproducts, Solazyme (SZYM) has been attracting veteran companies with deep-seeded industry connections for the foundation of its commercialization effort. On February 6, the company issued a press release announcing a new relationship with Mitsui & Co., Ltd. (MITSY.PK). The information that follows contain my thoughts and supported commentary from an interview that I conducted with Mr. Joseph Zwillinger, Solazyme's Director of Business Development and the company lead who helped establish the agreement with Mitsui & Co. The first part of this interview can be found here.
Following the announcement of the new relationship with Mitsui & Co., Solazyme's stock rose 6.5% from $7.98 to $8.50 the next day. As of February 9, Solazyme carries a market capitalization of $517 million. Although the company only had $39 million in revenues for 2011, these annual revenues are expected to quickly accelerate in the years to follow as the first large scale production facilities are constructed and become operational. As part of its business model, Solazyme is leveraging the capabilities of its partners in order to quickly and effectively commercialize its technology platform. The new relationship with Mitsui & Co. appears indicative of another large partner capable to extending the market reach of Solazyme's technology.
Capturing the Interest of Mitsui & Co.
"[Mitsui & Co. Ltd.] is certainly interested in our ability to manufacture multiple products from the same facility. From a process perspective, that's important. And just being able to exaggerate some of the traits that are found in nature, that's just one of the critical differentiators [about Solazyme].

- Joseph Zwillinger
By entering into a relationship in which they fund the research of specific products that Solazyme is developing, Mitsui & Co. is looking at this relationship from a long-term point of view. It would appear that Mitsui & Co. recognizes Solazyme is able to deliver a unique array of abilities. Solazyme can provide more value to their operations by introducing a new technology platform that can quickly respond to the fluctuations of market conditions. The same platform is also able to improve upon conventional oils by imbuing it with favorable traits. It can increase the yield of the target product within a tailored oil.
If we take the example of coconut oil, the chart below demonstrates the volatility seen in the market in just the last ten years alone. From a low of $400/MT to over $2000/MT, coconut oil has seen a 400% swing within the last decade. This is where Solazyme's ability to change its output becomes so functional. While coconut oil prices were going up, a manufacturing facility could dedicate its capacity towards the production of a coconut oil replicate. When prices were going down, within a week the same facility could produce another kind of tailored oil with higher market demand.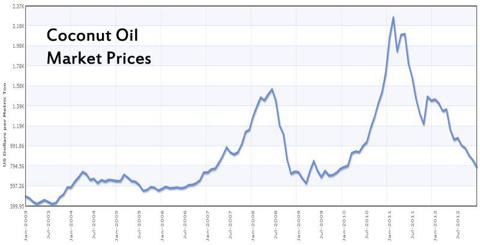 The Limitation of Conventional Product Constraints
When we consider Solazyme's end markets, it's ideal to remember that its clients aren't always just looking for oil replacements. Often, they could be looking for specific ingredients that such oil can provide. So what would these price fluctuations be like if the target product isn't coconut oil at all, but rather myristic acid? Myristic acid is a specialty chemical ingredient derived from oil that is largely used in personal care markets. After all, this product would see similar fluctuations as it is largely tied to coconut oil production.
"Coconut [oil] is the most available source of myristic acid, and I think it hits 15% [concentration] sometimes," states Zwillinger. He then referred back to how Mitsui & Co. and Solazyme chose the products to develop. "In this case we're developing something where there's much more abundant concentration in the oil or perhaps there's just some secular trend where that oil may become less available in the future. Both of those examples are true in some of the products that we're just developing together."
According to the last conference call, Solazyme has now achieved an oil profile that yields more than 40% myristic acid. This results in more than a 150% increase over that which is found in coconut oil. Through rough calculations, it would appear that in order to get 1 MT of myristic acid, it would either take 2.5 MT of tailored algal oil yielding 40% or it would take 6.67 MT of coconut oil yielding 15%. If we were looking just for myristic acid, it would therefore take 63% less oil in order to get it from Solazyme's tailored algal oil. While there are much too many factors to consider the possible market price of the tailored algal oil, it's clear that Solazyme's ability to introduce favorable traits into its output results in significantly increased value.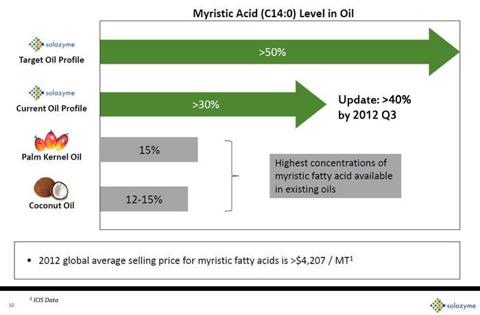 By exaggerating some of the traits found in nature and thereby pushing yields beyond what normally exists, Solazyme is able to introduce a significant value component. Like a company such as Monsanto (MON) or Syngenta (SYT), Solazyme can engage in the discovery and development of products that increase yields or quality. Yet as seen in the article found here, Solazyme's platform is able to work significantly quicker than genetically engineered seed producers and with seemingly greater capabilities.
"[Solazyme looks to address] a broad array of applications, but applications where we're able to tailor an oil so that it creates substantial amount of value above and beyond what exists today," Zwillinger noted in my conversation with him. When asked if the company's pursuing more valuable oils than comparables on the market, Zwillinger confirmed this with a follow-up thought. "Yes, either on a performance basis or on a cost-basis, and it's those two combined where we're always out to improve. Of course laying underneath that is always the sustainability element."
The Limitation of Regional Supply
Another important factor that played a role in Mitsui & Co's decision to enter into this relationship with Solazyme was due to an issue of geography. While in my other article found here I concentrated on the problems posed by the transportation of regional oils, it appears the concern of the multinational corporation could be even more fundamental. Mitsui & Co. is addressing the limited supply of land that is available for product to even be produced. When asked for a comment on the press release's mention of "supply limitations caused by regional oil production," Zwillinger had the following to say:
"I think coconut production is largely based in the Philippines and that's largely tapped out in terms of land area available. And then you just think of the general macro trend of the global demand increasing for oils (vegetable & petroleum). It's rapidly expanding the market in Asia, GDP growth per capita, etc. All those factors are going to contribute to significantly increasing oil demand. And that's where finding a solution that's both renewable, but also based on more abundantly available feedstocks like carbohydrates (sugarcane, and the future cellulosics, etc.), is going to be an important diversified source for these customers."
It's clear that both companies see rapidly increasing demand coming from nations that are becoming more developed by the day. As the world's population gains increased access to markets and more disposable income, this leads to increased consumption patterns that utilize more oils. In the case of coconut oil, supply remains relatively tight. As seen in the graphic below, the amount of arable land that can naturally be used for growing coconuts is largely restricted to island nations located around the Equator. Through Solazyme's process, oil supply can be unlocked from a regional land restriction. Instead, the range is increased to include anywhere in which more-readily abundant sugarcane is grown. Once the ideal infrastructure is developed, it can even be produced at any location where cellulosic biomass is found.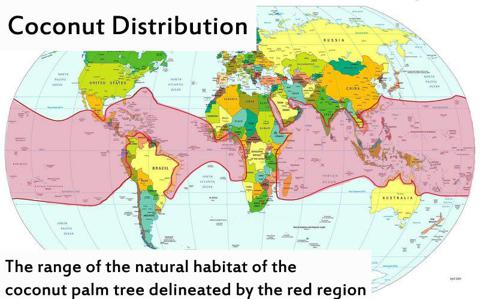 Conclusion
Solazyme is working with a new technology that is capable of disrupting the current model of oil production. The company can improve existing oil profiles in a similar fashion as companies like Monsanto and Syngenta can improve crop yields. Additionally, the flexibility of the technology allows for an increased capability of value creation. Not only can the process produce a wide range of enhanced oil outputs, but it can utilize the same manufacturing equipment in a short amount of time in order to respond to the shifting market demand.
Mitsui & Co. appears to understand these benefits as it enters into this long-term relationship with Solazyme. The company is having Solazyme develop a suite of products in order to fully take advantage of the technology's capabilities. Ideally, this could allow them to switch between products in response to market conditions. Both of these companies appear to be lining up their prospects behind new products that are capable of undercutting the cost of the alternatives or outperforming the capabilities of the oils they replace.
Investors should continue to pay attention to Solazyme going forward as it continues to build long-term partnerships for the future. The fact that the company is finding a way to integrate itself into the goals of its partners remains a very positive sign that the outlook for the company remains strong. Look forward to my next article for some insight into some of the plans of the company going forward.
Disclosure: I am long SZYM. I wrote this article myself, and it expresses my own opinions. I am not receiving compensation for it (other than from Seeking Alpha). I have no business relationship with any company whose stock is mentioned in this article.