Investors Real Estate Trust (NASDAQ:IRET) is a REIT. It is an owner/manager of properties: multi-family residential, office, medical, industrial, and retail. These are located primarily in the Upper Midwest. It is headquartered in Minot, North Dakota at the eastern edge of the Bakken. The map below shows the geological position of the Bakken Shale.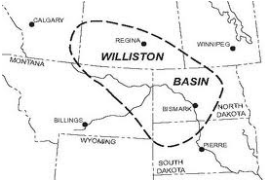 Much of this area has seen phenomenal economic growth. For instance, the average income in Williams County, North Dakota - the heart of the Bakken - was $81,170 per person in 2011. This ranked Williams County among the richest counties in the nation. A lot of this is new wealth brought in by the development of the Bakken. It means a lot of people, who may initially think they may stay only 2-5 years, may want to live in apartments; and they will have plenty of money to do so. It means a lot of people who might have bought houses have been displaced to apartments until the home building catches up to the current housing market. Oil workers have in many cases snatched up the available housing; and they have pushed the local prices up. Hotpads.com shows the median for sale home price in Williams County is $349,000. Many grocery store clerks, etc. may have been priced out of the market (or feel that they have been). However, they will still have plenty of money for an apartment. Many oil workers will not be sure how many years they will be staying. They may want to live in apartments at least at first. The above also means apartment owners/managers can raise prices.
The above situation should provide secular growth for many years for apartment owners/managers. They will see growth from the new oil workers, the new ancillary service workers, and the effectively displaced long-term residents. IRET clearly intends to take full advantage of this secular growth story. The graphic below shows IRET recently completed and planned expansions for FY2013 and FY2014 (as of October 31, 2012).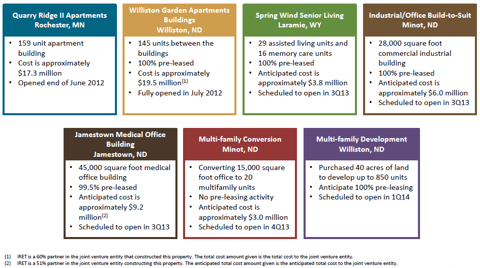 The above are only IRET's new developments as of October 31, 2012. IRET has since signed other deals. For instance, IRET announced a new 51% interest joint venture in a 341 unit apartment complex in Minot, North Dakota on February 5, 2013. IRET has also recently acquired significant land for future development. This link lists some of IRET's latest actions. The bulk of IRET's expansion is centered around the Bakken Shale / Williston Basin. This should pay dividends for IRET. Already you can see the funds from operations applicable to common shares/units has increased demonstrably year-over-year from $15,187,000 on October 31, 2011 to $20,691,000 on October 31, 2012 (the 2013 fiscal year). That's approximately a 36% increase, which is quite impressive for this kind of business.
Some might be inclined to look several years back to prove that this is just a flash in the pan. However, that is a mistake. The Bakken only really began to ramp up development in 2009. It probably was not a significant economic factor until 2010; and it was still ramping up quickly in 2012. In other words, the Bakken is quickly becoming a huge economic factor in the areas around the Williston Basin. Plus this is not the only rich shale development that falls within IRET's investment area. The Niobrara shale, even newer to large scale development than the Bakken, overlaps many Midwest states including Colorado, Wyoming, Nebraska, and Kansas. A map of the Niobrara Shale is below.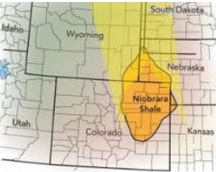 The Niobrara Shale should also provide an economic lift to IRET-serviced areas in upcoming years. A chart of IRET's investment areas is below.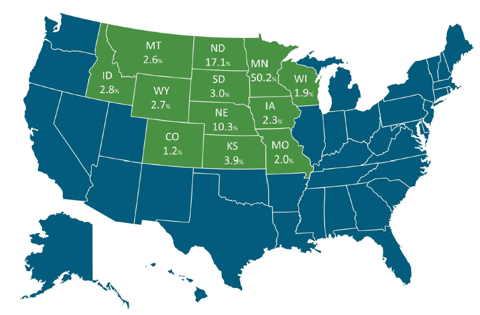 After looking at the above chart, one might wonder how big an effect the Bakken and Niobrara are likely to have if 50.2% of IRET's assets are in Minnesota. However, there are several factors to keep in mind on this score. First, most of IRET's new development is going into areas that will see great economic benefit from the new unconventional shale oil and gas fields. Second, Minnesota has some unconventional shale field development of its own. Third, Minnesota has one of the biggest economies among Midwest states. It is predicted to have a gross state product (GSP) of $310.3B in 2013 with approximately a 3.1% GSP growth rate. It is also one of the biggest high tech areas in the Midwest; and both technology and IT are making good comebacks from the "Great Recession." IRET's holdings in Minnesota should do better in coming years.
The above gives an investor a glimpse of what is coming. However, what is happening currently is good too. IRET had total revenue in IRET's Q2 (ending October 31, 2012) of $64,943,000 versus the year-early quarter of $60,200. IRET had net income of $10,010,000 versus the year-ago quarter of $1,491. In each case, IRET paid a dividend of $0.13 (5.64% annualized). IRET had funds from operations applicable to common shares and units of $20,691,000 versus the year-earlier quarter result of $15,187,000. For all of this, the weighted average number of shares was only slightly changed from 101,669,000 in Q2 2012 to 113,690,000 in Q2 2013. IRET had total assets of $1,819,337,000 versus the year-earlier quarter of $1,714,367,000.
The chart below shows IRET's approximate stabilized physical occupancy levels by segment.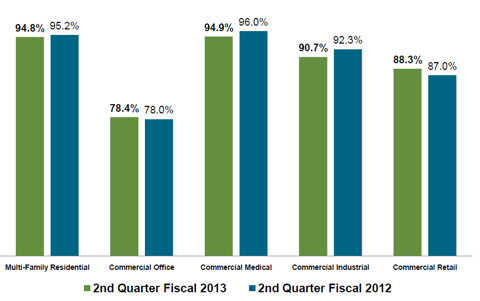 Both apartments and commercial medical segments did very well with regard to occupancy rates. However, the other three categories could stand some improvement. The good growth in the Minnesota forecast for 2013 should help. The extra lift from the new, ramping up of unconventional oil and gas fields should help. 2013 and 2014 should be improving years. With 31.5% of its assets in the Multi-family segment and 25.3% of its assets in the commercial medical segment, IRET averaged over 95% occupancy in 56.8% of its assets.
Its commercial office space segment (30.7% of IRET's assets) had an occupancy rate of only 78.0%. If IRET can improve on this result significantly, it will improve its results immensely. If the Minnesota economy improves significantly in Q3-Q4, commercial office space occupancy rates should rise. In sum, IRET is well positioned, and it is performing well. With all of the stimulus from the new oil and gas fields, the economies most relevant to IRET's success, should grow nicely, even with possibly an overall slower US economy in 2013.
The two-year chart of IRET provides some technical direction for this trade.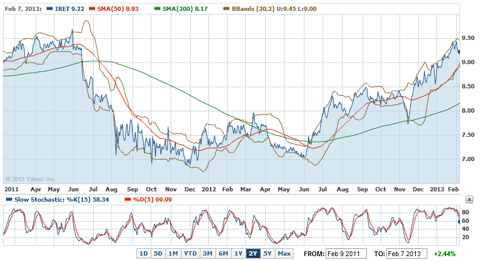 The slow stochastic sub chart shows that IRET is neither overbought, nor oversold. The main chart shows that IRET is in a strong uptrend. IRET is a buy; and it can be bought. However, the recent up-move has been rather steep. An investor might want to wait for a pullback to at least IRET's 50-day SMA.
With the overall market seemingly about to stage a significant pullback of 10% or more, one might want to wait on the overall market a bit. Still IRET should be relatively immune to an overall US slowdown, so it should be a "safe haven" stock. Even if the market takes it down in an overall downturn, it should bounce back up rather quickly. Plus, the 5.64% dividend should pay you to wait on it. Given the fundamentals involved, IRET may be one of the better safe havens in the market. Plus, IRET should show good growth going forward.
Averaging in over the course of 2013 should provide an investor with a good average entry price for the stock. IRET's FPE of 13.01 is quite reasonable given IRET's secular growth characteristics and its recent good FFO data. It is only rated three stars by CAPS and 2.6 (a high hold) by the average analyst; but I expect those ratings to go up from here. IRET's performance should continue to improve in future years.
NOTE: Some of the fundamental financial data above is from Yahoo Finance.
Good Luck Trading.
Disclosure: I have no positions in any stocks mentioned, but may initiate a long position in IRET over the next 72 hours. I wrote this article myself, and it expresses my own opinions. I am not receiving compensation for it (other than from Seeking Alpha). I have no business relationship with any company whose stock is mentioned in this article.